SPECIAL ADVERTISING SECTION
PORTS RAIL PARKS
From Site Selection magazine, March 2011
SHARE THIS ON SOCIAL MEDIA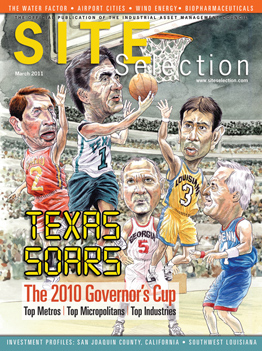 The Efficiency Quotient
How ships, trains and trucks converge says a lot
about which ports are separating themselves from the pack.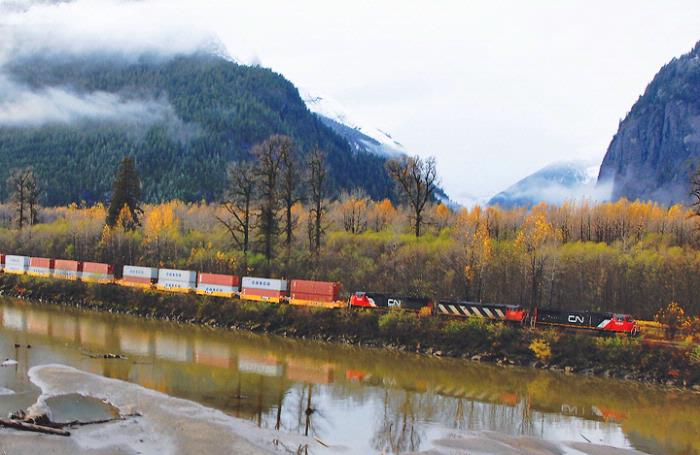 P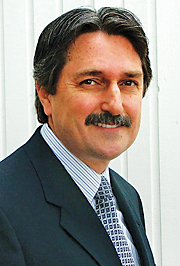 orts are where two of the world's most sustainable transportation modes meet.
Water and rail transportation both have a long history of moving freight, and have during the past 60 years undergone varying degrees of disenchantment, as a result of new supply chain models such as "just in time" delivery for agile service to rapidly changing markets at reduced inventory cost. In vogue were air overseas and truck on land. While air freight never put a dent in the water freight volumes, trucks took a huge share of market from rail for a variety of reasons.
However, today, with oil again hovering around $100 per barrel, environmental concerns, and highway congestion in cities, rail is being embraced by transportation planners as a part of the solution for many public concerns. And shippers and receivers are cost conscious. In fact, some of the biggest retail brands can point to logistics as their strategic advantage. All want a competitive edge.
So how does this affect ports? It depends. To understand the role of ports you first need to understand the needs of cargo. And that depends greatly on its volume, value and lane (origin and destination).
The answers depend heavily on the type of cargo. Heavy, low-value-per-weight cargo has historically stayed with ships and rail simply because they are the most cost-effective means of moving huge volumes over long distances. Examples include coal, grain, raw materials and steel. These products are managed through bulk terminals at ports.
The transportation mode of other low-value commodities, such as food, depends on the distance and the product's ability to remain marketable over time. It is also a function of the elasticity of demand. Grain moves on the least-cost basis (rail and ship) because it's grown all around the world and exports are valuable to economies that have a surplus. Asparagus, on the other hand, will bring a high price in off-season for limited quantities, so it can fly.
But wait: Asparagus could go in a dedicated refrigerated container service at a cheaper price, lowering retail prices and thus raising demand, if the market were more efficient and aggregated this commodity into refrigerated containers.
But who likes asparagus anyway?
Lane Change
The container shipping movement began in the 1960s and continues to expand as a means of improved flexibility for delivery of cargo once it lands. Thus, ports that expanded their container docks tended to be highway focused. In fact, the first place a container rests after being lifted off a ship is a chassis with rubber wheels that is pulled away by a mule.
Say what?
"Mule" in this case is slang for a truck tractor unit that is designed for use on terminal property only, not highways. Some of the freight still had a good distance to move before it reached its destination. That is where rail was used by reloading the containers onto railcars that would haul away the freight in unit-train quantities. The rest of the freight destined for local markets moved by over-the-road truck to warehouses within the region. So ports in New York, for example, have only a portion of freight moving by rail because there is such a huge market within a short distance. Will there ever be a day when the public cost/benefit will tip in favor of short-term rail moves, especially in such densely populated areas? It has in the case of Los Angeles, where the Alameda (rail) Corridor was developed.
In 2002, during a labor disagreement at the ports of Los Angeles and Long Beach, the largest U.S. container port complex, docks where shut down for up to three weeks. Retailers had a huge break in their supply chains and immediately began looking at port diversification strategies. In that process the ocean carriers and receivers realized that dropping containers at ports closest to their destinations would not only diversify port locations but allow the ocean carriers a bigger share of the price of the move, taking rail out of the transcontinental move from L.A. to the East Coast.
Think about it. Eighty percent of the U.S. population lives within 200 miles of the coast.
This idea was also supported by expansion of the Panama Canal, development of transfer facilities in the Caribbean, and the shift of production in Asia to the west, making a Suez route to the U.S. East Coast more attractive. Some large retailers even took freight into import centers at the ports in a strategy called "optimization." At import centers the ocean containers are reloaded into 52-ft. domestic containers that can go on the road or rail. This gave the retailers more control over domestic freight and returned the ocean containers quickly to the ocean carrier for reuse, preferably reloaded with an export.
Come Together
Today ports are well aware of these opportunities as well as the challenges facing them to gain market share. The change in traffic lanes or routes creates a significant opportunity. But the opportunity comes at a cost. The ports are faced with major investments in terminals, connecting infrastructure for surface transportation (highways, rail, or barge) and dredging to be competitive. Ports could bond improvements with the commitment of traffic from an ocean carrier. However, the economic slump and surplus capacity took much of that off the table for now.
So, politically, interest was raised in solving several issues at once while expanding the job base brought by ports. Improving rail connections for intermodal container service has been a key focus of many ports' expansion efforts. Examples of this are Savannah, Ga., and Prince Rupert in B.C., Canada. Both ports have had successful expansion and enjoy both import and export revenue. Both required major investments not just in wharfage and on-dock handling, but also in development of rail terminals near the docks. The use of rail gets trucks off the local roads and allows the economic engine of a port to create maximum benefit without damaging the quality of life for the community.
Once on rail from the port, there is a need for efficient terminals at major markets. Such examples of these so-called "inland ports" can be seen at Alliance, Texas, and near Joliet, Ill. The more rail carriers the better. Distribution centers (DCs) locate near the rail terminal because it reduces the truck dray into the DC, saving time, money and local impacts. The development of improved rail service (double stack trains) from East Coast ports will improve traffic flow. The Heartland and Crescent Corridors by Norfolk Southern and the National Gateway by CSX are examples of this improved connectivity.
The principal function of a port is to attract enough cargo in both directions to become what is known as a "load center" port. In such ports there is balance between imports and exports so that capacity is earning revenue on every move it makes. This allows the carriers to charge less in each direction, and becomes a formidable competitive advantage for the port. It is also good for exports.
The port also must perform the transfer functions cost effectively. Norfolk attracted the location of a new APM terminal which opened a few years ago. It is highly automated and offers state-of-the-art transfer on deep water. It is designed with rail on dock, but there is still considerable movement of cargo on dock to transfer from ship to train or truck. Several years ago, Tacoma and an ocean carrier did trial runs with pre-sorting containers onto ships so that they could be dropped directly onto departing trains, thus reducing port handling, cost, pollution and time delay. Expect it to be considered again as part of the solution.
The bottom line is this: Ports with investment capital, innovation to improve efficiency, and locations along logical traffic lanes will continue to grow their local economies as beneficial cargo owners continue to drive for lower cost, better service and certainty in their supply chain or freight moves.
How does this affect real estate in and around ports? It depends on the future traffic lanes, the efficiency and load balancing of the port, and surface transportation connectivity to major markets. In the longer term, as lease terms expire at some of the more recently popular ports, don't be surprised to see niche improvements in logistics. For example, is it more cost effective to serve central and south Florida from L.A., Savannah or a Florida port? The nearly 20 million people of Florida are interested in this question.
Generally the major load center ports are safe investments, but expect smaller ports to invest in infrastructure that will offer shippers a reliable solution at a lower cost. The traffic will follow.