SPECIAL ADVERTISING SECTION
TOP BUSINESS PARK LOCATIONS
From Site Selection magazine, November 2011
SHARE THIS ON SOCIAL MEDIA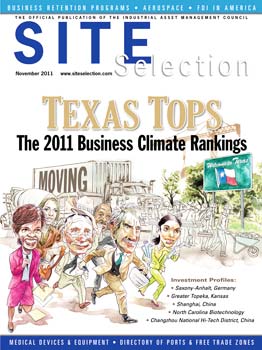 In Our Imperfect World …
What makes the perfect business park?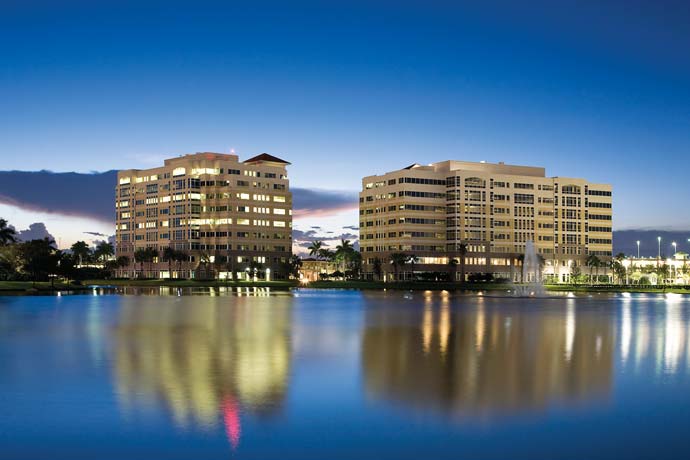 T
here is no ideal business park. The economy continues to struggle, showing slow growth at best. This has been, and likely will continue to be, a significant negative to absorption of business park sites as well as warehouse and office space. This is impacting use mix, design, and location choices. As the economy does begin to improve, what is preferred now will change in part, so be flexible.
Trends Affecting U.S. Parks
Slow economic growth continues to affect site location and design of business parks, as well as the demand for logistics, manufacturing, and office space.
America's price-driven consumption patterns have served to increase imports and have also reduced domestic manufacturing.
Foreign trade has significantly impacted infrastructure investments: ports, rail, and airports. Road infrastructure improvements and expansion have lagged demand.
Trade pacts have increased two-way trade, and the pending free trade agreements with Panama, Columbia and South Korea will expand it even more.
There is a trend of more imports entering the U.S. East Coast ports versus West Coast ports. This trend reflects the relative concentration of U.S. population near the oceans and that east and west populations are more or less equally split.
More trade from North China is coming to the East Coast via the Suez Canal.
Larger container ships are being developed.
The Panama Canal is being widened to handle larger ships.
U.S. ports are being deepened to accept the newer and larger ships.
New ports are in operation in Western Canada and Mexico and are competing with West Coast U.S. ports.
The cost to deliver goods often exceeds the cost to manufacture. Real estate on the other hand is a minor part of the total cost.
Real estate impacts logistics decisions as sites are located to minimize the cost to deliver.
This drives distribution prospects to be on the intermodal trade lanes: sea, rail, and road, with air being less important except for special cases.
This also is allowing some manufacturing operations to move back onshore as overseas cost and fuel costs impact the logistics chain.
Ships, containers, and truck trailers are becoming part of the storage solution and function to ensure just-in-time delivery and to lower costs.
The size of distribution facilities will vary based on the delivery plans that are designed to reduce logistic costs. Parks therefore need flexible designs.
Larger buildings are being sought now.
Cross-dock facilities may be more common to reduce storage and delivery times in the future.
Ready-to-go sites will be sought for new development.
Globalization is a fact; exploit it.
New business parks will be located near the ports that are being deepened or now can handle the new, larger container ships.
Smaller buildings and tenants will re-emerge as the economy improves and the housing market recovers.
Site Selection Criteria
The current economy and market reality as well as these trends will impact site selection decisions. On the demand side, cost cutting measures often translate to consolidation, resulting in fewer but larger facilities. Optimal locations of major distribution centers are based on logistics costs, leading to decisions to locate on major intermodal trade lanes.
Following are typical desired site characteristics:
Sites near ports will be advantaged.
Being near rail intermodal is a clear advantage.
Having a good easily accessible road system is a must.
Having a nearby airport could be a plus.
Being in or near a large population base, and population growth would be considered benefits.
As near as possible to customers or suppliers.
Cost of electricity matters; solar may be considered to reduce costs.
Reasonable land costs.
Flexible design of the business park.
Available and trainable work force.
Incentives are increasingly important to large users and are used to reduce costs. Availability of incentives will be vital to the success of business parks.
Pro-business governments.
Good school system and access to community and state colleges as well as vocational training.
Ready-to-go sites and accelerated permitting.
Broadband connectivity and redundancy.
Underground utilities, also redundant.
Work-force housing.
Quality of life.
Nearby job generators or clusters.
Though current demand is weak, as the office market recovers demand for office sites will be more urban versus suburban due to congestion and commuter issues.
There will be fewer mixed use business parks over the intermediate term.
Demand and needs will continue to change as the market adjusts.
Sustainable development
Future business park developments should increasingly feature sustainability aspects, including:
Underground retention for more efficient water storage and retention of rain runoff for irrigation.
Landscape design: choose species that minimize maintenance (e.g. ground cover versus grass).
If possible, align sites to maximize access to solar energy; solar installations can utilize marginal land. Site buildings to take advantage of solar opportunities (east-west).
Options for pre-negotiated solar packages for all buildings.
Project Example: CenterPoint Intermodal Center. The largest inland port in the U.S., CenterPoint Intermodal Center includes the Elwood and Joliet CenterPoint Intermodal Centers southwest of Chicago. CenterPoint Properties redeveloped the former Joliet Arsenal, one of the largest private developments ever undertaken in the U.S. The state-of-the-art intermodal and industrial business park features a 770-acre intermodal yard, BNSF Logistics Park-Chicago, and has the capacity for up to 12 million sq. ft. of industrial and distribution facilities.
Major intermodal centers such as this effectively address logistics costs, especially for importers as they seek to reduce transportation costs to their customers.
Business Parks
Use mix in parks is changing:
More logistics.
Less office.
Less manufacturing.
Large logistics buildings.
Location matters more than price.
Limited supply of land for new development in high demand areas.
Current park and site designs may have to be modified.
Office parks may be smaller and should be as close in as possible or in a technology cluster. Existing business parks should reconsider design for future phases to incorporate a mix of uses, perhaps including multi-family.
Marketing
How sites are marketed matters more than ever before because of the reduced demand for sites and spaces.
If information cannot be found in Internet, it does not exist. Be sure the site selectors can find your properties.
Be in every database possible.
Consider having a Free Trade Zone approved.
Seek Foreign Direct Investment:

18 percent of new facilities are foreign-owned.
Foreign Direct Investment has created 5 million jobs.
Investments have totaled $1.7 trillion.
China is aggressively making international investments and the White House wants to attract as much as $1 trillion of foreign capital.

Market internationally.
Market to U.S. companies that are growing.
Incentives matter since they reduce location and distribution costs; know what they are.
Be "shovel ready" and certify business park sites.
Be sure the state and local economic development agencies are aware of the site.
Market to local brokers and to national brokers via national databases.
Have a sustained program.
Consider trade groups as a source of leads (e.g. logistics and site selector organizations).
Have a theme to set you apart: ready to go, time to permit, work-force housing, etc.
Change will continue and is likely to be at a quicker pace.
The basis for an economic recovery has been set. Once realized and recognized, expect significantly higher demand for space and sites. Better times are ahead.
——————————————————
Select members of the NAIOP Research Foundation, Industry Trends Committee, and Industrial Development Forum I contributed to this article.
George Livingston, CIPS – Chairman, NAI Realvest and CommerCenters and Christie Alexander – Principal, NAI Realvest.