SPECIAL ADVERTISING SECTION
UNIVERSITY ALLIANCES
From Site Selection magazine, November 2011
SHARE THIS ON SOCIAL MEDIA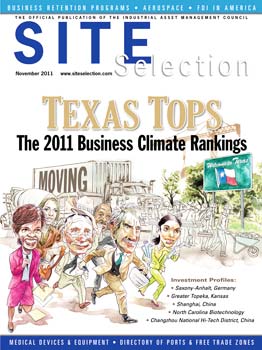 Changing Components to
University Alliances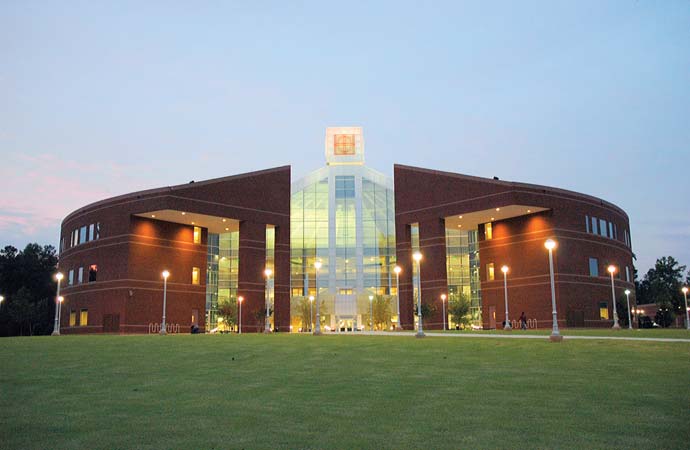 I
n today's economy the battle cry is jobs, jobs, jobs.
While finding a solution appears daunting for lawmakers in Washington, D.C., universities offer some solutions.
Besides being employers themselves and pumping millions of dollars into local economies, universities bridge the gap by helping companies become more innovative and competitive.
One of the most critical elements and strengths of the United States is its research and development (R&D) institutions, many of which are increasingly supported by public-private partnerships.
"Universities are one of the top three competitive differentiators in this country," says Robert Hess, executive managing director of consulting for Newmark Knight Frank Global Corporate Services, a consulting and real estate solutions company.
Research being conducted at top U.S. universities not only gives this country a world class standing; it helps attract the best and the brightest talent from around the globe.
"Universities play a key role in our competitive ability to stay ahead of the Chinese and Europeans," says Hess.
In recent years, technology transfer and commercialization activities in universities have skyrocketed. In fact, Stanford University; and Duke University, UNC-Chapel Hill, and North Carolina State University are technology transfer powerhouses that have given birth to some of the most noteworthy business locations on earth: Silicon Valley and Research Triangle Park.
"Silicon Valley would not be located where it is today if it hadn't been for research coming out of Stanford University," says Dr. Jay Tischfield, founder, scientific director, and CEO of Rutgers University Cell and DNA Repository (RUCDR) in New Jersey. "It has produced a tremendous high-tech area and brought a lot of wealth to the area."
The idea of leveraging a state or region's intellectual assets to grow a technology-based economy is not new.
"Most states have jumped on the bandwagon and underwritten real estate and incubator operations," says Eric Rothman, president of HR&A Advisors, Inc., an economic development, real estate and public policy consulting firm.
New Jersey's Rutgers University, for example, offers the Rutgers Food Innovation Center (FIC), an incubation and economic development accelerator program that provides business and technology expertise to startup and established food companies in the mid-Atlantic region.
As a result, last year Schär USA Inc., a division of Dr. Schär SRL based in Burgstall, Italy and a client within its business incubator program in Bridgeton, is now constructing a new facility in New Jersey.
Seeing benefits of university collaboration, more and more public-private funding is also in place. One example is The Ohio State University Center for Automotive Research (CAR), which receives 60 percent of its funding from government sources and 40 percent from private industry.
Some locations try to capitalize on indigenous industries and assets to stimulate economic development growth. While such programs help fledging companies take flight and compete globally in ways not possible on their own, Hess warns that in today's economy too many people are anxious for instant gratification.
"Research can take two to three years from concept to commercialization, and startups are startups. Most fail," says Dr. Tischfield. "Plus in a bad economy start ups will be less successful."
Add to that the fact that today credit is extremely tight and there's less venture capital. Consequently, universities need to be wise about how they spend money and resources, and pick their programs carefully.
There's also the issue of universities operating in silos and their research having nothing to do with business community needs.
"We cannot afford for the walls to get thicker and higher between universities and our applied economy," Hess says. "University professors need to sit down with corporate vice presidents of operations and discuss issues."
In addition, many universities today are graduating students with degrees that do not match business needs. At the same time, there's a critical shortage of students qualified for growth sectors related to technology.
"Students with training in engineering and other technologies are in high demand," says Rothman. "This manifests at the upper end of the job chain with research and tech jobs also an issue seen in cities."
Then there's the issue of state government and university relationships where state support is waning and the private sector is picking up the slack.
"Today the synergies between universities and business have grown much tighter, and somewhere in between is the need, although it's ever more diminishing, of government support," says Dr. Tischfield.
While government would like to catapult university research into what could become the next Genentech, Dr. Tischfield stresses that for the short term, there needs to be a stronger focus on retaining big companies.
"Once a big company leaves, the damage is greater than [the gains achieved by] bringing in 20 small companies," he says.
With the world economy bridging national boundaries and companies considering the entire globe in their site selection endeavors, university alliances with industry and state economic development boards are even more critical.
Simply put, many companies, especially big employers, are no longer married to one particular geographic area, but seek a strong anchor — or alliance — from which they can grow their business.
"Thirty years ago, no one would have imagined that a company like Eli Lilly, with its strong roots in Indiana, would consider locating major research facilities outside of Indianapolis — let alone Indiana," says Dr. Tischfield.
But in 1996, the company established its Lilly-NUS Centre for Clinical Pharmacology in Singapore largely because of a joint venture with the National University of Singapore and the Singapore Economic Development Board.
Consequently, Dr. Tischfield stresses that government needs to formulate a plan that has incentives for all elements to work together.
One state that is primed for change is New Jersey. Recently, Choose New Jersey, an independently-funded and operated 501(c)(3) nonprofit corporation, was created to promote New Jersey as a place to invest and do business.
New Jersey offers a richly diverse population, excellent proximity to major metropolitan areas and a history of invention and innovation in industries from electronics and pharmaceuticals to biotechnology research that continues to grow. Part of the reason is because of New Jersey's commitment to investment, collaboration and talent development in key industry clusters.
Historically, New Jersey has attracted an impressive array of companies, particularly in life sciences. These have benefited from the state's excellent universities such as Rutgers, Princeton University, the University of Medicine & Dentistry of New Jersey (UMDNJ), and New Jersey Institute of Technology (NJIT) as well as its Commercialization Center for Innovative Technologies (CCIT).
Now New Jersey would like to harvest its core assets, which include strategic access to local and global financial markets, a highly trained work force, comprehensive distribution network, state-of-the-art energy and communications infrastructure and elite research universities.
Ron Beit, CEO of RBH Group, a New York City-based real estate group, sees the university cluster in University Heights, N.J., with its base of some 50,000 college students, faculty and staff at Rutgers University (Newark Campus), NJIT, UMDNJ, and Essex County College as largely untapped by the business community.
By creating university alliances with business and layering in a residential and retail component, he believes Newark could create a model community that would not only foster collaboration and innovation, but become a desirable place where people want to live and work.
There are already such examples, he says, in Barcelona, Spain; Korea, and Singapore. "Singapore has made a concerted effort to create a successful research park layered with residential and lifestyle components," Beit says.