SPECIAL ECONOMIC ZONES
From Site Selection magazine, November 2011
SHARE THIS ON SOCIAL MEDIA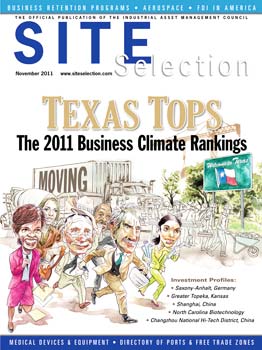 The Ties That Free
Companies looking to strengthen regional and
global supply chains find zones the ideal place to land.

T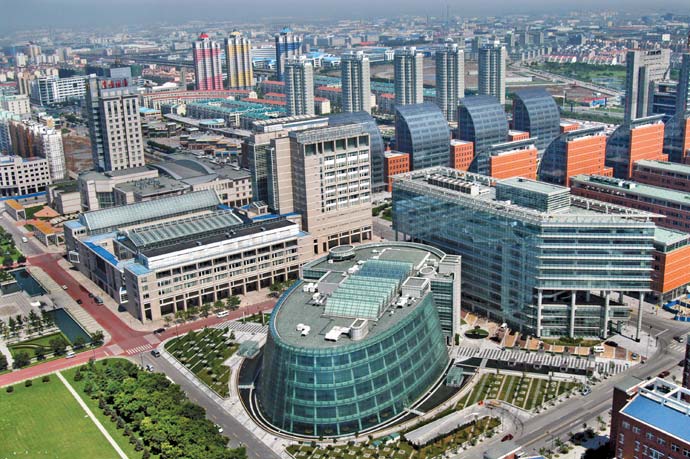 he scale and pitch of special economic zones has reached such a saturation point that it's no surprise to see them stretching their hands across oceans. In some cases it's the private sector that acts as the facilitator.
In October in Tianjin, China, the Port of Corpus Christi and the Tianjin Port (Group) Co., Ltd. signed a memorandum of understanding aimed at generating new business by promoting the all-water route between Asia and the Port of Corpus Christi Authority and the all-water route between North America (including Gulf of Mexico) and the Tianjin Port (Group) Co., Ltd.
"Future private investment projects are expected to impact the growth of the Port of Corpus Christi in the near future," said the news release, "namely the construction of a steel pipe mill by Tianjin Pipe Corporation, the expansion of the Port's Bulk Terminal to support long term leases with Ambre and Millennium for the handling of their coal exports operations to Asia, South America and Europe, the extension of the La Quinta Channel and the construction of the La Quinta Trade Gateway Multipurpose Facility."
Left unmentioned but certainly not unknown is the crucial role played at each port by its respective special economic zone.
For its part, the Port of Corpus Christi, grantee of FTZ #122, received the Foreign Trade Zone grant of authority from the federal government in 1985 and became the first continental zone to have an oil refinery subzone. "FTZ #122 is one of the largest zones, encompassing almost 25,000 acres [10,118 hectares] with three active general purpose areas and 14 active subzones," says the port's website. (A general purpose zone is available for public use and is usually used for warehouse and distribution, whereas a subzone is approved for use by one company for a specific activity.)
Anybody who cares about corporate real estate, economic development and special economic zones can learn a lot from the new online free trade zone information system (OFIS) hosted by the U.S. Dept. of Commerce's International Trade Administration: http://ita-web.ita.doc.gov/FTZ/OFISLogin.nsf.
In addition to many pending decisions regarding zone establishments, expansions and alternative site frameworks (e.g. a new zone that the Toledo-Lucas County Port Authority wishes to form in addition to its FTZ #8), project decision documents on the FTZ Board's docket in early October involved facility projects from such companies as Mitsubishi Power Systems Americas (at FTZ #14 in Fort Smith, Ark.); Brevini Wind USA (FTZ #72 in Yorktown, Ind.); Makita Corp. (FTZ #26 in Buford, Ga.); Flextronics Logistics (FTZ #77 in Memphis); Delta Faucet (FTZ # 77 in Jackson, Tenn.); Abbott Cardiovascular Systems (FTZ #153 in San Diego); and North American Tapes (FTZ #109 in Watertown, N.Y.).
Since all administrative actions of any kind are noted in the Federal Register, this resource's log of Federal Register notices serves as a veritable news service about proposals, requests and approvals of facility projects in any of the FTZ program's 250 general-purpose zones or 450 subzones.
But those numbers pale in comparison to the literal thousands of zones that populate China, many of which stand as models for zone organizers around the world.
As one of the first state-level economic and technological development zones, Tianjin Economic-Technological Development Area (TEDA) was founded on December 6, 1984, with the approval of China's State Council. Gross export value for TEDA in 2010 came to more than US$16.5 billion. Through 2009, the original 40-sq.-km. (15.4-sq.-mile) area had attracted 4,634 approved foreign-funded enterprises, nearly twice as many domestic enterprises and $53.8 billion in investment, and companies within the area employed more than 380,500 people.
Three industrial parks outside its initial area but governed by TEDA target microelectronics, chemical and science enterprises. Tianjin Export Processing Zone, established in 2000, as one of the first 15 state-level export processing zones, enjoys various preferential policies granted by the state such as efficient and speedy customs supervision procedures, flexible and convenient foreign exchange control systems and taxation incentives. TEDA's Western Zone offers another 48 sq. km. (18.5 sq. miles) for development, and has welcomed investments from such companies as Korea's Kumho, Japan's Aisin and Vestas from the Netherlands.
Tianjin Port, the largest artificial port in China, is located at the estuary of Haihe River and the crossing point of the Beijing-Tianjin city band and the Bohai Rim economic circle. "It is the sea gate of Beijing and Tianjin, the important international trade port in northern China and the link to connect Northeast Asia and Central and West Asia," says the port authority. For August 2011, total value of imports and exports from the Tianjin Port Free Trade Zone alone was more than US$5 billion, growing at a rate of 12.8 percent. For the year through August, total value came to more than $35.8 billion
Such critical mass of manufacturing and processing may just presage the arrival of critical R&D. Kentucky-based animal nutrition firm Alltech, while retaining production and warehousing in Bangkok, recently decided to move its bioscience R&D center from there to Tianjin, where the company already had a large manufacturing facility.
"Equipment and location were really the deciding factors, as well as our need to have a greater presence in China," says Dan Haney, Alltech's director of global manufacturing. "If you look at the markets, and the growth factor, it's incredible. That market is far and away the most emerging market of any we have. The potential is limitless."
A Zone by Any Other Name …
Yin Hong, Jones Lang LaSalle's local director and head of manufacturing services for East China, offers some useful background for those exploring China's menu of zones, areas and otherwise named plots of land.
"Typically in China when we talk about special economic zones, we only refer to Shenzhen, Zhuhai, Shantou, Xiamen and Hainan which were approved in 1980s by China State Council," he writes from Shanghai. "For other parks which may accommodate industrial operations, we typically have several groups, including 1) economic & technological development zones, for example Suzhou Industrial Park and Hangzhou Economic & Technological Development Zone, 2) high-tech parks, for example Zhangjiang High-Tech Park and Beijing Zongguancun Science Park, 3) free-trade zones, for example Shanghai Waigaoqiao Free Trade Zone, and 4) export-processing zones (typically just minor-size sub-areas within group 1 and 2)."
He says the original five zones continue to enjoy average economic growth, but have seen their original policy advantages vanish. He says cities in East China perform strongly, and singles out Tianjin's strength "for those companies with desire to increase capacity and market shares in the north China region," and Chongqing/Chengdu for those looking to do the same in west China, especially in such sectors as electronics, IT and software.
"With development in the past two decades, lots of parks in East China and other regions now face challenges of industrial land and buildings supply partly due to the central government's macroeconomic control measures," he says. "In China, we have a term called 'construction land quota' which means every year, the central government may officially approve some amount of construction land (for industrial, residential, commercial, etc.) which is then allocated to provincial-level, then further down to city/county levels. Eventually this means that every industrial park needs to review and qualify potential projects, and then offer land resources in a reasonable manner."
High Priority on Healthcare
Due to the large number of industrial parks, likely over 2,000 with official approval, he says it's challenging to evaluate and rank them. However, from his vantage point in East China, he says,"by far those parks within three hours' drive to Shanghai city center seem more attractive in the eyes of our multinational clients."
Several years ago those zones might have numbered as high as 4,000 to 5,000, but some were not fully approved or performed poorly. So China's central government in 2005-2006 took measures to qualify, close or merge some of them.
Among the companies and projects being assisted by the JLL team are Thermo Fisher Scientific'sinvestment in Suzhou New District, Corning Life Sciences in the Wujiang Economic & Technological Development Zone, Procter & Gamble in Taicang Port Development Zone and AstraZeneca's October announcement of a $200-million investment in Medical City Taizhou, also named Taizhou National Medical High-Tech Zone, a three-hour drive from Shanghai in Jiangsu Province.
"Even to many Chinese business executives, Taizhou is not quite a familiar name," says Yin Hong, "while for the pharmaceutical industry, the city and in particular China Medical City have caught the eyes of major multinational and Chinese pharmaceutical firms."
The park is now in its sixth year, and aims to be No. 1 in China as well as a leading park globally. Among other projects there, the University of Texas Health Science Center at Houston, Nanjing Medical University and Taizhou City Government are joining forces to establish an institution.
AstraZeneca, which employs 5,000 in China and Hong Kong, saw turnover of over $1 billion in China in 2010. The new site, which represents AstraZeneca's largest-ever investment in a single manufacturing facility globally, will produce both intravenous and oral solid medicines for the company's growing business in China. Construction of the site is scheduled to be completed at the end of 2013.
"Our new manufacturing facility will complement our efforts to meet the medical needs of Chinese patients with medicines that are locally produced," said Mark Mallon, president, AstraZeneca China. "In particular, it will help us to reach out to more of the estimated 900 million people in urban and rural communities who have had less access to high quality medicines."
China and Africa: A Match Made On Earth
Even with continuing success at many zones in China, Thomas Farole, a senior economist in the International Trade Department of The World Bank, says China's rising wages are starting to change things at the margins for some companies. This may mean good news for some U.S. territories, but the first wave of evidence is in Indonesia, which lost a lot of FDI to China in the 1990s.
"A lot of it is returning now from China," says Farole, noting that China's wages were lower than Indonesia's in 2000, but are now three times higher.
The selfsame trend is positive for Vietnam as well, where in October the government approved development of a new economic zone in the Mekong Delta province of Tra Vinh that would encompass 39,000 hectares (more than 96,000 acres) of land with 42 km. (26 miles) of coastline.
In the meantime, vis-à-vis Chinese trends, U.S. wages are flat or declining.
"At the margin, we should be seeing [operations] returning back to the U.S., and in that sense, the FTZs may tip the balance," says Farole. "Obviously, it's not so simple as that. But of course the U.S. remains a huge consumer market."
Farole and his research colleagues have found a pullback by companies from far-flung global chains to more regional value chains. "So there is a sense of reducing the number of countries they operate in and managing things on a more regional basis. The implications for the U.S. are probably positive."
Farole has closely studied zones in Africa over the past few years. So has China, which as part of a five-year plan launched in 2006 has made Africa a focal point of its desire to establish up to 50 zones abroad. According to The Wall Street Journal in September, the World Bank "estimates there are now 85 million manufacturing jobs suited for unskilled workers in China, out of a population of 1.3 billion, but only 10 million in all of Africa, population 1 billion."
In their paper "African Shenzhen: China's Special Economic Zones in Africa," published earlier this year in the Journal of Modern African Studies, Prof. Deborah Brautigam of American University and Prof. Tang Xiaoyang of the New School for Social Research noted that trade between China and Africa reached $106 billion in 2008, 10 times the 2000 figure. "In 2007, at the annual meeting of the African Development Bank, held for the first time in Shanghai, the president of China's Export–Import Bank announced plans to commit at least $20 billion in export-related finance across Africa over the following three years," they wrote. Up to seven "cooperation zones" are supported by China's Ministry of Commerce (MOFCOM), while many others have been established by Chinese companies without MOFCOM support.
While some have quickly jumped to label the Chinese strategy as a land and resources grab, Brautigam is diligent in documenting the Chinese investment in African infrastructure, as opposed to U.S. investment that often comes in the form of aid and charitable funds, with little skin in the game when it comes to long-term investment.
The authors note that Africa's success with EPZs has been spotty since its first zones were set up in 1971, though there have been successes in Aba (footwear), Nigeria (auto parts) and zone pioneer Mauritius. Today zones exist in some two dozen African nations. Brautigam and Xiaoyang did their field research in seven of them (Zambia, Egypt, Nigeria, Sierra Leone, Mauritius, Uganda and Ethiopia) between 2007 and 2009. They conclude that there is no single "Chinese model" for the zones, and that their variety of size and industrial focus gainsays the notion of the resource grab. In some cases, as in Egypt's Suez region, it was African governments seeking to emulate China's model, in this case TEDA in Tianjin. Over the years, TEDA has become a major player in zone development in Egypt.
The seven official African trade and economic cooperation zones established by Chinese companies and quasi-governmental entities include the following: Zambia Chambishi and Lusaka subzone; Egypt Suez; Nigeria Lekki; Nigeria Ogun; Mauritius Jinfei; Ethiopia Oriental; and Algeria Jiangling. All are either in operation or under construction except for the Algerian zone, established primarily by Jiangling Automobile, which has been approved but suspended.
The authors note that the sub-Saharan countries where official zones were built have scored relatively well on the World Bank's "Doing Business" surveys that measure ease of doing business in various nations. They also note, "our interviews make it clear that Chinese companies, with the support of their local embassy, took the lead in negotiations with host governments over particular incentives and responsibilities, particularly for infrastructure construction. As some of the companies developing the zones are state-owned, this might appear to be 'government to government.' However, our interviews and those of other researchers suggest that the company is the main actor."
Their interviews also suggest that Chinese company officials, far from keeping the zones to themselves, actively help promote incoming FDI from companies based in other nations. All of which serves to give China a distinct advantage on a continent other countries have paid scant attention to.
"At this point, Chinese developers in Egypt and elsewhere have a large advantage over many other attempts to create zones: a direct link to interested clients," write the authors. "Because of the 'Going Global' policies, increased local competition and higher costs, and efforts to promote domestic restructuring in China, a large number of Chinese enterprises, especially small and medium enterprises, are expected to continue expanding their business offshore, some in the relatively undeveloped African market."
In her ongoing and informative blog, Brautigam notes that China's global outreach goes beyond capital and development leadership, extending to the quality and speed of its workers, as demonstrated not only in Africa but in such zone-happy nations as India. She and Xiaoyang conclude in their article, "These developments may yet come to naught, given the obstacles that have beset past efforts to develop economic zones in Africa. They face significant challenges of inclusion, communication, and integration with local economies. Yet the timing is right for some African countries to catch the new wave of investors coming out of China.
"If even some of these experiments lead to a genuine transfer of knowledge and opportunity from China to Africa, much as happened with Japan and south-east Asia in the 1970s and with Hong Kong and Mauritius in the 1980s," they write, "employment could see significant gains and, in some spots, long-delayed industrial transitions may yet be realized." With or without U.S. approbation or participation.
Eventually, planned obsolescence is the ultimate aim wherever zones arise, says Thomas Farole.
"It's always an end goal to not have them anymore," he says, noting the evolution of Mauritius over the past 40 years. "The idea that zones catalyze economic reforms on the one hand, and the upgrading of the skills base and economy on the other, should lead to the point where you don't need the special zone, because the skills, technology and infrastructure are there."
Then again, even if you solve for all of those concerns, he says, there are always certain industries at a frontier facing barriers, and thus the case for zones will remain. He cites the case of Mauritius over the past 40 years, as its economy matures toward higher-end services.
"Even though they have made that transformation, they are still using the zones because manufacturing is not good enough," says Farole. "You want to always be resolving those problems."