SPECIAL ADVERTISING SECTION
LOGISTICS SITES & SERVICES
From Site Selection magazine, July 2012
SHARE THIS ON SOCIAL MEDIA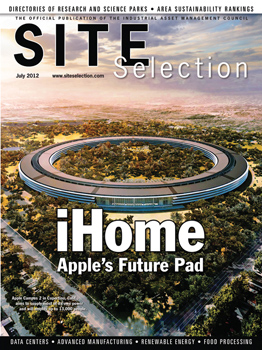 Refinement & Efficiency:
The New Logistics Path
R
efinement and efficiency are the aim today for logistics. Whether it is automation, cloud-based intelligence, infrastructure and connectivity, or collaboration of shippers, the goal is cost savings. Savings translate into pricing power (or profit) for every seller of goods. Did you know that Illinois soybeans get a higher price than Iowa soybeans at the farm? Aside from the Illinois farmer's pride of a quality product, the price difference is in part driven by better transportation pricing to global destinations due to proximity to the world's fifth largest freight center, Chicago.Most of the savings from the total landed cost of moving freight goes to the owner of the product, not the buyer. The same is true for large retailers who contract production and bear the cost of getting it to the retail customer.
There is good news here. Logistics investments can be stimulated by cost savings, giving the sector activity, or at least churn, in these stale economic times. At a recent SIOR conference there was discussion of churn in the distribution space to take advantage of lower real estate cost and the move into more efficient, better-sized buildings. According to Conway Data, Inc., there were 999 new or expanded logistics related projects in the U.S. last year.The projects reported well over 50,000 new jobs and hundreds of millions in capital investment.
In terms of recent trends in site location, Chris Steele, CWS Consulting Group LLC, notes that truck remains king for now, though site selection requests for "proximity to rail or intermodal" have increased for some freights. However, he hasn't seen any clients act on the request, but the criteria are getting into the list. A bigger trend is "on-shoring." Instead of near shoring he has inquiries on projects that are looking at the U.S. now for clients that had been expanding in Asia. The increasing transport costs, labor costs and uncertain lead times have become risks that some companies are unwilling to shoulder.
As for the Chinese, they continue to build, but are now focused on investment in road, rail and utilities to boost economic growth, according to the China Securities Journal. This investment is modest compared to the massive stimulus of 2008 and is preferred over adding industrial capacity where surplus already exists.
What's Moving?
Freight is changing in many ways. The trend continues to grow with expedited small package delivery as shoppers shift to online sources for goods. Even the homeowner is in the game. Recently, a wonderful mother and wife went on a buying spree. In the end, she didn't really want half of the merchandise. So her teen-aged son proceeded to liquidate the not returnable merchandise online. The father in the family became the shipper of small packages all over the country and kept the thousands of dollars in proceeds. Isn't America a great place! Commercially, the small e-commerce site CleverTraining.com selling training gear and technology has grown over 6,000% in the past three years. UPS, for example, has 155 miles of conveyors to move 1.5 million packages per day and a team of five meteorologists to redirect traffic or shift modes to avoid bad weather and ensure on-time delivery, according to Inbound Logistics.
On a larger scale, freight movements are clearly taking advantage of intermodal options. Intermodal traffic (largely containers) is the fastest growing segment of the rail industry, according to Holly Arthur, a spokesperson for the Association of American Railroads. Freight has not returned to the 2006-07 peak levels, but neither has consumption. The lower level of imports and improved export market has led to many U.S. ports moving more export container loads than import loads. So empty containers are in short supply is some ports and inland hubs. Dry bulk rates are down as well and it supports U.S. producer's global competitiveness. At times in the past decade, dry bulk rates reached $30,000 per day and now hover around $6,000. A bushel of beans can be shipped to the other side of the world from Chicago for about 50 cents, but the market demands quality at destination and pennies can make the difference in a sale when competing against a bushel from Brazil.
Distribution Networks and Center Size
It is still unclear as to any trend in distribution center (DC) size.There are opposing forces. Tim Feemster, IAMC member and senior managing director, Newmark Grubb Knight Frank says, "As fuel continues to rise in cost, I see smaller DCs in the secondary and tertiary markets. Changes in network design will take time though as companies deal with lease expirations, facility dispositions, and supply chain risk."
But the opposite may also be true if collaborative distribution takes hold. Much bigger because of consolidation, collaborative distribution can locate in million-square-foot facilities. Collaborative distribution centers serve multiple suppliers to create cost savings from full truck-load trips rather than using less than truck-load services. They also allow economies of scale such as automation. Such a center, ES3 in York, PA, serves over 60 suppliers of consumer goods to retailers in the Northeastern U.S. By creating a highly automated and truck efficient platform, they are reporting significant savings for customers. The competitive data used in coordinating logistics is all kept behind a private firewall so that collaborators, proprietary data is not violated. "However, collaboration and automation take a lot of planning in order to reduce the risk of implementation as they radically change the companies' logistics in a mission-critical environment. The cost of failure is great and so are the rewards when done right," notes Feemster.
Intermodal Trends
Many shippers are not savvy to operations of intermodal freight, but they may be using it without knowledge. Trucking companies and freight forwarders may put intermodal moves into the route even though the truck takes the load and delivers it at both ends of the move. The long-haul truck move is being replaced by rail for cost savings and it's environmentally friendly. Major investments are being made by Class 1 railroads to improve intermodal efficiency.
CSX has opened its North Baltimore, Ohio, intermodal hub operation which will improve service to many Midwest cities. At this time it is not expected to attract distribution centers, which also must consider centricity to outbound destinations. Rather, the hub will allow the railroad to quickly sort and move trains to more destinations more frequently in a truck-like service manner. Prior to the hub, the railroad needed full train density from one origin to one destination, not always possible on a daily basis for Midwest markets other than Chicago. The hub improves connectivity to many locations such as Detroit, Louisville, Indianapolis, etc. especially with the additional ocean carrier services coming to the East Coast with the expanded Panama Canal.
All Class 1 railroads are investing heavily in intermodal capacity and train speed. BNSF and UP are investing over $400 million in separate improvements in Nebraska, for example. Norfolk Southern has completed the Heartland Corridor and is working on the Crescent Corridor.
International intermodal is different than domestic intermodal. International intermodal is concentrated at ports and in cases where the containers do move inland to one of some six intermodal load centers, the ocean carriers want their assets back as soon as possible. They are incented to get them reloaded and back on a ship. Several sectors have realized savings from the availability of containers for export to, of course, mostly Asia. Agricultural products, scrap metals, paper, and even lumber are loaded as exports into containers. Several ports report more export loads than import loads in their container volume.The attraction is both in terms of price and the ability to meter out smaller portions of the products to receivers without the need to store large volumes on either end.
Domestic intermodal traffic is used to replace trucks on long-haul routes. Fifty-three-foot containers now replace international containers for many large retailers which build near dock receiving centers to re-stuff containers into domestic sizes (53'). The larger containers are more efficient and allow shipments to move to either a DC or directly to a retail store. Domestic intermodal also serves to replace trucks on dense lanes, replacing 300 trucks and drivers with two men and a train.
To help in site selection, innovative real estate firms have sophisticated models that can project total landed cost models for their clients. These models show the significant impact of distance from the intermodal hub for heavy users of this service for importing and exporting. Where applicable, this "inside the fence" model (terminal access by truck without traversing a public street) also offers the option of shipping/receiving heavyweight containers which for many shippers/receivers means the difference between even getting the order or not. 
Panama Canal Impact
The delayed opening will give East and Gulf Coast ports more time to get ready for bigger ships. As more time elapses in the port development process, we will see more clarity in outcome. One of these defining moments was when the U.S. Corps of Engineers report showed only dredging to 47 feet for the Savannah port. This eliminates this port from handling the largest ships that will transverse the Panama Canal, giving an advantage to those ports that already are at 50 feet like Norfolk or are moving that direction like Baltimore and Charleston. South Florida's deepening is already underway and their improved truck and rail access can lead to much greater portion of their imports coming all water rather than intermodal truck or rail from Savannah or LA.
The biggest impact of the Panama Canal expansion may be felt in the Midwest and potentially the Southwest. That's the turf which will be fought over between the East Coast and West Coast ports. Cambridge Systematics has produced a report that urges the Los Angeles ports to start working on the western railroads for price concessions to thwart a market share erosion by the expanded all water routes to the Gulf and East Coast ports. Expect some competitive pricing from both sides and the winners will be shippers and receivers in the Midwest. While it may not last long, it can be a marketing advantage for sites in the region. Ballpark prediction is a 10% uptick in East Coast volume.
Near Shoring
Mexico continues to be a preferential state for companies seeking near shoring sites to serve the U.S. market. A recent survey by AlixPartners, a business advisory firm, reported that 63% of companies found Mexico the most attractive country for siting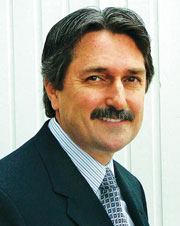 manufacturing operations. However, 19% found supply-chain disruptions in Mexico due to security issues. When seeking an alternative to Asia, Mexico does have a better labor rate than Canada and better transportation connection to the U.S. than the balance of Central America and the Caribbean. Better yet, there are reports out of Texas that many companies are combining import components with final assembly in the U.S. to capture the "Made in USA" label for the retail market advantage. This is bringing jobs back to areas logistically well connected to Mexico or major ports when the area also has competitive labor cost and supply.
---
Charles McSwain, former Director of Real Estate for CSX Transportation, manages a site selection consulting business in Jacksonville, Fla.