SPECIAL ADVERTISING SECTION
DATA CENTERS
From Site Selection magazine, November 2012
SHARE THIS ON SOCIAL MEDIA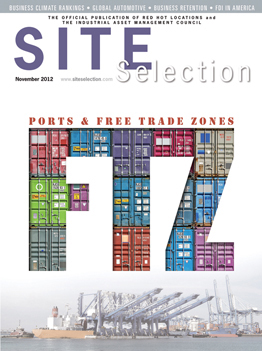 Data Centers: Site Selection 101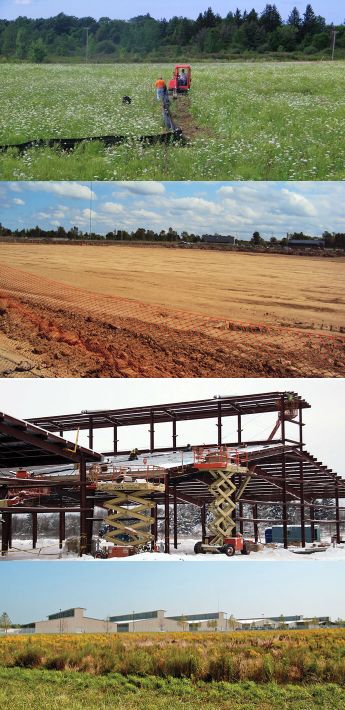 Strategic siting is integral to
determining the total cost of ownership
and the facility's life span.
I
n today's data center conversation, there is considerable discussion of ideal topology, clean power, cost per MW, network connectivity (latency) and a myriad of "flavor of the month" issues. The dialog is wide ranging because data center facilities are complex, technology changes rapidly and owners/operators have disparate needs.
Site selection is also a highlight in discussion of data center drivers today. Strategic siting is integral to determining the total cost of ownership (TCO) and, to a significant degree, life span of a data center.
The right solution is the result of close collaboration between all stakeholders — including IT, real estate, facilities and finance — from the project's inception. In addition, siting success is dependent on 360º solutions that start with strategic planning and carry through day-two support, including:
Location/site selection strategy
site due diligence
purchase, lease and build-to-suit negotiations
financing strategies
business and economic incentive negotiations
construction management services.
The Evaluation Factors
Eight primary categories are investigated when evaluating a site. A brief discussion of each is included below.
Environment is assessed for risk and exposure to natural disasters. Areas that are prone to such risks (seismic vulnerability, extreme weather events, flood plain jeopardy) are typically assigned a higher risk factor and, thus, are generally excluded from consideration.
Further, temperate climates are a growing subset of the environmental factor. These locations provide options for 100-percent outside air (free) cooling or air-water economization — thus driving down PUE (power usage efficiency), a major consideration in data centers today.
Power encompasses analysis of the availability, type, and growth plans of the local utility. Power is typically one of the highest on-going costs of operating a facility. It is critical to understand the pricing architecture, stability and/or volatility of the local utility market, as well as the mix of generation options.
Clean power is also a key criterion in the site selection process. Data center owners/operators seek reliable, efficient renewable energy options such as hydro, air, wind and, to a lesser degree, solar. Fuel cells are also emerging as a viable power option. These alternatives address a growing need to be more eco-conscious and to reduce grid dependency.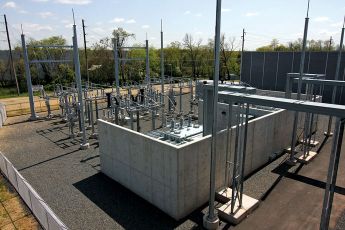 Fiber network connectivity, which determines latency (transaction time) between the potential site and key points-of-presence, is a major site evaluation factor. Understanding latency limits and the location of preferred fiber providers and telecommunication points-of-presence in advance of identifying sites increases the overall success of the site selection process. This entails working with the owner's/operator's network administrator(s) to establish requirements for connectivity and applying those criteria to potential sites.
Taxes, land and economic incentives play a key role in the site evaluation process. Taxes may include sales, personal property and real estate. Land costs largely mirror those for personal real estate — higher on the coasts and near urban centers and lower in the central U.S. or rural areas. Incentives are user and site specific and are often tied to a vital public message regarding job creation and community investment on the part of the data center owner/operator. As with most commercial enterprise, development of a data center often translates to employment and revenue (both tax and B-to-B) for the community. Economic development agencies may offer economic incentives (such as competitive energy costs or reduced sales tax on major equipment) to secure these benefits.
Transportation is a site evaluation factor that requires astute analysis. Proximity to prime corridors can be viewed as both favorable and unfavorable. Access to major transportation modes, such as airports, rail lines and interstate roadways, creates the potential for increased risk should a disaster occur on or at the transportation link. Conversely, the ability to provide employees, vendors and suppliers timely and direct access to respond effectively to events is also paramount.
Construction and permitting costs are key parts of the site selection equation that can be evaluated based on several factors, including proximity to critical infrastructure, availability of qualified construction labor, and existing geological conditions. These factors contribute to the certainty, or uncertainty, of the cost and schedule to build the data center.
Sites that are isolated from existing public utilities, or have extreme topographic or geologic conditions, can substantially increase cost. Availability, or lack thereof, of qualified labor can affect schedule (as well as quality) — and time is money. In addition, the permitting strategy and timelines associated with securing proper authorizations, including public notifications and hearings, can increase the overall schedule. Local and state regulations are an important consideration in evaluating a site.
Labor, while usually a minimal consideration given the weight of other drivers (data centers typically employ fewer than 100 employees), should not be overlooked. This factor can be easily assessed by an examination of skilled IT workers within reasonable commuting distance (60-90 minutes) of a potential site.
Speed to market (go live date) defines the data center. The date that the facility needs to be operational is critical. All of the above need to be factored for impact to the go-live date and what, if any, special consideration(s) each may require to achieve the schedule. A detailed schedule outlining key processes and critical milestones must be rigorously monitored to consistently drive all project stakeholders to the common goal of achieving the schedule.
The Process
Critical actions take place long before any site visits. The owner/operator and its consultant must clearly delineate the requirements for each category prior to the start of the search. Together, stakeholders must achieve a detailed understanding of the risk tolerance that the owner/operator is willing to accept for any given criterion. This will increase the likelihood of finding a suitable site more efficiently while reducing distractions from sites that do not meet defined requirements.
As sites are identified, a detailed evaluation matrix of primary and secondary categories is used to vet locations. Sites are then assigned a weighted score based on compliance with all criteria. Sites that meet or exceed a predetermined acceptable score are selected for further investigation.
Once preliminary analyses are complete, it is time to "kick the dirt." Site visits and meetings with municipal officials, telecomm/fiber and local utility providers, and Authorities Having Jurisdiction (AHJ) provide a level of insight that cannot be achieved through phone conversations, online maps or economic development promotional materials.
Short-listed sites are vetted with key stakeholders. Locations are further investigated (phase one environmental and geotechnical studies, title/deed searches, confirmation of utility capacities, etc.) to confirm that information collected to date is accurate. It is at also at this point that conversations between local officials and the owner/operator commence regarding potential tax, property, and economic incentives.
As sites are narrowed down, constructability reviews encompassing cost estimate, schedule and logistics are prepared. These provide a means to determine unique impacts that the site will have on project delivery.
The final step is a detailed analysis and ranking of sites, including a recommendation, for consideration and approval by key stakeholders.
The Ultimate Goal
Siting and building data centers is a unique and challenging endeavor. Each owner/operator has different short and long-term strategic drivers. This is exacerbated by an industry that redefines focus very three to five years and fully morphs every seven to 10. In addition, most assets are amortized over a 15- to 18-year useful life of critical infrastructure. Taking all this into account requires a site selection and construction manager that brings insight and proven methods that are a confluence of veteran experience and up-to-the-minute market awareness to plan and evaluate optimal, scalable solutions.
---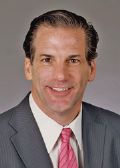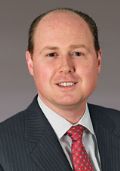 Ronald Bowman (left), Executive Vice President, and Terence Deneny, Vice President, lead Structure Tone Mission Critical, a complete data center solutions provider that has managed siting and construction of over 23 million sq. ft. of white space.