SPECIAL ADVERTISING SECTION
INDIANA
From Site Selection magazine, November 2012
SHARE THIS ON SOCIAL MEDIA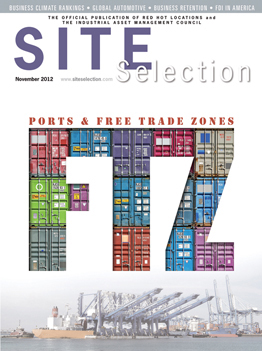 Indiana Sets
'Record Pace for
Business Expansion'
Right-to-work status is 'icing on the cake,' says state's commerce secretary.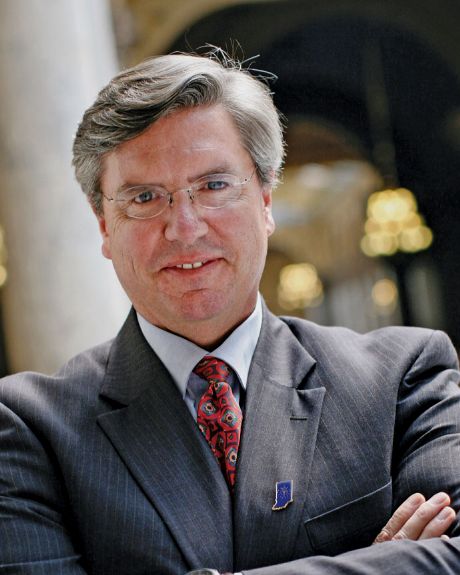 W
hen Daniel J. Hasler took over as secretary of commerce and CEO of the Indiana Economic Development Corp. last year, he had some large shoes to fill.
Under the watch of his predecessor, Mitch Roob, Indiana had vaulted itself into a leadership position among Midwest states in terms of overall economic development performance.
One year later, the Hoosier State shows no signs of slipping under the guidance of Hasler, a 31-year veteran of Indianapolis-based Eli Lilly and Company.
"We are on a record pace for business expansion this year," says Hasler, who was appointed to his post by Gov. Mitch Daniels after serving as vice president of global marketing for the Fortune 500 global pharmaceutical company. "We are on track to do 250 discreet agreements with companies this year, which will best any other year by a substantial margin. The three most important things that will cause that to happen are our brand voice, our work force and our continued environmental improvement."
In a wide-ranging interview with Site Selection, Hasler outlined his state's strategies for economic growth and discussed the primary challenges facing Indiana.
SITE SELECTION: What are IEDC's top three economic development priorities in the coming year?
HASLER: Building our brand voice, improving our work force and continually improving our environment. Our main priority is to make sure we are being found by companies that are ready to move. Secondly, we need a continued effort to upgrade our training for the Hoosier work force. Finally, anything we can do to support the profitability of Indiana companies is what we should do. The best thing we have to sell is the success of the Indiana companies that are already here. Right to work has been huge. It basically was icing on the cake for what has been happening here — income and property tax reductions and R&D tax credit improvements — and our AAA bond rating. In six months, 25 companies have told us that right to work was a big part of their decision calculus for coming to Indiana or expanding here.
SS: What is your state's biggest economic challenge right now?
HASLER: If you had driven east-west from the Ohio state line to the Illinois state line, it would have taken you about three hours. All but about 10 minutes, you would have driven through incredibly beautiful countryside. Carmel, Indiana, was rated the most attractive place to live in the U.S., and Fishers was ranked 12th. People's perception of Indiana, if they have not been here, is a lot of corn. Others, like Money Magazine, believe that we have some of the most desirable quality of life in the United States. When you talk about quality of life per dollar spent — pro sports, short commutes, etc. — most people don't really realize what we have here. Our biggest challenge is getting people to see what they can have here from a quality-of-life standpoint. We have to get them off I-70 and see the rest of our state. Once they do come here and stay here, you couldn't get them out with a stick of dynamite. We just had the BMW Classic in Carmel — highest attended golf event in history. The biggest challenge we have is giving people the chance to see the quality of lifestyle that we have to offer and getting them to experience it firsthand. Every time, they walk away amazed and surprised. Many of those become my next leads.
SS: Do you foresee any additional legislative or regulatory changes in Indiana in the coming year?
HASLER: We have to be in a constant state of self-assessment and improvement. Both candidates for governor here are interested in basic things like continued scrutiny on the regulatory burden on our companies. Less regulation on business is a good thing. Most companies, when they come to Indiana, see a reasonable level of regulation, rather than an excess. If we must have a regulation, let's make sure it is really necessary. Both candidates also very much understand the importance of minimizing the state tax burden on companies — not just those we want to attract, but the ones that are already here. Thirdly, we have got to continue to make improvements in our work force quality and work force training. You will see continued efforts to incent people to continue their education and bring that education to the workplace.
SS: What have been some of the more impactful corporate real estate projects in Indiana this year?
HASLER: We are up to 175 deals so far this year. NantWorks is a company out of California that has recently purchased a huge pharmaceutical facility in Terre Haute and is in the process of investing upwards of $90 million into its refurbishment and enhancement. Toyota announced a $130-million expansion in Princeton for manufacturing. Amazon in Jeffersonville in Southern Indiana announced an $80-million warehousing facility. Cummins continues to expand with a $220-million project in Seymour for its high-horsepower division. Steel Dynamics announced that right to work was one of the key reasons why they came to Pittsboro with a $75-million facility project. Roche Diagnostics announced a $300-million expansion in Indianapolis. Greenville Technology of Japan does industrial mold work, as a big supplier to Honda, and they are doing a $22-million expansion here — their first time in Indiana.
SS: How do you see Indiana's leadership role in the life sciences sector progressing in the years to come?
HASLER: We have gotten some pretty good news lately in the press. The Battelle Report came out for 2012. We were the only state, other than New Jersey, to have significant employment in all four key sectors. We don't have just one narrow silo of life sciences. We actually have a very broad base of life sciences. We have animal health and crop science. The Wall Street Journal talked about Indy as a hot spot for the biosciences industry and a hub for the Midwest. We have 60,000 employees in Central Indiana right now in this sector. Indiana has the second biggest medical school in the United States. We graduate the second highest number of doctors of anywhere in the U.S. We produce thousands of pharmacists every year at our pharmacy schools. There is a lot of talent here for them to draw upon. That trumps almost everything. What really causes the attraction is the population of life science professionals already here.
SS: How did Indianapolis hosting the Super Bowl this past year help your state?
HASLER: It was huge. We also had the BMW Classic. What visitors see when they come to Indiana is the best of us. They are seeing a well-organized, well-executed mega-event, like the Indy 500. If any place knows how to pull off a huge event, it is here. We have been doing it for over 100 years. That's us. When people get to see that, it does nothing more than create more brand voice and cause some business leader, next week maybe, to consider us for their next expansion or move. All they have to do is give us a chance.
---
For more information see the Indiana Investment Profile in the September 2012 issue of Site Selection.