SPECIAL ADVERTISING SECTION
BIOTECH LOCATIONS
From Site Selection magazine, September 2012
SHARE THIS ON SOCIAL MEDIA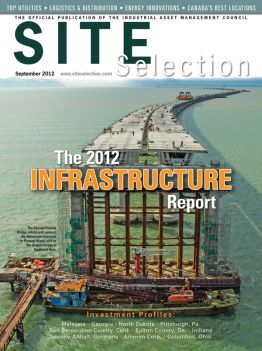 Biotechnology: Improving
Life As We Know It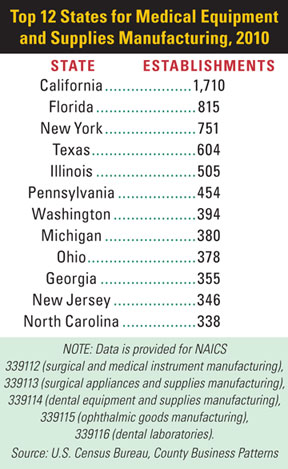 I
t was 1796 when English physician, scientist and pioneer Edward Jenner invented the world's first vaccine, making possible nothing short of a revolution in medicine and health care in the centuries to follow. Yes, there was a time, not too long ago, when catching the measles, mumps, rubella or chicken pox was a very real possibility for many of us humans, affecting hundreds of thousands of people each year and translating into a certain near-term death for many. Remember hearing about the "whooping cough?" This was not just a simple cough but was perhaps at one time one of the more deadly infectious diseases, claiming as many as 7,518 lives in the U.S. in one year before a vaccine was made available. According to the Biotechnology Industry Organization (BIO), by the 1990s vaccines had nearly rid us of deadly infections such as smallpox and polio, preventing millions of deaths worldwide.
The vaccine is just one example of a life-altering medical breakthrough made possible through what we call biotechnology. To gain some understanding into the far-reaching and untold impacts realized through the use of such technologies, one must look back over not just the past couple hundred years but over the course of thousands of years. Six thousand years to be more approximate, points out BIO, when biological processes were first used to make bread and cheese and to preserve dairy products. Since then and into the future, similar uses of cellular and biomolecular processes are enabling us to overcome the ever-evolving challenges we face with respect to the food we eat, the air we breathe, and the ailments we encounter. Indeed, the promise for improving the human condition through these efforts is incalculable.
States Answering the Call
It is this exciting potential to move the needle through biotechnology which has led states across the U.S. to engage in strategic partnerships and make significant investments to further this industry. According to the Battelle Technology Partnership Practice, such efforts have continued even in recent years despite challenging economic times. Battelle notes how some states that had made multi-year investment commitments to support biotech several years ago (such as Kansas, Maryland, Massachusetts, Ohio and Virginia) have carried on with their commitments, while a number of new state initiatives have also emerged. Following are just some examples of the latter as described by Battelle: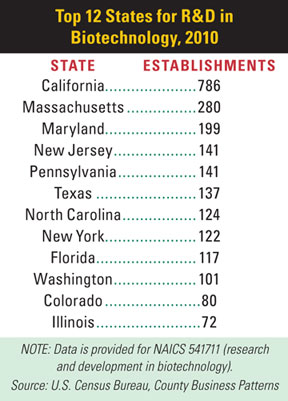 ″Michigan created the Centers of Energy Excellence in 2009 to match companies with universities, national labs, and training centers. The focus of the centers is on next generation research, workforce development, and technology commercialization.
″Created by the Oklahoma State Legislature in 2007, the Oklahoma Bioenergy Center is a collaboration of the University of Oklahoma, Oklahoma State University, and the Samuel Roberts Noble Foundation to advance R&D in the areas of cellulosic ethanol and biodiesels.
″The Colorado Institute for Drug, Device, and Diagnostic Development was launched in 2009 in partnership with the University of Colorado-Boulder, Colorado State University, Colorado Bioscience Association, Colorado Science + Technology Park at Fitzsimons, and the University of Colorado-Denver.
″In Georgia, the Global Center for Medical Innovation was founded in 2010 by Piedmont Healthcare, the Georgia Research Alliance, Georgia Tech, and Saint Joseph's Translational Research Institute.
South Dakota announced five new research centers in 2008 and 2009 to focus on translational cancer research in conjunction with public universities.
Another way states are supporting biotech is through their tax policies. As of 2010, Battelle had identified 38 states which offer an R&D tax credit in some form, 34 states which exempt sales tax for equipment used in R&D, and 33 states which exempt equipment purchased for biomanufacturing from the sales tax. This shows some rather widespread support for biotech in the U.S. through such policies. With such support becoming more common, some states have enacted additional measures to increase their competitiveness for biotech and similar investments. For example, according to Battelle, four of the states (Arkansas, New Jersey, Oklahoma, and Pennsylvania) offering R&D tax credits had made such credits transferable as of 2010.Seven states (Connecticut, Hawaii, Iowa, Louisiana, Nebraska, New York, and West Virginia) had made such credits refundable.
A number of states are also working to facilitate greater early-stage investment in biotech. In 2010, Battelle identified 20 states which offer tax credits to angel investors who invest in technology companies; and six states (Arizona, Kansas, Maryland, North Carolina, Virginia and Wisconsin) which provide credits to angel investors in bioscience specifically. Twelve states were reported to provide credits to investors in early stage funds, and three states (New Mexico, North Carolina and Wisconsin) to have a program to provide such credits to investors in bioscience funds specifically.
Using state dollars to make direct investments appears to be an emerging trend among states. According to Battelle, as of 2010, 13 states had invested in a fund of funds, 10 states in private venture capital firms, and 14 states in bioscience companies specifically. These developments are being carefully observed by industry watchers with respect to not only the potential for return on investment but also the intricacies involved when governments invest directly in private enterprise.
Industry at a Glance
According to Battelle, biotech-related manufacturing occurs in three main industrial sector areas: agricultural feedstock and chemicals, drugs and pharmaceuticals, and medical devices and equipment.Based on data from the U.S. Census Bureau, the feedstock and chemical sectors saw the most significant growth (nearly 30 percent) in number of establishments since 2000, with 4,974 establishments in 2010 that employed 150,919 people. While biotech-related companies are known for offering relatively high wages, the drug and pharmaceutical sectors posted the highest average annual wage ($80,984) in 2010 with 1,973 establishments and 231,022 employees. The medical device and equipment sectors accounted for the largest number of establishments (13,114) and employees (400,367) among three areas in 2010. Ninety percent of the establishments in these sectors are engaged in medical equipment and supplies manufacturing specifically. California, Florida and New York lead the nation in terms of the location of such facilities, while nine other states are also growing players in biotech.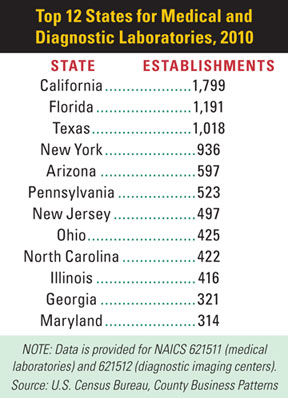 Where the R&D activity is reveals both current and emerging state players for biotech. The U.S. saw 38-percent growth in establishments engaged in R&D in the physical, engineering, and life sciences sectors from 2000 to 2010, according to the Census Bureau. Together, these sectors employed 605,728 workers in 2010, reflecting a 90-percent increase over 2000. With 14,490 establishments, those engaged in R&D in biotech specifically accounted for just over one-fifth (22 percent). While the average annual salary for workers in these R&D sectors was $99,742 in 2010, it was $118,427 for those engaged in biotech specifically. Not surprisingly, California continues to be the national leader with respect to housing these facilities and in also housing biotech-related manufacturing facilities. Other long-time biotech states, Massachusetts and Maryland, round out the top three states for biotech R&D. Nine other states warrant watching.
Another indicator of existing and emerging state players in biotech is the presence of medical and diagnostic laboratories.As of 2010, the U.S. housed 13,220 of these establishments, representing 34-percent growth over 2000. These facilities employed 248,133 workers in 2010 (a 63-percent increase) and posted an annual average wage of $59,012. California, Florida and Texas lead the nation in terms of the presence of such establishments. As with the biotech R&D facilities, nine other states warrant continued observation.
Recent Developments
According to Ernst & Young, there were 617 publicly traded biotechnology companies in the U.S., Europe, Canada and Australia as of 2011. Of these, 318 were based in the U.S. Together, the U.S. companies employed 98,560 workers, invested $17.2 billion in R&D, generated $58.8 billion in revenues, and posted a net income of $3.3 billion. Data from Ernst & Young reveal that U.S. biotech companies outperformed the overall market in terms of market capitalization for most of 2011.
The year 2012 has thus far been an exciting one in terms of announcements of major investment plans. Headline announcements include Baxter International's decision to invest $1 billion and build a new manufacturing facility in Georgia; Dow Chemical's plans to invest $600 million in Louisiana, and Roche Diagnostics Corporation's decision to invest $300 million in Indiana.Looking over the past decade (2001 to 2011), approximately 3,016 new facility projects had been announced — with reported associated combined investment plans of $113 billion — according to data tracked by Conway Data.Approximately two-thirds (66 percent) of these announcements were made since 2006. Activities in pharmaceuticals, bioenergy and alternative fuels (especially ethanol-related), and medical applications appeared to be represented most prominently among these announcements.
Pennsylvania, Ohio, New York, Illinois and Texas led the nation in terms of project announcements. That being said, impressively, all but one state had at least one announcement since 2001, reflecting the general competitiveness of the U.S. to support the needs of the diverse biotech industry. What makes states the states of choice for biotech? Site selection expert Jay Garner points to several important factors for supporting biotech which provide some explanation. These factors are:
Available skilled work force.
Clustering of biotech-related entities.
Protection of intellectual property rights.
Quality of place.
Access to venture capital.
Overall business costs.
Federal regulatory environment.
Culture of innovation.
Presence of academia (universities).
While industrial giants in biotech will of course continue to play major roles in the industry's development, pioneering entrepreneurs will also continue to contribute significantly to the innovation and breakthroughs in the industry. However, financing can be especially challenging for biotech entrepreneurs. According to Ernst & Young, while early-stage funds are commonly experiencing 10-year holding periods, investments into start-up stage biotech companies — where the exit would likely occur after the 10-year life of the fund — is less likely. The efforts by some states to make early-stage financing easier to obtain is in recognition of this challenge.
Another key challenge affecting biotech companies is the need for approval for their products by the U.S. Food & Drug Administration (FDA) and how this affects the time and effort it takes to bring a product to market. In recognition of this, with respect to drug approval, FDA created priority review, fast track, and accelerated approval approaches for "speeding the development and availability of drugs that treat serious diseases that are in everyone's interest."Ernst & Young also describe what they call a promising sign in fiscal year 2011 when FDA had approved more new medicines than at any other time since 2004. They noted how all but one drug had been approved by FDA on or before their target date and how 70 percent were approved in the U.S. before anywhere else in the world.As their data show, cancer continued to dominate, accounting for 44 percent of the products in the clinical trial pipeline.Neurology (10 percent) and infectious disease (9 percent) rounded out the top three in terms of areas of product development.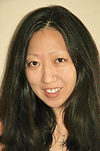 _______________________
Joy Wilkins is a Senior Fellow at The Fanning Institute at the University of Georgia.