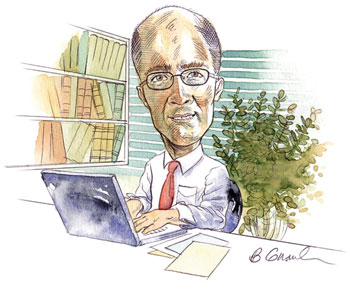 Reputable, Valuable and ... Memorable
ite Selection is the most reputable publication in the corporate real estate industry, say 84 percent of respondents to a reader survey we conducted a few weeks ago. I've long known that, but it's always gratifying to learn that such a large majority of our survey respondents feel the same way. The survey reveals several key points of interest to my staff, and to you too, I hope.
For example, even in this era of online information gathering, 79 percent of respondents primarily use the print version of the magazine to access our content. Only a fifth turn first to our website. That's motivation to continue to improve the look and feel of our print articles, a process well under way as this and future issues will demonstrate. We intend to keep our readers as engaged with the visual presentation of our content as we strive to do with the content itself (which won more awards in recent weeks from the Magazine Association of the Southeast, including one for General Excellence).
Next, it was gratifying to learn that nearly 80 percent find valuable our online newsletters — Site Selection International, the Site Selection Energy Report, the Site Selection Life Sciences Report and the SiteNet Dispatch. If you would like to receive one or more of these and are not on the distribution list, please let me know, and we'll fix that.
Back to the magazine. Our state and regional spotlights, industry reports and cover story are the most read categories of content, according to survey respondents. I'll bet that's because they are chock full of input from corporate executives we tracked down to walk us through their site selection process. Economic developers are all too happy to give us their side of the story — and we welcome it. But we know our readers are more interested in what their corporate real estate manager peers are doing, where they're doing it and why. This focus will continue to distinguish Site Selection from other publications in our niche. Not coincidentally, our site location case studies are deemed the most valuable articles by two thirds of respondents.
Here's an item that lends credence to the Southeast's booming (relatively speaking) business climate: 41 percent of respondents plan a new or expanded facility in this region — the most of any U.S. region (see the Southeast Regional Spotlight on page 148 in this issue for an expert's take on its current and future potential). Asia and Latin America top respondents' non-U.S. expansion scenarios, likely reflecting these areas' population and economic growth rates. We appreciate the participation of the more than 230 respondents, and we will take their feedback to heart to keep Site Selection the most authoritative — and reputable — publication in its niche.
Two more points. This month marks the 10-year anniversary of the Industrial Asset Management Council, the leading association of corporate real estate executives, economic developers and service providers. It has been Site Selection's privilege to serve as IAMC's official publication since its launch in 2002, and we look forward to serving in that role for many years to come.
Finally, I hope if you knew Bob Ady you will share a story about Bob with a colleague who didn't. Bob was a giant and pioneer in the field of site location consulting and one of the sharpest minds in the business. Prior to his passing on July 22nd after a six-month battle with cancer, Bob had a distinguished career in leadership positions at Fantus, Deloitte, World Business Chicago and most recently as the founder of the Site Selectors Guild, a new association of site consultants that is setting new standards of excellence in this profession.
It was only a year ago October that Bob, his wife Nancy and I laughed over breakfast at the Peabody Hotel in Memphis after I discovered we both appeared in a Memphis Commercial Appeal photo that morning — taken at a luncheon the previous day, where Gov. Haslam was the featured speaker. Bob and I had taken advantage of the opportunity during the luncheon Q&A to give the governor some food for thought about making Tennessee more competitive. That day, the contest was on to see which of us could find more copies of the paper around the hotel to share with family and friends (Bob won). Bob was a gift to the site selection profession, and a friend to everyone he met.