SPECIAL ADVERTISING SECTION
OPTICAL INFRASTRUCTURE
From Site Selection magazine, September 2012
SHARE THIS ON SOCIAL MEDIA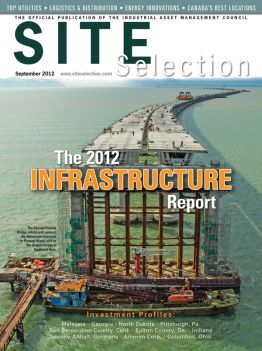 The Need for Speed
World-class fiber connectivity is needed for
businesses to reliably transmit large volumes of data.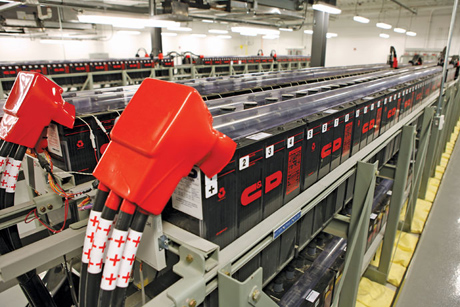 I
n 2010, Google announced it was looking for a location for an experimental fiber network. Its plan: To build and test ultra high-speed broadband networks in a few locations across the United States that would deliver the Internet at 1 gigabit per second.
Google received more than 1,100 replies from governments and individuals to its formal request for information, with many communities using gimmicks to get the company's attention. Topeka, Kan., renamed itself "Google, KS" and there were, of course, many Facebook pages urging Google to come to a specific community. Google ultimately decided to introduce the service to parts of metropolitan areas in Kansas and Missouri.
Why was there such a tremendous response? Google's experimental fiber network is projected to have download speed 100 times faster than broadband connections offered by telephone and cable companies. And communities know that it will have a positive impact on their local economies.
While Google's initiative is targeted more at homeowners, it exemplifies the urgent need for better and faster Web connections, particularly in communities that are looking to attract or retain large corporate users — users that cannot function without impeccable connectivity to get their work done. This type of fiber connection is critical to businesses that need to reliably transmit large volumes of data.
For local governments and municipalities, a robust fiber connection can mean the difference between securing a corporate headquarters or losing it to the town or state next door. Good fiber connectivity encourages companies to stay, helps them to grow, and attracts new businesses, which in turn creates new jobs in the community. 
The advent of advanced fiber connectivity in communities across the country, from San Francisco to rural North Carolina, offers corporate users new factors to consider as they decide where to locate their businesses and data centers. There are a number of related factors that also are important to executives choosing their next site. They include: 
Good Data Pipes
Close to one-half of the United States' population can be reached in about 12 hours by truck from the nation's capital. This is because of the effective Interstate Highway system developed over 60 years, up and down the East Coast and throughout our country. The same holds true for today's fiber-optic network and connectivity: The better the fiber infrastructure, the more effective it will be for businesses. But it's worth remembering that it took over 60 years to build out the Eisenhower Interstate Highway system, and building fiber connectivity will also take some time. Government's development of the Internet started in the 1960s and became commercialized in the early 1990s.
Wired Locations
High-speed Internet plays a key role as regions compete to boost economic development and entice corporations to relocate to their communities. Many states have stepped up efforts in the past year and set ambitious goals to wire more areas, partnering with providers to widen broadband availability. Close to 300 projects across the United States received Federal Recovery Act grants for broadband infrastructure upgrades.
Fiber-Ready Buildings
Many building owners are putting fiber into new properties or upgrading existing properties.  These high-capacity, reliable connections make buildings much more appealing for end-users.
Incentives
With the downturn in the economy, many companies are considering the incentives that are being offered by cities and states when choosing a new location. In fact, state and local incentives now are the second most important factor considered by site selectors.
Labor Costs
The top factor was labor costs, with companies ranking the cost of hiring talent as a key factor driving relocation decisions. This, too, is impacted by fiber connectivity. The evolution of technology means that many businesses can operate efficiently from any location, allowing
them access to a more affordable workforce. 
The Right Work Force
Companies are increasingly looking for smart, young, tech-savvy workers. A robust fiber network attracts those workers to a community. For example, companies are staying or relocating to Northern Virginia because it has one of the best work forces in the world — thanks, in part, to its robust fiber networks and cost-effective electric power.
Cost of Power
The price of electricity can be an important factor for some companies. To a large data center, a cost of 1 cent per kilowatt hour over 10 years can make a $1,000,000 difference in total energy costs. As a result, a corporate data center in a location where power is less expensive can make a major impact on the firm's operating budget.
Green Power
Power consumption is one of the biggest factors in sustainability. For example, data centers use tremendous amounts of energy, so those using electricity from green sources can have a major impact on enterprise-wide initiatives to reduce carbon footprint.
Location, Location, Location
As in all things real estate, location is certainly an important factor. Many financial services firms, for example, want to be close to a hub such as New York/Northern New Jersey, similar to lobbying firms needing to have close proximity to Capitol Hill. If location doesn't matter, suburban or rural locations offer options (land or buildings) with better pricing.
Cost of Space
Rent is generally the second largest expense for a company after salaries, so the cost of space is certainly an important factor to consider.
Regions and communities that continue to see direct benefits for build-out of extensive fiber networks include Ashburn, Va.; Northern New Jersey/New York; Santa Clara, Calif.; Dallas; Chicago; Phoenix; Atlanta; Quincy, Wash.; Boston; and recent growth areas such as North Carolina (Charlotte and Raleigh), Oregon and the Twin Cities (Minneapolis and St. Paul, Minn.). 
Other cities will follow soon, and Google is expected to expand its new high-speed service to other areas around the country. It's clear the nation's information superhighway will be built faster than our Interstate Highway system. It's America's new need for speed and productivity.
____________________________________
Allen Tucker is a data center consultant for Jones Lang LaSalle.