SPECIAL ADVERTISING SECTION
ADVANCED MANUFACTURING
From Site Selection magazine, January 2013
SHARE THIS ON SOCIAL MEDIA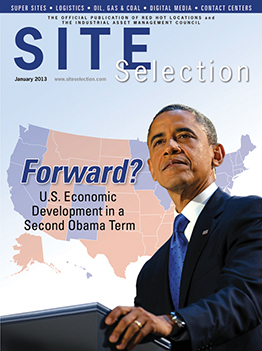 Advanced Talent Drives
Advanced Manufacturing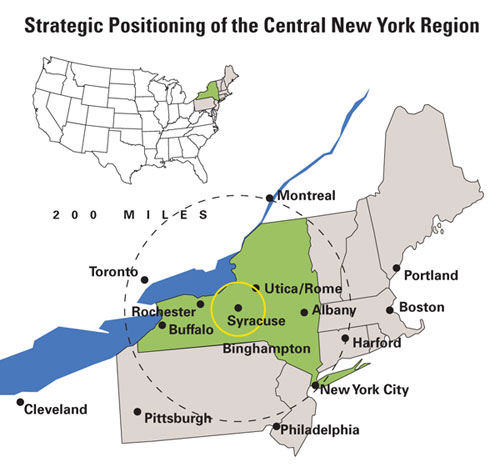 T
hese days, it's easy to catch a news report or open a newspaper and find commentary on the state of manufacturing in the U.S. They range from stories on job loss and company closures, to promising stories of innovation and new product development. In Central New York, we've had our share of both, but more and more we've been fortunate to experience the latter. And while manufacturing in CNY looks much different today than it did 20 years ago, the region has utilized its strong manufacturing tradition, skilled work force, and significant R&D assets to create a place where advanced manufacturers are thriving.
From the production of the first Smith Premier Typewriter in 1887, to the assembly of the modern air conditioner, Central New York has a long history of producing innovative products considered cutting-edge in their time. Today, the driver of our manufacturing base is companies with strengths to excel in increasingly competitive advanced manufacturing industries.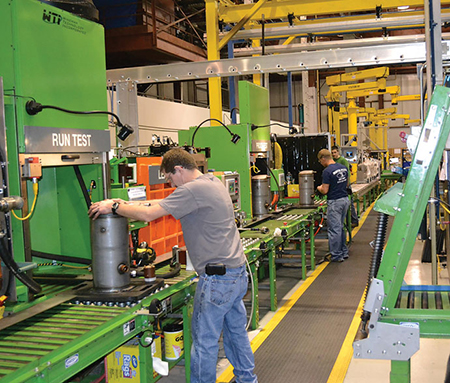 Whether drawing on its manufacturing legacy to grow expertise over the generations in fields like HVAC and air quality (Carrier Corporation), and medical devices (Welch Allyn), or attracting new companies to the region in emerging, high-tech fields such as digital electronics, defense, and radar and sensor systems, we are seeing a resurgence in manufacturing productivity and output. This growth relies on several key factors, including:

Talent, with access to a work force with specific and diverse skill sets — everything from engineers to those who work the manufacturing line; R&D expertise, with incentives and opportunities to advance product development; and strategic location, with proximity to key partners, customers, and resources.
This combination of skilled labor, R&D and engineering assets, and strategic location have drawn companies from as far away as Germany, helped to spawn new companies, and grow existing ones.
This combination of skilled labor, R&D and engineering assets, and strategic location have drawn companies from as far away as Germany, helped to spawn new companies, and grow existing ones.
Among them, BITZER Scroll, Inc. has seen considerable growth since making Syracuse its home. The company, a subsidiary of BITZER SE of Sindelfingen, Germany, which for more than 75 years has designed and built refrigerant compressors, related components and controls for heat pump, refrigeration and air conditioning systems for customers around the world, invested $20 million to open a design center, and later a 60,000-square-foot manufacturing facility in 2008. Since then, BITZER has expanded its current footprint to 130,000 square feet and is planning a move to a larger facility a mile away in 2013. According to Peter Narreau, president of BITZER Americas, "We've been able to use some smart growth principles and re-purpose an existing facility with good infrastructure, rather than moving operations out of the area to accommodate growth." Total investments in the Scroll operation have exceeded $50 million since inception.
In addition to outstanding transportation infrastructure, key factors in BITZER's decision to set up shop in the region included the available work force and engineering expertise, and the region's deep history in manufacturing. Since 1990, the Syracuse area lost nearly half its manufacturing job base, most notably in businesses tied to the automotive and air conditioning industries. However, that led to an abundant supply of engineers and workers with experience in compressor design, precision machining, and other skills sets in high demand at BITZER. Since locating in Syracuse, the company's work force has grown from three to 85, with plans to add an additional 50 people within the next five years as new models are introduced.
As demand for advanced and energy efficient heat pump, refrigeration and air conditioning technology continues to grow around the world, BITZER's Syracuse operation is poised be a leading force in the industry. In 2011, the BITZER group enjoyed record growth, strengthening its strong global presence, and remains at the forefront of technology. Its scroll compressors are used by many companies in North America and exported to customers as far away as China, Italy and Poland.
In 2011, the BITZER Group enjoyed record growth, strengthening its strong global presence, and remains at the forefront of technology.
Just east of Syracuse in Cazenovia, N.Y., Marquardt Switches Inc., a subsidiary of Marquardt Group in Rietheim-Weilheim, Germany, has seen similar benefits. Marquardt is a leading manufacturer of switching systems for the appliance, power tool and automotive industries. Despite the challenges of the recession, the company has experienced exciting growth.
Starting in 2005, Marquardt began a three-year transition towards manufacturing for the automotive industry. During 2008, after having invested more than $35 million in facility expansions and technology upgrades, the company began to see the effects of a dramatic economic downturn. An anticipated major auto contract fell short, and the company faced the challenge of protecting its employees and investments. Marquardt was forced to lay off more than 100 workers.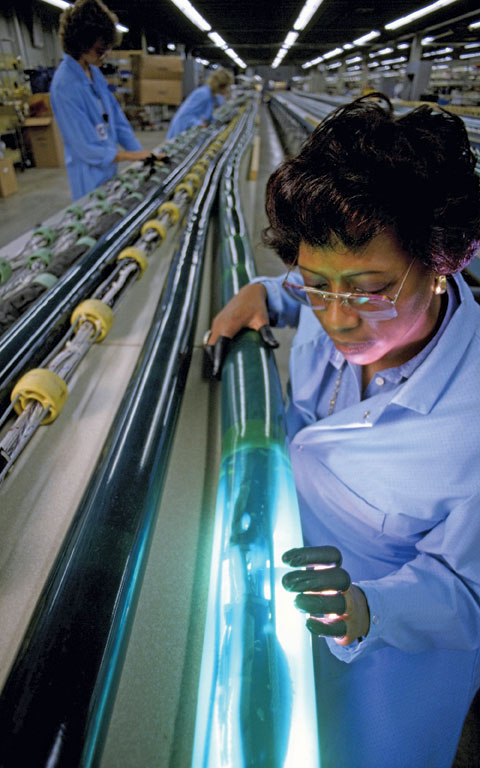 However, the company took steps to minimize the number of people affected by enrolling in the New York State work share program, allowing time off without pay, and invested in training new skills to support its processes and technologies. Marquardt also worked with the New York State Department of Labor, taking advantage of benefits which allow students in their apprentice program to continue their education.
"Our management team believes strongly that our most valuable asset is our work force," said Kirk Wardell, director of operations at Marquardt. "We knew we had to retain as many of our employees as possible knowing that the key to emerging quickly from the recession would be a well trained work force."
At the same time, Marquardt's sales team also worked to diversify its portfolio, a strategy that helped it come through the recession. Those efforts paid off. As business began to recover, Marquardt responded by recalling employees once laid off, in addition to 150 new people with more positions open. It also increased its production schedule to seven days a week and recruited talent that brought total employment to more than 400 — its highest employment level ever. Production output has more than tripled, reaching the highest volumes ever produced at the Cazenovia facility, and they have expanded the footprint of the building several times to accommodate the growth.
In the field of radar, Lockheed Martin, SRC and SAAB Sensis are producing advanced systems in Central New York that rely heavily on both engineering skills and manufacturing excellence. Whether used in defense operations or commercial applications, radar system failure is not an option, meaning high standards for production facility locations. When SAAB invested $155 million to acquire locally grown company Sensis, they decided to keep the operation in Central New York to take advantage of a legacy of radar expertise and next generation radar innovation.
To be sure, the economic impact of advanced manufacturing isn't measured in jobs numbers and facility investments alone. It has also provided the region a diversity of markets and expanding global opportunities.
INFICON, a leading developer, manufacturer, and supplier of innovative instrumentation, sensor technologies, and advanced process control software, saw record profits of $43.7 million in 2011, up 61.5 percent from 2010, and a 17.6-percent increase in sales at its East Syracuse location, thanks in large part to a focus on growing its exports. According to INFICON President Peter Maier, the company's exports have more than doubled over the past seven years. Nearly 70 percent of its products manufactured here are exported outside the U.S., with Korea and China being its leading foreign markets. A strategic business acquisition also helped move jobs from China to Syracuse, and Maier anticipates additional growth.
The growth of these companies can also be tied directly to their ability to innovate and capitalize on the more than $1.2 billion in R&D taking place at 35 colleges and universities in the larger 12-county region, as well as available incentive programs.
NuClimate Air Quality Systems, located in DeWitt, New York is "an honest-to-goodness, homegrown success story," according to Ed Bogucz, executive director of the Syracuse Center of Excellence (SyracuseCoE), a collaboration of 200+ companies and institutions whose mission is to accelerate creation of environmental and energy innovations.
When consulting engineer James H. Miller became frustrated with the constraints of existing heating, ventilation and air conditioning equipment he invented a better one; one that uses approximately 17 percent less energy than a traditional system. In 2003 Miller started NuClimate with Edward M. Campagna and John L DiMillo, two veterans of the HVAC arena who formerly worked at Carrier Corporation. The company utilized New York State supported incentive programs such as Grants for Growth, a fund to support academic-industry collaboration to commercialize new technologies, and the Commercialization Assistance program, a fund jointly administered through CenterState CEO and the SyracuseCoE to advance research and development/deployment of clean energy technologies, to help them bring their products to market.
In June of 2012 NuClimate announced an exclusive agreement with Carrier Air Conditioning for the OEM supply of NuClimate's Chilled/Induction Beam line. This product line has great potential across the U.S. and internationally.
Today, these and other firms are leading Central New York's manufacturing resurgence. Currently, manufacturing represents 10 percent of Central New York's total employment (Battelle analysis of QCEW data), and in 2009, generated 17.2 percent of the private sector wages within the region, for a total of $1.9 billion (Manufacturing Research Institute).
Work force remains an underlying factor key to site selection. That work force must not only be skilled; it needs to be affordable. In the larger 12-county region surrounding Central New York, average annual private sector wages are generally below that for the nation ($38,375 compared to U.S. average, $46,451, according to Battelle analysis of Bureau of Labor Statistics, QCEW data).
And work force isn't just the people on the production floor, it's also the engineers and designers, production managers and others who can keep a company productive and on the cutting edge. Central New York boasts worker productivity that is among the most competitive in the nation, with an output per worker of $101,122 (2009), ranking it 21st among the top 100 metropolitan areas in the U.S. (Brookings Institution).
The manufacturing employment base is also backed by the third highest concentrations of educational institutions in the country, with a pipeline of 138,000 students at 35 colleges and universities, a critical factor to ensure the talent pool necessary for today's high tech advanced manufacturers, and tomorrow's.
And in an increasingly competitive global economy, today's advanced manufacturing industries are critical to this region's ongoing strategic interests to expand research, commercialization, and connections with global markets. The region's top exporting industries all align with advanced manufacturing, including:
Machinery manufacturing;
Chemical manufacturing;
Computer and electronic product manufacturing;
Primary metal manufacturing; and
Transportation equipment manufacturing.
Many of the markets targeted and accessed by these manufacturers are global, and at a time when global markets related to security, aerospace, defense, and air quality are expanding, our region's strengths in these areas provides a significant opportunity for firms to grow through exports.
The right combination of these factors is critical to the success of advanced manufacturers. Availability of skilled work force, access to R&D, a pipeline of talent, strategic location, and attractive incentives puts Syracuse and Central New York on a competitive playing field with any of the larger, high-tech hubs across the U.S. — at a cost far less than markets like Boston or San Francisco.
Advanced manufacturing continues to deliver meaningful economic impact here. Whether it's through homegrown companies or those hailing from international destinations that have found the right fit in Central New York to enable their growth, this region has been rewarded with thousands of jobs and continuing opportunity to excel in the advanced manufacturing arena. For all these reasons, our region has seen a resurgence in advanced manufacturing — a vital part of our diverse economy and one that is poised to compete on a global scale now and into the future.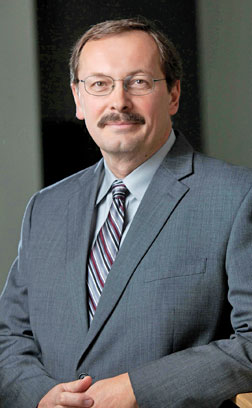 CenterState CEO is 2,000 companies, large and small, working together to increase business competitiveness, community prosperity, and regional growth. We deliver results-driven programs including New York's most modern Chamber of Commerce and nationally-recognized economic and community development planning. Based in Syracuse, convening members and partners across twelve counties, CenterState CEO advances the region with member-focused solutions for success. www.centerstateceo.com
Michael Novakowski is director of business development for CenterState CEO.
---