SPECIAL ADVERTISING SECTION
PORTS, RAIL & PARKS
From Site Selection magazine, March 2013
SHARE THIS ON SOCIAL MEDIA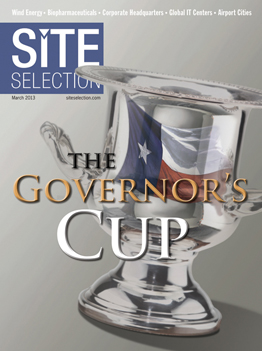 Intermodal
A game-changing logistics project is taking shape in a Central Florida city
once known more for growing citrus and entertaining tourists.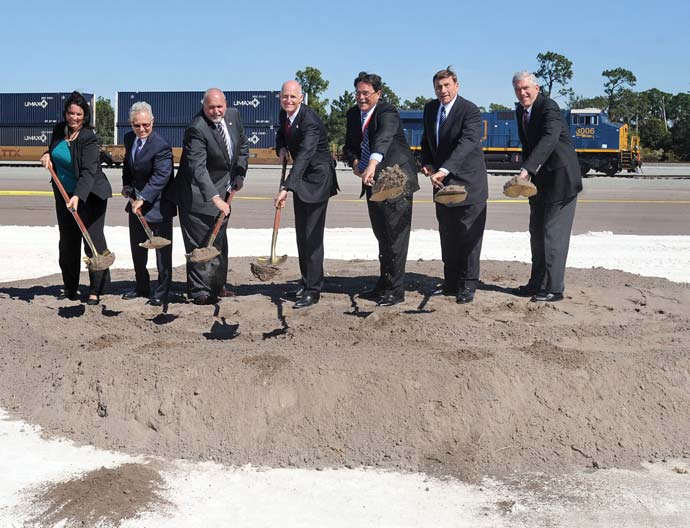 O
n Nov. 8, 2012, Florida Gov. Rick Scott joined local and state officials and executives from a number of Florida-based companies to break ground on the Winter Haven Intermodal Rail Terminal.
"My number one priority is to create jobs for Florida families," Gov. Scott said during the ceremony in Winter Haven, a city of 35,000 residents in eastern Polk County, roughly centered between Tampa and Orlando along the Interstate 4 Corridor. "This ground-breaking means more jobs, more opportunities for our communities, and underscores Florida's importance in global commerce. We have more work to do, but we are clearly on the right track for greater job creation."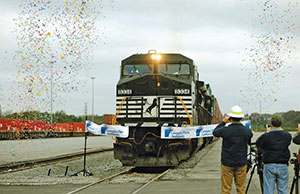 Georgia Ports Authority's expanded Mason Intermodal Container Transfer Facility in Savannah opened for business on Nov. 16, 2012, with improvements cutting round-trip Norfolk Southern train movements to Atlanta by six hours.
"These improvements allow Norfolk Southern to offer an efficient, competitive route to the large inland port just up the road – Atlanta," said Jeffrey Heller, NS group vice president of international intermodal services.
GPA Executive Director Curtis Foltz said the $6.5 million, 6,000-foot rail-yard extension will expand capacity, improve efficiencies and reduce costs for customers.
"The rail yard's increased efficiency will save time on each container transfer handled at Mason ICTF, saving port customers money," said Foltz.
With this expansion, the Garden City Terminal's two rail yards, serving Class I rail providers Norfolk Southern and CSX, now feature a total of 46,921 linear feet of track.
The Winter Haven Rail Terminal will be built and operated by Evansville Western Railway, an affiliate of Jacksonville-based CSX Transportation. The terminal will serve CSX's growing intermodal business and allow CSX to accommodate customers in Orlando, Tampa and South Florida.
An economic impact study by HDR Engineering shows that construction of the Evansville Western Railway terminal is estimated to create 8,500 jobs and generate more than $10 billion in economic development over 10 years.
The terminal is being built on 318 acres and will include five 3,000-foot loading tracks and two 10,000-foot arrival and departure tracks. The tracks will be spanned by three electric rail-mounted gantry cranes that will unload and load trains.
The terminal is next to 930 acres that CSX has an option to purchase from the City of Winter Haven. Polk County officials say that the intermodal terminal will serve as a magnet for the development of distribution centers, warehousing and manufacturing facilities on the adjacent property.
Together, the two properties will form the Winter Haven Integrated Logistics Center, which will be a critical asset for economic development in Central Florida, according to representatives of the Governor's Office and Enterprise Florida.
Mark McDuff, senior business development manager for the Central Florida Development Council in Polk County, calls the project a game-changer for both the city and the region.
"The CSX Integrated Logistics Center is now in phase-one construction," McDuff says. "They are building a grain terminal with gantry cranes on a 318-acre site that will load and unload unit trains out of Chicago and the Northeast delivering product to Central Florida for distribution. There will also be a lot of product going out of the state. Phase one will be completed in April.
"Phase two," he adds, "will be a business park on 930 acres that CSX owns. It will be developed into warehouse-distribution and light-manufacturing use going forward. It is located about 50 miles from the Port of Tampa and about 60 miles from Port Manatee in Bradenton on the south side of Tampa Bay."
The project represents one of the largest private investments in the history of Winter Haven, an area whose fortune was built by citrus magnates and entrepreneurs such as the late Dick Pope Sr., founder of the famed Cypress Gardens amusement park that has since been redeveloped as Legoland of Florida.
The CSX project effectively points Winter Haven toward a new era of logistics-driven industrial development.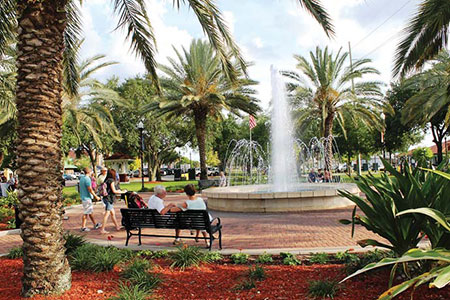 George Livingston, principal of NAI Realvest in Maitland near Orlando, served as a site consultant on the project and says that Winter Haven and the entire Central Florida corridor will benefit from the widening of the Panama Canal.
"People are anticipating the Panama Canal expansion," Livingston says. "Some 50 percent of the container traffic will come to the U.S. East Coast instead of going to the West Coast. They want to avoid the Pacific Coast if they can. The Winter Haven CSX Integrated Logistics Center is moving forward and that will impact both the Port of Tampa and Port Manatee on the Florida Gulf Coast."
Construction of the Evansville Western Railway terminal in Winter Haven will create an estimated 200 construction jobs. EVWR and its contractors have partnered with the local work-force development board, Polk Works, to identify qualified local suppliers and subcontractors to provide jobs and supplier opportunities.
Gov. Scott noted that several Florida-based companies have benefited from the construction:
Hanson Concrete Pipe, which operates one of the country's largest automated pipe plants in Winter Haven, has supplied all the precast concrete drainage pipes for the terminal. Mack Industries, also based near Winter Haven, is supplying all the concrete underground junction boxes.
Large amounts of project materials are being purchased locally from companies like CEMEX in Winter Haven, Conrad Yelvington in Mulberry, Hanson Industries in Orlando and Jahna Industries in Clermont.
More than 80 percent of the design and engineering on the project is being performed in Florida, using consultants from Winter Haven, Orlando, Jacksonville and other locations.
Ring Power Corp., a company based in St. Augustine, is a full-line dealer of Caterpillar equipment for North and Central Florida. Through its Polk County sales office, Ring Power has supplied two articulated trucks, five hydraulic excavators, eight track-type tractors and one compactor for terminal construction.
Winter Haven-based Whitehead Construction was hired to build four buildings on site. Other local subcontractors include Leware Construction of Leesburg and MSE Walls of Kissimmee.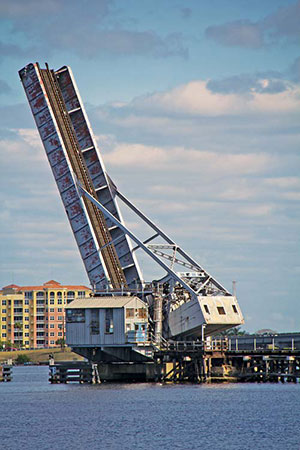 According to the economic impact study conducted by HDR Engineering, at build-out the Winter Haven ILC will create 8,500 jobs with a total annual payroll of $282.2 million. Over a decade, the ILC is projected to generate more than $10 billion in economic development and add $900 million in state and federal tax revenue.
According to Winter Haven Mayor J.P. Powell, the construction of the rail terminal has already had a positive impact on the local economy. "Winter Haven is on track for great success with the start of this exciting economic engine. This project represents another step toward reshaping our economy, building critically needed infrastructure, and providing meaningful jobs for our residents and our community," Powell said.
Michael Ward, president, chairman and CEO of CSX, joined Gov. Scott in touring the construction site. "CSX looks forward to serving Evansville Western's Winter Haven intermodal terminal, which enhances Florida's world-renowned capabilities in transportation and logistics," Ward said. "Florida is fortunate to have visionary state and local leaders who understand and leverage opportunities to support businesses that create jobs and spur economic development."
The Winter Haven Rail Terminal is slated to open by May 2014.