SPECIAL ADVERTISING SECTION
HEADQUARTERS
From Site Selection magazine, March 2014
SHARE THIS ON SOCIAL MEDIA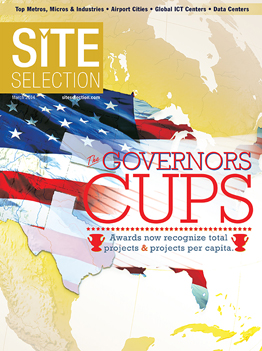 Corporate Headquarters Mobility Is at an
All-Time High
A Growth Sector in Corporate Site Selection
H

istorically off the table in corporate re-structuring programs, the corporate headquarters office is now in play like never before. Many of our clients over the past decade have reconfigured their manufacturing operations (both off-shoring and re-shoring) and have redeployed their distribution facilities in response to events like Nafta, soaring fuel costs, the Panama Canal expansion and the rise of intermodal transport. These same clients have also decentralized many of their administrative support functions from their traditional home at the head office to free-standing, shared services sites in lower cost cities.
As companies continue to examine their bottom line in response to global competition and the slow economic recovery, their focus is increasingly turning to the remaining piece of the restructuring equation: the corporate headquarters site. Pent-up demand from companies that have put head office moves on hold since the 2008 financial crisis is another driver here.
Head office mobility is not going unnoticed by politicians and economic development practitioners. For good reason, they view the corporate headquarters as the gold standard in industry attraction given the prestige, human capital and economic stimulus a new head office brings to a city. Financial incentives crafted specifically to help attract corporate headquarters are now commonplace among states competing for this holy grail of economic development.
Elite cities in the corporate headquarters sweepstakes such as Atlanta, Dallas, Charlotte and Houston wait anxiously each May when Fortune Magazine publishes its list of Fortune 500 companies to see how many they can claim as their own. This May tally — and how it compares with totals of traditional corporate headquarters meccas — New York, Chicago, Boston — is valuable ammunition for these foot soldiers in the national tug-of-war for new corporate headquarters.
Five Key Drivers in the Headquarters Move
The five major selection factors guiding the headquarters hunt have not changed much over the years, although their interpretation and ranking has. The five factors we explain to our clients is a take on the old British fox hunting term "Tally Ho." Our acronym — TALIO — stands for Talent, Access, Lifestyle, Incentives and Operating Costs.
TALIO
1) TALENT – Recruiting challenges, such as hiring top young professionals or highly skilled technical talent in fields like engineering and IT within the local labor market, are often a driver in the head office move.
2) ACCESS – Our headquarters clients want easy access to a hub airport with strong international connections. The common denominator in the strong head office success rate of Atlanta, Dallas and Charlotte is their airports. Charlotte's attraction of Chiquita Brands' headquarters from air-weak Cincinnati, e.g., was directly related to available service to destinations such as Frankfurt, London, Paris, Rio de Janeiro and Mexico City at Charlotte Douglas International Airport.
3) LIFESTYLE – Finalist cities in our head office searches need to demonstrate that our clients will retain their key management and technical staff in the initial move and enjoy an advantageous recruiting position in the years ahead to attract top national and international talent. Some clients like vanilla, some like chocolate when it comes to "lifestyle" but all head offices demand superior educational facilities, an accommodating housing market, state-of-the-art healthcare and a cultural and recreational bill of fare. Interestingly enough, the presence of major league sports, especially an NFL franchise, has been a requisite in more than one of our headquarters relocation projects.
4) INCENTIVES – Tax exemptions and other financial inducements — designed to help write down the enormous cost of relocating a corporate headquarters — are key components to any corporate headquarters search today.
5) OPERATING COSTS – Costs are white hot issues in today's corporate boardrooms. To the degree that a city can offer a more favorable bottom line, that city enjoys a compelling advantage in today's hype cost-conscious environment.
Comparative Operating Costs
Of the five-site selection drivers, operating costs have gained the most in importance in recent years given the slow economic recovery and the fact that our clients are all taking a world view of their competitive cost structures (see figure 1).

A Smaller Headquarters Footprint
Many of our clients' current headquarters were designed for workplace standards dating back 20 or more years. Today's collaborative workspaces and technology that allows mobile employees to work from anywhere have translated into much smaller head office footprints.
For some of our projects, the average sq. ft. per office worker requirement has dropped from as high as 250 sq. ft. to as little as 125 sq. ft. Worker requirements are also trending downward due to automation, the cloud and the growth of remote shared services centers performing back office functions traditionally housed at the more expensive corporate headquarters site.
An Urban Shift
Also trending today is the decline of the sprawling suburban headquarters campus in favor of a more urban setting, one showing special appeal to young, upwardly mobile professionals. This is especially evident among tech companies like Google, Amazon, Pinterest and Facebook who are carving out tech enclaves in downtown office markets in San Francisco, New York, Chicago, Pittsburgh and Seattle. Also, demographics point to highly educated workers clustering in a select number of U.S. cities. As young, dual-career professionals marry and start families later than previous generations, they're delaying or rejecting altogether moves to the suburbs.
In New York City, the hot Flat Iron District is being joined by a new urban head office enclave, namely the Hudson Yards development where Time Warner, Coach and L'Oreal are moving their headquarters. Time Warner's huge 5,000‐worker announcement is giving added traction to this new business and residential district, much the way it did when the media company moved to Columbus Circle a decade ago.
One major exception to the urban headquarters trend is Atlanta, where head offices continue to trend to the metro area's suburban office markets along its northern perimeter. Atlanta's affinity to the automobile and high profile rejection of a public transit referendum last year keeps suburban office markets such as Buckhead, Central Perimeter and the Northwest in play as seen in the recent headquarters relocation of Pulte Group from Detroit to Atlanta's Buckhead along with other major suburban office investments by State Farm, Geico, PointClear Solutions, FiServ and others.
Other smaller market suburbs that we see bucking the urban headquarters trend include Carmel outside of Indianapolis, Dublin near Columbus, Ohio, The Woodlands near Houston, Roseville outside of Sacramento, Miramar outside of Miami, the Ann Arbor area, the Summerlin office market near Las Vegas, Owings Mills outside of Baltimore and the Englewood area of Denver.
Surplus Suburban Headquarters Space
The urban head office trend is leaving millions of sq. ft. of suburban corporate headquarters space vacant and functionally obsolete. This surplus space left behind by companies that have relocated, re-engineered themselves or gone out of business is scattered throughout the country, but heavily concentrated in states like New Jersey, Ohio and Connecticut.
The poster child of suburban excess is the former headquarters of Bell Laboratories in Holmdel Township, N.J., not far from us here in Princeton. The massive 1.9-million-sq.-ft. Eero Saarinen-designed glass office structure sits on 472 acres has been empty since 2007. The former head office is now being redeveloped by a leader of the new urbanism movement, Ralph Zucker, as a mix of retail, restaurants, housing, offices and a spa.
Other vacated corporate head offices are also finding new life. In Akron, Ohio, the former Goodyear headquarters is being resurrected by the noted California developer, Stu Lichter, who is converting Goodyear's 1.7-million-sq.-ft. mishmash of brick and concrete buildings into hotel rooms, housing, modern office space and other uses, including a new site for the local community college.
Trend-Setting Corporate Headquarters Moves and What They Tell Us
Since the 1970s, our firm has witnessed a number of trend-setting corporate headquarters relocations that served to tell a bigger story than just the companies and cities The urban head office trend is leaving millions of sq. ft. of suburban corporate headquarters space vacant and functionally obsolete.involved. They provided a window into the economy and emerging site selection trends that would impact other corporate moves. Some of the more telling headquarters moves include:
Johns-Manville from New York City to Denver, 1972 — This move was the Rocky Mountain Region's first major headquarters catch from the East. It created the urban legend of how top executives' penchant for skiing was the real motivation for this crosscountry move.
AT&T from New York City to Bedminster, N.J., 1974 – This move to suburban New Jersey ushered in a trend of similar moves from Manhattan to close-in bedroom communities in northern New Jersey and southern Connecticut that continues to this day.
Mutual Benefit Life Insurance from Newark to Kansas City, 1975 – This move by the company nicknamed "The Tiffany of Insurance Companies" due to its upper-crust policyholders was one of the Heartland's first major head office catches from the East. It was a feather in the cap for Kansas City civic leaders, including Henry Bloch, the founder of H&R Block who spearheaded Kansas City's famed "Prime Time" marketing campaign to turn around the city's old cow town image. Our firm had the pleasure of providing technical assistance to the "Prime Time" program, which has become somewhat of a classic in the field of community promotion.
Sun Life Insurance from Montreal to Toronto, 1978 – Canada's largest insurance company (and later a client of ours) relocated to Toronto citing political instability surrounding Bill 101 mandating French as Quebec's official language. The move initiated a sea change of corporate influence from francophone Montreal to anglophone Toronto. The relocation was a symbolic and economic blow for René Lévesque and the separatist Parti Québécois government at the time.
American Airlines from New York City to Dallas, 1979 – This front-page move ushered in a new era of long range corporate headquarters moves out of Manhattan. The move came at a time when New York was devastated by fiscal crisis, crime and racial unrest. The American Airlines loss more than any other helped inspire the iconic Madison Avenue promotion program "I Love NY," designed to resurrect the city's fortunes as a tourist and business destination.
UPS from Greenwich, Conn., to Atlanta, 1991 – From its founding as the South's rail and highway center, Atlanta has always been known as the logistics hub of the South. The high profile and symbolic UPS move made it official.
Canadian Pacific from Montreal to Calgary, 1996 – This move to Western Canada by one of the country's oldest and best known companies put booming, energy-rich Calgary, Alberta, in the corporate big leagues along with Toronto, Vancouver and Montreal.
Boeing from Seattle to Chicago, 2001 – This move to downtown Chicago ushered in the modern era of head office mobility and helped formalize the process of state incentives and promotions geared specifically to head office attraction. More than any other relocation, it taught cities to think the unthinkable. No headquarters, even a homegrown icon like Boeing, is immune to relocation.
Newell Rubbermaid from Freeport, Ill., to Atlanta, 2003 – This small city to big city relocation ended a 10-year absence of Fortune 500 moves to Atlanta. The company, in the stodgy trash container, home goods sector, believed an Atlanta headquarters address would help invigorate sales and upmarket its image and brand.
Philip Morris from New York City to Richmond, Va., 2003 – This high-profile move was announced just days after Mayor Bloomberg's tough anti-smoking law. Today, politics and relocation are again colliding within our nation's gun manufacturing industry.
Twitter from San Francisco's Financial District to San Francisco's Mid Market District, 2011 – Emboldened by payroll tax breaks initiated by tech-friendly Mayor Edwin Lee, fast-growing Twitter rejects a move to the Silicon Valley suburbs and announces a new headquarters for San Francisco's then-seedy Mid‐Market District. Numerous other techs such as Spotify, Dolby Labs and Yammer follow suit.

The American Airlines loss more than any other helped inspire the iconic Madison Avenue promotion program "I Love NY," designed to resurrect the City's fortunes as a tourist and business destination.

Zappos from Henderson, Nev. to downtown Las Vegas, 2012 – The online shoe retailer led by its charismatic CEO Tony Hsieh is single‐handedly transforming downtown Las Vegas to a destination site for new tech startups from California and beyond.
Panasonic from Secaucus, N.J. to Newark, N.J., 2012 – This head office decision was the result of New Jersey's innovative Urban Transit Tax Incentive, an incentive that we see being copied in other urban centers around the country to help attract corporate headquarters and encourage the use of mass transit.

John H. Boyd is president of The Boyd Co., Inc., one of the nation's oldest and most respected corporate site selection firms.

Aon from Chicago to London, England, 2012 – This move underscores the global scope of head office moves, especially within the highly regulated and tax-sensitive financial services sector.
Hertz from Park Ridge, N.J., to Estero, Fla., 2013 – This consolidation of operations from northern New Jersey and Oklahoma is viewed by our firm as the first of many that find Florida as common ground for reluctant transferees from different cities and cultures. We see Southwest Florida emerging as a destination for these types of head office consolidations just as the South Florida cities of Miami and Fort Lauderdale have carved out their niche for head office operations serving the Latin American market. The absence of a personal income tax in Florida, real estate bargains and low property taxes will further this trend.