SPECIAL ADVERTISING SECTION
PORTS-RAIL-PARKS
From Site Selection magazine, March 2014
SHARE THIS ON SOCIAL MEDIA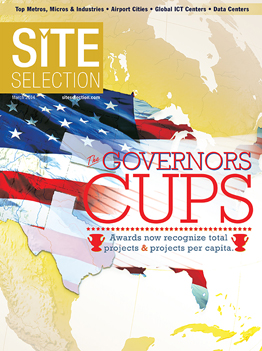 Where To Place the Next Bet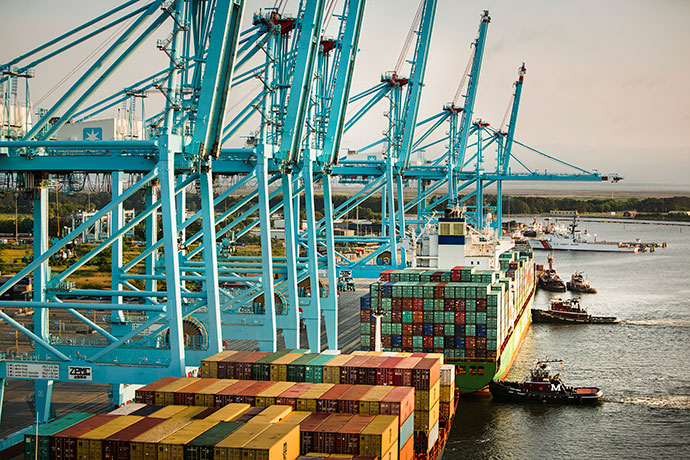 T
he global economy is completely reliant on an optimized transportation system with little room for failure of each vital link in the supply chain." That statement in this column, while absolutely right in 2007, is still correct, but the optimization formula has changed. Optimization is practiced by major shippers, which derive profit from logistics savings. With lower cost of carry on inventory, no matter which party is carrying it, and plenty of capacity, the supply chain has looked rather limp since 2009. In fact, the ocean carriers are still running their equipment for their cost optimization rather than speed. Demand is still light compared to capacity.
The short answer for those who won't read the whole article follows. Put your real estate and infrastructure near where the people are. Service to large populous regions really drives the business. Just make sure you have cost-effective (competitive) transportation service to the site. All the other exciting news about trends is likely to have a shorter useful life and simply represent the freight transportation industry (ports, carriers, et al) continuing to innovate. If you are in real estate, you already knew this.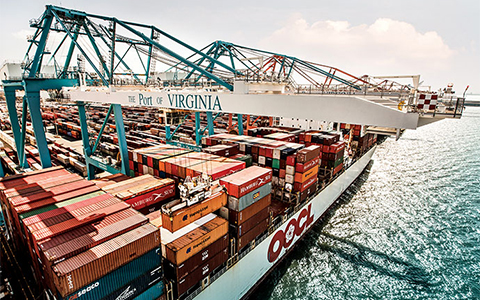 While the US population continues to grow, the major markets will need a steady supply of goods made elsewhere. US agriculture and energy are in export mode with enough volume to balance import/export traffic volumes, especially intermodal traffic. Balanced traffic helps carrier efficiency and helps drive business to a port. Efficient infrastructure and competitive carrier lanes, whether ocean or domestic rail, are a plus. Geographic placement near a big market makes ports attractive. The reach of the port depends in many cases on the geopolitical leadership and the investment level. Some ports are buying intermodal service to markets hundreds of miles away to claim market share and make them more attractive to more carriers and foreign destinations.
The rail industry has invested along with the government in structural improvements to improve efficiency and price competitiveness (Heartland, National Gateway, et al). This is beginning to show significant results. The Port of Virginia announced that 2013 set a new record container volume year 4.5% above the last record in 2007. More importantly 34% of that freight moved to and from the port on a train. That's a lot less trucks to rumble over local roads last year. Newark (N.J.) has had rail adjacent the container port for years, but most of their market is close to the port. What is interesting is that Virginia's port is not adjacent to LA or NYC. It is miles from those major markets, but it connects well. Virginia's leadership, much like Georgia with state-run port authorities, put investment dollars into their strategy. Virginia leveraged Class I railroads into a competitive service. They set up subsidized service to an outpost of the I-81 heavy truck route, Richmond (barge), the Greensboro triad, and are partnering with North Carolina, a brilliant move for both states. When big infrastructure costs are publically funded it makes a lot of sense to partner. It even makes sense to have a national freight transportation plan to invest in core infrastructure, but the Federal government still lacks leadership in transportation planning despite being aware of the opportunity after much study.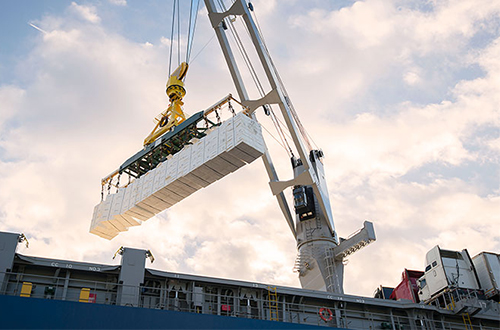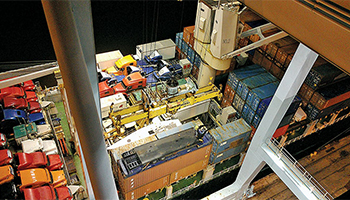 Port diversification by container shippers started with the LA strike ten years ago. Most of the action is now over. San Pedro Bay ports (LA/Long Beach) have dropped 2% of the U.S. market share but the traffic is flat due to national volume growth. Even the opening of the Panama Canal in a year or two won't change the numbers hitting East Coast ports significantly. The opening of a widened canal will allow greater efficiency for the ocean carriers and benefit deep-draft ports on the East Coast and Gulf, but the traffic volume to each major market is only so big and it won't be like a spigot turning on. Railroads which did transcontinental moves of containers will likely continue to see price pressure, in cooperation with West Coast ports, to save some of the East Coast business. Indeed, if demand continues to grow and cost of carry goes up (rising interest rates) that will reduce the competitiveness of long ocean hauls to the East Coast via the Panama Canal and offset some of the large vessel savings. There are a lot of variables.
Bottom line: Build an efficient product, service it well, and gain market share, just like any other business. The players for this business are well staked out and no new players are expected to emerge. And don't forget that with wage equalization between China and Mexico, near shoring continues its growth, further shifting trade lanes. Last year Mexico outpaced Asia in trade growth with the US. And the manufacturing shift to Southeastern Asia supports Suez Canal routes which feed nicely into the East Coast ports. So while the West Coast ports have lost a couple points of market share, their volume is still dominant and they connect well with Chicago and Dallas for Asian traffic.
Bottom line: Build an efficient product, service it well, and gain market share, just like any other business.
Distribution parks connected to ports are generally leased up. In the LA market there were 10 million square feet absorbed last year. In Hampton Roads/southeast Virginia distribution space has tightened. The U.S. industrial market ended 2013 on a high with 77 million square feet absorbed in Q4 (around 250 million for the year). It was the strongest year since 2007 (source: CBRE). The biggest taker last year was the e-commerce tenant. E-commerce distribution center (DC) users like 36-40-foot clear allowing mezzanine space and up to five times the labor of a traditional DC. That adds a lot of employee parking. A big e-commerce distribution center can take 100 acres and still wants to be near the freight center of the market and have plentiful labor for peak season. Of course, they still want the lowest cost real estate. That part never changes. By example, Nordstrom's 1-million-sq.-ft. DC in the LA market can't accommodate their e-commerce business because of the configuration differences even though their e-commerce is only 5% of sales. So they acquired another building for e-commerce. E-commerce continues to grow and put pressure on logistics efficiency. By 2025 it has been estimated that e-commerce will represent 30% of all Retail Sales and account from $2.7 trillion in total sales (Source: Dematic, which markets to the industry). Within five years, the percentage of sales closed at physical stores vs. alternative sales channels (e-Commerce [computer], M-Commerce [mobile device] and S-Commerce [social networks]) will drop from 91% (2013) to 76% (Deloitte Study). Change is good for creating jobs in real estate.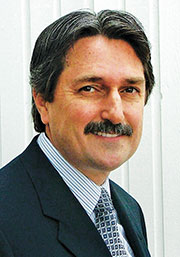 Charles McSwain is director of economic development for Northampton County, Va.
For those who are relatively new to logistics, the following more pedestrian explanation is offered. First understand that anything said about international logistics is a gross trend. If you are actually shipping in or out, your lane, pricing, or service can vary wildly. Large volume shippers get good rates over long terms with contracts. Small shippers using spot rates over empty lanes can sometimes get freight there very inexpensively (30% of average), someday. A total landed cost analysis for shipping 100 containers of beans from the Midwest U.S. to Kobe, Japan, over any possible modal combination surprised the customer. The obvious route was truck to Chicago and intermodal train to the West Coast direct. The best rate was bulk rail to NYC, transload to container, ocean carrier to Kobe. That is because NYC has a lot of import demand but not much export demand. The analysis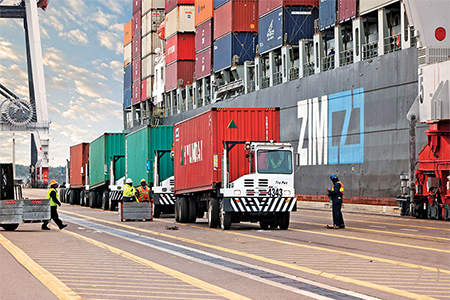 showed how competitively priced freight transportation can be and how low the cost of empty carrier space can be (the backhaul). It also showed that if you did the same analysis every year, you could get different routes and different prices. That's why many businesses simply go to the CH Robinsons or similar intermodal marketing companies or set up long-term contracts. Ever wonder why Walmart won't tell you if it ships UPS or USPS when you buy online so you can decide which address to put on a shipping label? It's because they don't know at the time of order. That decision gets made daily based on their optimization model to get the most cost effective ride to you. Logistics is a very competitive, and is an essential service to keep our global economy working.
Special thanks are given to Sam Foster, EVP, Jones Lang LaSalle, Inc.; Russell Held, SVP, Port of Virginia; Lang Williams, SIOR/SVP, CBRE; and Curtis Spencer, President, IMS Worldwide, Inc. for assistance in researching this article.