SPECIAL ADVERTISING SECTION
TOP BUSINESS PARK LOCATIONS
From Site Selection magazine, November 2014
SHARE THIS ON SOCIAL MEDIA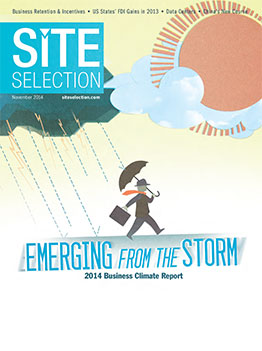 The Next Generation of Office Interiors
The business parks of the near future may be home to designs like these award winners.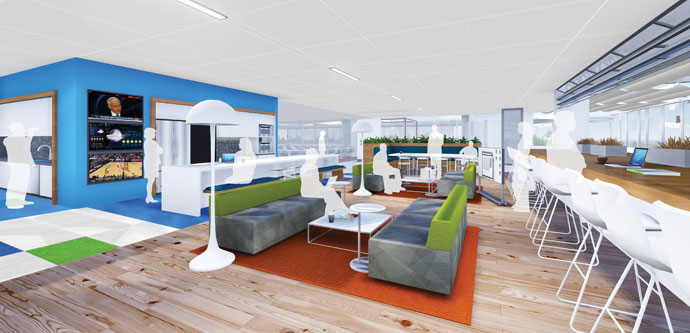 S
ay goodbye to bland-looking cubicles, dueling thermostat wars, constructed walls and flat-panel TVs, and imagine an office with napping pods, self-luminous walls and treadmill-equipped desks. This, according to three winners of NAIOP's 2014 Interior Design/Build-Out of the Future competition, is the future of office.
The winners — Dekker/Perich/Sabatini in Albequerque, N.M.; DLR Group in Chicago; and Ware Malcomb in Irvine, Calif. — presented their concepts during a special session at NAIOP's Development '14: The Meeting for Commercial Real Estate in Denver in late October.
While the winning designs offer unique elements, they feature four universal themes that all expect will characterize the office interior of the future: functional, flexible areas; individual control; sustainability; and wellness and connection to nature.
Ware Malcomb's Concept: Flexible Zones
Ware Malcomb organized its two-story concept into four different zones that support the work to be done: (1) Focus, for undisturbed work that requires concentration; (2) Collaborative, for informal/formal interaction; (3) Team, for groups that work together each day; and (4) Quiet, for getting away from it all. Work will take place at various types of workstations:
The standard 5-ft.-by-5-ft. workstation, easily expanded to a 5-by-10 manager-type office, which is furnished with a mobile personal storage locker, a chair and a desktop with a "SMART panel" surface — an electrified, glasslike material that can function as a personal computer, among other uses.
The "cone of silence" workstation, for a quiet, more focused working environment.
The active workstation, with a standing desk that incorporates a treadmill or stationary bicycle.
Using a grid system layout, flexible room modules can be reconfigured using retractable room dividers made with more SMART panels. The grid can reduce build-out costs and will continue to offer flexibility to new tenants. Lighting and electrical systems innovation will provide workers with a comfortable and energy-efficient work environment, allowing for daylight and occupancy sensing. Energy use will be monitored and adjusted as diagnostic programs identify opportunities to do so. Wall and ceiling surfaces made of flexible organic light-emitting diode (OLED) sheets will light themselves.
Occupant comfort will continue to be the key to a successful office environment. A dedicated outside air system will deliver 100-percent filtered and conditioned outdoor air to maximize indoor air quality, and high-efficiency central heating and cooling plants will provide loops of chilled and heated water throughout the building. Integrated controls will synchronize chilled beam operation with operable windows for natural ventilation during mild weather. Daylight-controlled window coverings will deploy to minimize solar heat gain or reduce glare.
DLR Group's Concept: 'The Magnet'
DLR Group envisions a workplace that will actively draw people together in a "hub of social energy" where employees and visitors encounter a high-activity zone staffed by a concierge and an "IT barista" who will help them use the facility. Reservations for space will be managed through a company app.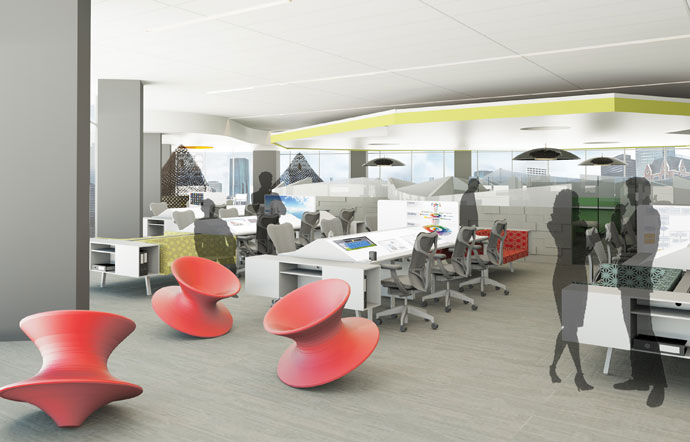 Within the Magnet, space is organized intentionally, with high-activity areas toward the center of the floor plan and individual and small-team spaces at each end. "Team Hives" can be reserved for special projects and for long-term use by departments, and "Privacy Hives" feature ergonomic furniture with noise-cancelling technologies for focused work. Glass partitions controlled by a handheld device can display personalized images or work programs. Undulating outer walls around each Team and Privacy Hive area connect them visually, while also minimizing disruption by workers walking to appointed "Quiet Zones."
To optimize daylighting opportunities, regularly occupied spaces are located around the building perimeter. The main productivity zone gives seated employees the greatest connectivity to outside views. Artificial lighting throughout the Magnet tracks available daylight, using sensors and automatic dimming to provide high levels of visual comfort and reduce energy use. All desks are equipped with Philips Hue "smart bulb" task lighting. Overhead, CoeLux light panels mimic skylights and emulate natural sunlight.
A dedicated outside air system that supplies ventilation to the interior workspace while satisfying any additional heating and cooling loads with strategically placed biowalls and fan cooling units is employed, with philodendrons planted directly into air filters in the biowalls and automatically watered by a hydroponic loop. Air is drawn in through the filter to the return plenum and also directed back out to the occupied space. These "O2 factories" are intended to improve indoor air quality, save energy and provide a calming ambiance.
Dekker/Perich/Sabatini's Concept: Office and Microcommunity
Dekker/Perich/Sabatini (D/P/S) saw the office build-out of the future as an opportunity to rejuvenate an aging 1980s-era office building in an up-and-coming urban location in Albuquerque, N.M., and transform it into a vibrant microcommunity and mixed-use Class-A office building.
Repurposing existing space is the most practical and sustainable way to support communities, according to the concept, which includes retail, residential and co-working spaces, and is rich with shared amenities. By including an array of shared and employee-only amenities, the concept makes it possible to reduce dedicated tenant space and increase shared space.
Food and beverage options range from a coffee/wine bar to community dining areas, attracting building occupants around the clock and stretching the boundaries of the workday. Within the office space, a private dining area equipped with a buffet counter can be used for working lunches, client presentations and other office meetings.
In-building amenities like childcare and pet services, an integrative pharmacy and a deli/grocery enable employees to spend less time away from the office and be less distracted by the need to run off-site errands. Within the office space itself, amenities such as a "tele-med room" allow workers to conference with their doctors and other healthcare professionals with the click of a button, in a private setting. Wellness in the office of the future goes far beyond a fitness room and showers, with a multistory walking path that wraps around the structure, and a green rooftop allowing occupants to garden in raised beds.
Additional images and video/audio from the design concept presentations is available at www.naiop.org.