SPECIAL ADVERTISING SECTION
ADVANCED MANUFACTURING
From Site Selection magazine, January 2015
SHARE THIS ON SOCIAL MEDIA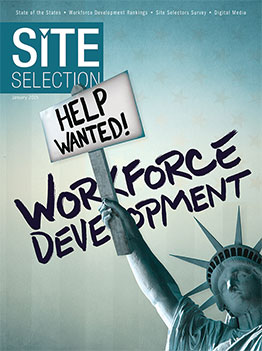 Planning an Innovation Ecosystem
W
hile many say the "world is flat" when describing global supply chains, certain technologies and businesses have a surprisingly strong local dynamic. Things seem to gravitate to regional clusters of businesses or "hubs," as economists like to call them. These geographical concentrations of similar, related, or complementary businesses can be extremely important to economic development. Some, such as Silicon Valley, even become famous ecosystems unto themselves.
Hubs are especially important to advanced technology businesses — including manufacturers — and a key attractor is often a concentration of workers with certain skills or knowledge, as opposed to a supply of raw materials or a shipping port. These hubs generate many spillover benefits to a region, leading to additional jobs, income growth and new industries. Conversely, if a region or country lacks the critical mass of people skills, it is difficult to remain globally competitive in these technology areas. The supply base is simply elsewhere.
The federal government considers it an economic imperative to identify and strengthen these hubs. With the guidance of the nation's top industry and university thinkers, the National Network for Manufacturing Innovation (NNMI) was born — with a very local, hub-driven emphasis. Understanding the dynamics of manufacturing hubs in general, and the NNMI in particular, can be crucial to the private sector in making site selections.
Manufacturing's Job Creation Effect
The conventional wisdom about US manufacturing is that it is in decline, replaced by service industries. US manufacturing has challenges, but remains robust, contributing 12.2 percent to the total US gross domestic product, or $1.8 trillion, each year. Although other countries have significantly strengthened their manufacturing bases, it is a surprise for many to hear the US is the world's largest manufacturer by output, and remains the leader in advanced technology products.
For More Information
Regardless of the industry, an understanding of local and regional hub characteristics can be critically important to optimal site selections. And government resources really are here to help you. The US Department of Commerce offers information and programs highly useful to understanding hubs. These include:
---
Additional resources developed with Commerce or EDA funding:
StatsAmerica: This is a portal to provide actionable data for economic developers to use in site requests, developing metrics, grant writing and strategic planning. www.statsamerica.org/
US Cluster Mapping Project: This is an online tool operated by Harvard based on the Delgado, Porter and Stern study "Defining Clusters in Related Industries." (For more about this free-of-charge data tool, see the Creative & Digital Media article in this issue of Site Selection.) www.clustermapping.us
The idea of manufacturing or services is misplaced; a healthy economy needs a healthy manufacturing sector.
Additionally, manufacturing has a powerful, job-creating multiplier effect on the economy, more than any other sector. Recent research has found that for every 100 people employed directly by a manufacturer, an additional 33 jobs are created in the surrounding community — positions for suppliers of the firm as well as jobs created by the economic consumption (e.g., shopping) of these employees. These are conservative estimates. In high-tech manufacturing, the ratio often runs much higher — some say as much as 16 to 1.
Model for Makers
As the National Network for Manufacturing Innovation has begun to come together, among the models for best practices suggested by stakeholder feedback was San Jose, Calif.–based TechShop, a membership-based workshop that provides access to high-tech machining, welding and additive manufacturing tools and instruction at eight locations across the country: San Jose, San Carlos and San Francisco, Calif.; Allen Park, Mich.; Round Rock, Texas; Pittsburgh, Pa.; Chandler, Ariz.; and Arlington, Va., which opened in June. Two more are in development in St. Louis and Los Angeles. "Our dream," says the company, "is to open locations in communities across the United States and around the world."
TechShop Pittsburgh (pictured above), across the street from a major Google operation, was visited by President Obama in June 2014, and five TechShop Pittsburgh startups took part in the first-ever White House Maker Faire that same week.
Among them was SolePower, whose co-founder Matt Stanton, a former Carnegie Mellon University mechanical engineering student, demonstrated the company's revolutionary energy-generating insoles to visitors in fall 2014 (right). Users are able to charge devices such as smartphones by harnessing their walking power. SolePower continues to use TechShop as a partner as it develops and refines its products.
"TechShop already serves more than 6,000 members nationwide," said Mark Hatch, CEO and co-founder of TechShop, at the White House event. "We aim to democratize access to tools and empower makers from all walks of life. From startups and students to grandmothers and veterans, we want to inspire everyone to invent, create jobs and launch successful and world-changing businesses." — Adam Bruns
Yet US manufacturing is at risk, and by extension, so is the competitiveness of our economy. By 2011, the majority of manufacturers, 11 out of 19, were producing less than they did a decade prior. Nearly one in six plants, more than 65,000, had ceased operation completely. And between 2000 and 2011, the US share of global exports of advanced technology products fell from 21 to 15 percent.
There are a number of reasons why we are seeing these indicators decline. One is innovation — a critical indicator of future job creation. Though the US remains a world leader in advanced technology products, Bloomberg Magazine's 2014 Innovation Index finds the US outpaced by South Korea and Sweden. And between 1990 and 2010, we went from a surplus of $34.1 billion in global advanced technology exports to a deficit of $81.8 billion.
Planning a Manufacturing Renaissance
The NNMI is a federal initiative that seeks to drive investment in manufacturing innovation through public-private partnerships. It would serve as an extensive network of advanced manufacturing hubs around applied research centers or institutes. Their purpose is to operate in a previously barren space, that is, the space between basic research — aka invention — and implementation.
As of today, the NNMI includes five pilot institutes. They are:
America Makes: National Additive Manufacturing Innovation Institute (Youngstown, Ohio);
Digital Manufacturing & Design Innovation Institute (Chicago);
Lightweight & Modern Metals Manufacturing Innovation Institute (Detroit);
Next Generation Power Electronics Manufacturing Innovation Institute (Raleigh, N.C.);
Integrated Photonics Institute for Manufacturing Innovation (location not yet determined).
Congress is considering legislation that would formalize and broaden the network.
The Institutes "de-risk" new technologies, essentially, to make them easier to adopt by working out the kinks. This, in turn, fuels pickup by US industry. The network would also address the factor limiting the workforce growth that accompanies new technologies and manufacturing job creation, namely, that potential workers often lack the necessary skills and sometimes even the interest in pursuing a manufacturing career.
A Shared Effort
Mike Molnar
Mike Molnar is director of the Advanced Manufacturing National Program Office, based at the National Institute of Standards and Technology, US Department of Commerce. AMNPO coordinates the national network of manufacturing innovation institutes. For more information, visit Manufacturing.gov.
America remains the world's most productive manufacturer, and market-disrupting US technologies have the potential to shift the balance back in our favor. Establishing regional ecosystems, or hubs, to deliberately create innovation will help. They will drive a renaissance in US manufacturing, and they will build workforce skills and processing capabilities in both large and small manufacturing firms.
No single entity can do this alone. To build these hubs successfully requires partnerships of sufficient scale and scope — a critical mass that brings together companies of all sizes, universities and government agencies to co-invest in developing new technologies.
Innovation hubs are the wave of the future. They benefit an entire region's manufacturing base. The federal government is poised to help industry innovate, refine, and scale the new technologies that will help us lead in tomorrow's global marketplace.