SPECIAL ADVERTISING SECTION
LOGISTICS SITES & SERVICES
From Site Selection magazine, July 2015
SHARE THIS ON SOCIAL MEDIA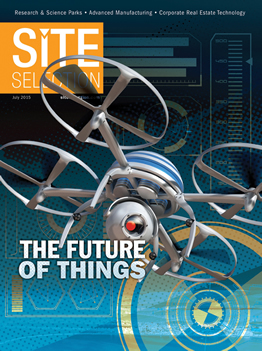 Logistics Technology:
Locations That Improve Supply Chain Optimization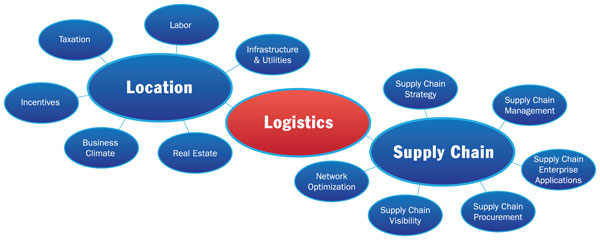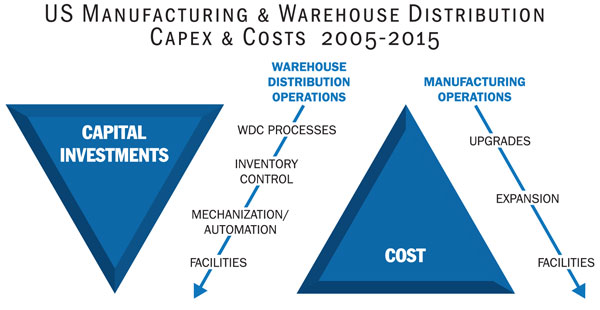 Across all industries and functions, companies proactively are scrambling to optimize their business models — not only to compete, but also to survive. With the recent prolonged recession and so many uncertainties throughout the past 10 years, corporate capital investment has been severely curtailed. Many corporations switched to tightening their belts by consolidating or delaying facility investments. The bulk of new capital investment focused on less expensive upgrades and processes within existing facilities. Only in the past two years have we started to see an uptick in investment into new facilities, especially in manufacturing and warehouse distribution. Indeed, the industrial sector has been the leader in the slow recovery.
New technology is making the location decision easier, yet more sophisticated. Since 2012, there has been a new and profound burst in the advancement of sophisticated technology, information and analytical tools. Specialty software, IT advances, cloud storage and the rise of "Big Data" mean today's executives have the opportunity to adapt cutting-edge methods and use sophisticated tools to leap ahead of the pack, rather than risk slipping into increased economic oblivion.
Complex Forces Require Complex Analysis
The most important goal of conducting a manufacturing or distribution-related site selection should be to enhance one's supply chain, with the project's specific purpose of enhancing the overall facility portfolio footprint, or network configuration, of the company. The best method for achieving a sophisticated site selection for manufacturing and warehouse distribution projects is to start with a comprehensive logistics analysis to first determine the search area. Logistics is the vital link between a location analysis and supply chain optimization. Of all of the location factors to consider, logistics has always been the most complex and the most difficult to analyze properly.
The dynamic costs and efficiencies that location and logistics play in a supply chain are critically important. The locations of suppliers, distributors and consumers are critical to determining the best location for a new facility in the chain. Sadly, many companies tend to ignore performing a thorough logistics analysis and are often blinded by the easier and cheaper solution of concentrating on real estate and labor. Allowing location to dictate logistics rather than logistics to dictate location leaves significant competitiveness and money on the table over the long term. Going forward, such neglect risks being uncompetitive — sophisticated companies that truly want to minimize costs and maximize efficiencies will do the analysis.
Methods and Tools
Sophisticated methods and tools are available for companies to use to select the best manufacturing and DC sites. Analyzing optimal modes, multiple shipping configurations, industrial clusters, forward and backward linkages, lane costs and efficiencies, back-haul corridors and overall network optimization are all well beyond the capabilities of most site selectors and real estate brokers. Real supply chain network optimization requires professional logistics analysis by trained experts using sophisticated logistics modeling software, other software such as GIS, or big data software platforms such as Tableau or Alteryx — all requiring significant investments.
Centroid Analysis
GIS software, Tableau and Alteryx all can perform sophisticated centroid analysis that can be conducted and integrated to determine the precise location that reflects the maximization of efficiencies, minimization of costs, optimization of time savings and best location in regard to both supplier access (inbound) and market access (outbound). This can be performed with historical shipping invoice data provided by the client corporation to determine the optimum present location, or with sales forecasts or marketing plans from sales/marketing teams to determine optimum future locations.
An example of centroid analysis involved a typical stay/go scenario that tried to determine if it was better to stay and expand a present facility or to find a better DC location.
Each dot on a US map reflected a sales destination of this company's product over a three-year period. The various product components were produced overseas with points of entry being the ports of Los Angeles/Long Beach; Laredo; Tampa and New York/New Jersey. These components were then shipped to a South Texas DC to be assembled and packaged for delivery.
To begin, a destination centroid was performed to reflect the physical center of all locations. Then, the volume layer of information (number of units) creating a volume centroid was added to each destination, followed by a cost centroid (which would be the center of their products' shipping costs according to the original shipping bills). Next, a time centroid was performed to reflect a centroid of the actual time it took to get from the DC to each destination according to historical shipping information. Both the cost and time centroids were updated using current lane pricing to reflect current transportation costs using the best mode.
The final step was to proceed with a centroid of the centroids, which turned out to be near Bowling Green, Ky.
The client company also wanted to see where the centroid would be if future sales increased in the following markets:
The Florida market: 5-fold increase
The California market: 10-fold increase
A combination of Florida and California increases
The additional results showed:
Florida increase centroid: Northwest of Atlanta, Ga.
California increase centroid: Western Oklahoma
Combined Florida/California increases: Ft. Smith, Ark.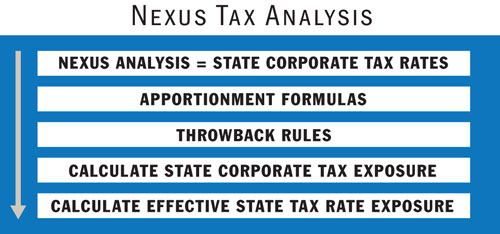 Additional requirements included being in an MSA with a Class 1 rail yard. The result was the creation of a logistics-based search area for each of the four scenarios.
Tax Nexus
Using the same sales destination and volume information, we also are able to perform high quality corporate sales tax analysis. By knowing the location and volume of sales and whether the company had a physical location or employee base in a particular state, we could determine (1) if they had a tax nexus, (2) what the state apportionment formulas were, (3) what the throwback rules were and (4) determine corporate sales tax or franchise tax rates. We then analyzed how that changed the cost and efficiency picture between various locations. This reflected millions of dollars in savings by being in one state rather than being in another.
Performing a detailed logistics analysis and tax analysis up front in a Phase One site selection project resulted in a search area that already minimizes significant costs and maximizes efficiencies. The task then is to complete a standard site selection analysis of the search area in terms of the remaining major criteria: business climate, labor, utilities, incentives and site-specific real estate.
---
Bill Luttrell, a Senior Locations Strategist with Werner Enterprises' Werner Global Logistics division, has over 30 years of experience in the corporate real estate and economic development fields. He has responsibility for global location consulting with a specialization in both domestic and cross-border, international projects, particularly in manufacturing and warehouse distribution and related supply-chain analysis. He also advises Werner Enterprises on its own expansions domestically and overseas.