by PATTY RASMUSSEN
patty.rasmussen@siteselection.com
---
Where Companies Pay Top Dollar for Office Space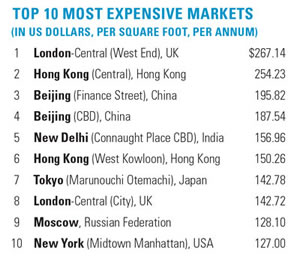 At $267 per square foot, London's West End remains the undisputed champ of expensive office space according to CBRE Research's semi-annual Global Prime Office Occupancy Costs survey (see chart). According to the survey, the rise in prime office occupancy costs reflects the recovering global economy. "Global price office occupancy costs rose 2.0 percent year over year, with the Americas up 2.9 percent, Europe/Middle East & Africa (EMEA) rising 1.5 percent and Asia Pacific up 1.4 percent," read the report. Dublin, Ireland, saw the biggest increase, 26.1 percent, with Belfast not far behind at 13.3 percent.
---
A Crystal Clear Choice
West Pharmaceutical Services broke ground on a 95,000-sq.-ft. (8,800-sq.-m.) pharmaceutical component manufacturing facility, located on a 44-acre (17.8-ha.) site in Waterford, Ireland. The plant will produce packaging components for insulin injector cartridges and other high-value packaging components for injectable drugs. "We are very fortunate to have found an ideal location in Waterford, Ireland, with a highly skilled life sciences workforce and local government officials and agencies who are true partners," said West's CEO Eric Green. The expansion will create 150 jobs and is expected to be operational by 2018.
---
Sustainable Fun
The LEGO Group is investing $150 million to research sustainable raw materials to make LEGO elements and packing materials. The LEGO Sustainable Materials Center will be established within the next year and located at the LEGO Group's headquarters in Billund, Denmark. The company expects to add an additional 100 researchers for the project.
---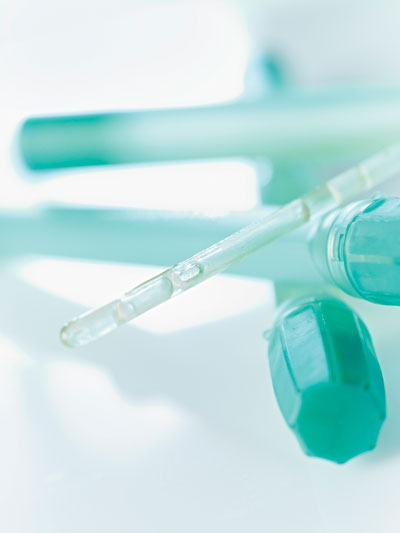 Danish Expansion in Hungary
Coloplast, a Danish medical products manufacturer, recently began production in a 215,278-sq.-ft. (20,000-sq.-m.) manufacturing facility in Nyírbátor, Hungary. The expansion doubles production capacity and creates more than 400 new jobs. The facility produces items from urology and ostomy supplies to wound dressings and skin products.
---
Growing a Global Network
Mercedes-Benz started production of the GLA compact SUV at its Indian plant in Pune, marking the first time the company is producing compact cars in its global assembly network. "We are entering the next stage with our market-specific assembly, allowing us to serve local demands in a flexible and efficient manner according to highest quality standards," said Markus Schäfer, member of the Divisional Board Mercedes-Benz Cars, Production and Supply Chain Management. The global assembly network produces cars for local markets with different production levels, for example from vehicle kits. Other locations in the global assembly network include Thailand, Vietnam, Malaysia and Indonesia. A new plant is under construction in Brazil and will join the network in 2016.