Heading South
by PATTY RASMUSSEN
patty.rasmussen@siteselection.com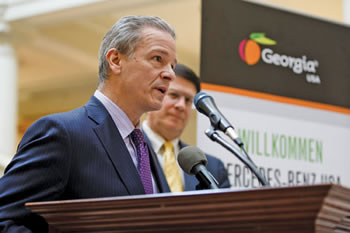 Mercedes-Benz USA (MBUSA) ended speculation in early January by announcing the company would move its corporate headquarters from New Jersey to Georgia. MBUSA will move 1,000 employees into temporary digs in the Central Perimeter district in Metro Atlanta beginning in July 2015, and begin construction on a new headquarters facility on a 12-acre (4.8-hectare) greenfield site in nearby Sandy Springs. The headquarters is expected to be completed in early 2018. MBUSA intends to hire hundreds of new employees from the Atlanta area.
New Jersey lobbied heavily to retain MBUSA but was unable to compete with Georgia's business-friendlier climate. "It became apparent that to achieve the sustained, profitable growth and efficiencies we required for decades ahead, our headquarters would have to be located elsewhere," said Stephen Cannon, MBUSA president and CEO. The company will continue to maintain several operational business units in both Montvale and Robbinsville, N.J.
---
Great States for Small Business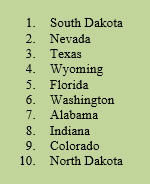 The Small Business & Entrepreneurship Council (SBE Council) released its 2014 annual report, the "Small Business Policy Index: Ranking the States on Policy Measures and Costs Impacting Small Business and Entrepreneurship," ranking the best and worst states for growing a small business. The report studies the 50 states according to a number of factors — government-imposed or government-related — as well as funding issues that directly or indirectly affect a flourishing small business environment.
"It should not be surprising that, on average, states that impose lower overall governmental burdens on entrepreneurship, business and investment outperform states that impose heavier burdens," reads the report. "When it comes to the economy, quite simply, state policies matter."
---
A Walk Under the Water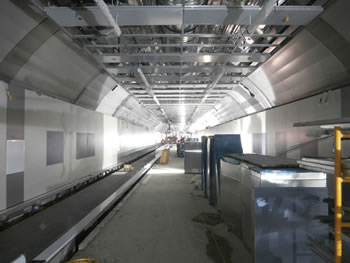 The 800-ft. (243-m.) underwater pedestrian tunnel in Toronto, Ontario, connecting the mainland to Billy Bishop Airport, located on an island in Lake Ontario, will open this spring. The $82.5-million project, funded through a public private partnership, features four wind- and hydro-powered moving sidewalks, and also means airport passengers no longer have to wait for a ferry to take them across the water. The time of crossing through the tunnel is estimated at six minutes. In addition to the underwater pedestrian tunnel, the project includes the construction of a new one-story pavilion at the foot of Eireann Quay on the city side, upgrades to the existing terminal building on the island and upgraded water and sewer lines.
---
Pressing Matters
Automotive supplier Unipres USA Inc. will expand its Portland, Tenn., facilities, creating 435 new jobs over the next five years. The Portland facility, on I-65 near the Kentucky state line, currently has 1,000 employees. Unipres manufactures metal parts for the main portions of automotive body structures, presses molded components and makes precision automatic transmission parts. The expansion will renovate and retrofit a storage warehouse to house assembly equipment and materials, and includes a 32,000-sq.-ft. (2,972-sq.-m.) addition to house two new 2,500-ton transfer presses and one 600-ton blanking press.
---
Magna's Mexican Expansion