SPECIAL ADVERTISING SECTION
PORTS–RAIL–PARKS
From Site Selection magazine, March 2015
SHARE THIS ON SOCIAL MEDIA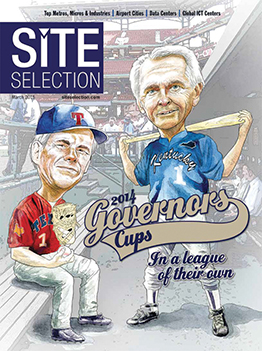 Tracking Moves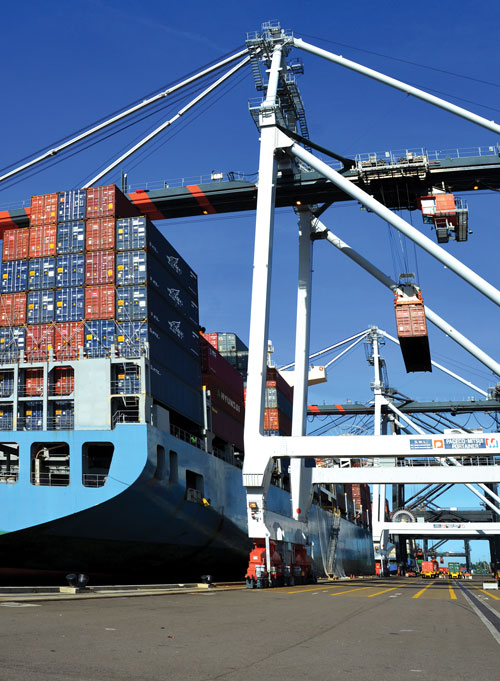 Ports and rail hubs look to get into position so their customers can do so too.
W
hen industry needs a location, it looks at where goods are moving before moving its own operations. Railroad and port assets are therefore prominent in their sights during location analysis, and in their sites once those locations are chosen.
The U.S. is served by publicly- and privately-owned marine facilities located in approximately 360 commercial sea and river ports, says the American Association of Port Authorities. U.S. ports and waterways handle more than 2 billion tons of domestic and import/export cargo annually. By 2020, the total volume of cargo shipped by water is expected to be double that of 2001 volumes.
Not only are ports positioning themselves for the expansion of the Panama Canal, they're also positioning themselves in the marketplace. Such is the case in Cincinnati, where the Port of Greater Cincinnati Development Authority and the Northern Kentucky Port Authority in February announced formal final approval by the US Army Corps of Engineers to re-designate the Port of Cincinnati to include a larger geographic region. As a result, the 26-mile statistical boundary of the former Port of Cincinnati now stretches to a port district including a 226.5-mile reach of the Ohio River (including 7 miles of the Licking River) in 15 counties in the two states. The port district's new name is "The Ports of Cincinnati & Northern Kentucky."
The port authorities expect The Ports of Cincinnati & Northern Kentucky will reflect more than 48 million freight tons handled and rise to the 15th busiest US port district and the second-busiest inland river port in the United States.
"The expansion of our shared port again shows that, when Kentucky and Ohio work together, we can win together," said Ohio Gov. John Kasich.
Rail on the Rebound
A glance at total US rail carloads and intermodal unit data from 2012-2014 shows a healthy bounce in volume for every month of 2014, and a January tally nearly tripling the total of around 506,000 in January 2012. The Association of American Railroads confirmed the jump in January, stating that total combined traffic for 2014 on U.S. railroads was 28,673,776 carloads, containers, and trailers, up 1,233,184 units or 4.5 percent over 2013 and the highest annual total since 2007. Intermodal volume totaled 13,496,941, up by 5.2 percent over the previous record set in 2013. Eighteen of the 20-carload commodity categories tracked annually by AAR saw increases on US railroads compared with 2013, sometimes causing congestion confrontations. Grain carloads were up by 13.5 percent; crushed stone by 11.6 percent; petroleum products by 12.7 percent.
The AAR announced February 2 that US freight railroads plan to spend an estimated $29 billion on the nation's rail network and hire about 15,000 people in 2015.
"By providing affordable, efficient and reliable transportation of goods, from lumber to oil to auto parts and grain, freight railroads continue to play a vital role in the positive economic trends rippling through the U.S. economy — including rising gross domestic product, improving employment statistics and plummeting gasoline and heating prices," said AAR President and CEO Edward R. Hamberger.
Sometimes ports and rail come together for the betterment of all. The Port of Toledo is one example. The Duluth Seaway Port Authority in Minnesota is another. That port's board of commissioners recently approved the acquisition of a 35.7-acre dock in the Duluth Industrial Waterfront zoning district. The Port Authority intends to market the property to industrial operations, while further developing a long-term redevelopment strategy for putting the industrial dock back into full maritime service. Situated near the Waseca industrial area, the property "is served by a BNSF rail spur and has immediate access to the federally-maintained shipping channel in the upper Duluth Harbor, just 15 days sailing time from European markets via the Great Lakes-St. Lawrence Seaway," said the Port Authority.