SPECIAL ADVERTISING SECTION
CERTIFIED SITES
From Site Selection magazine, March 2015
SHARE THIS ON SOCIAL MEDIA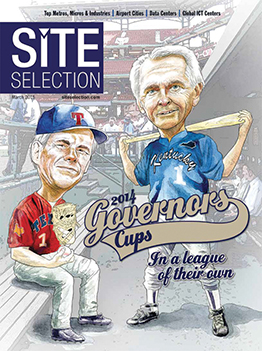 Time is Money
Site certification can be a crucial part of investing wisely — for a company, and for a community.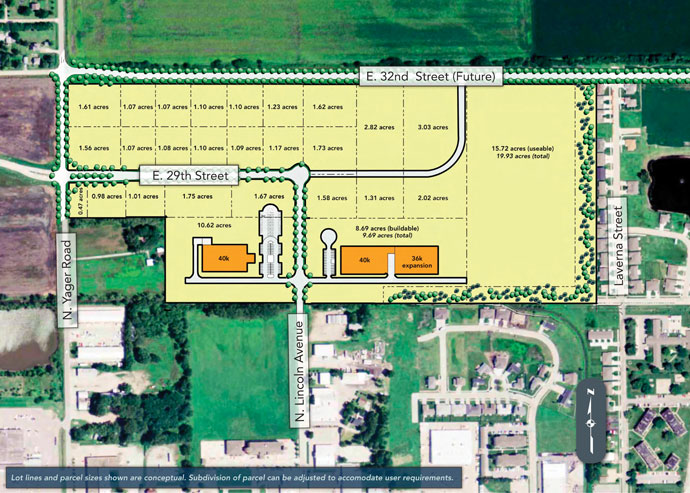 T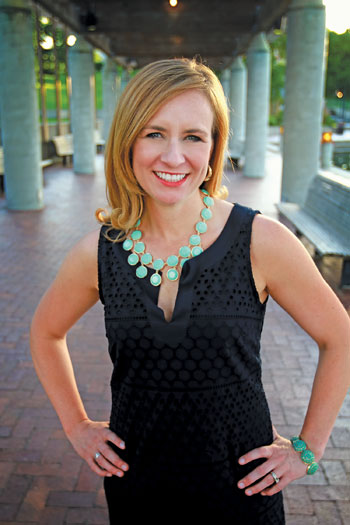 he selection of the perfect location for new corporate expansions is certainly no easy feat. Companies considering expanding or selecting new locations face a complicated set of tasks in determining where to place the facility to ensure optimal operational efficiency. Within recent years, the economic development community has worked toward making this process a little less cumbersome and markedly quicker through the site certification process. Site certification can provide significant benefits to bottom-line profitability through potentially expedited development and streamlined site selection processes.
In the primary development world, it is not uncommon for site selectors or corporate end-users to consider as many as 75 varied site selection criteria in determining an optimal location for investment. As a result, the trend toward seeking certified sites in the initial site selection search is real and growing.
Many US states have adopted statewide site certification programs and incented economic development entities to pursue certification of sites through these programs. Site selector databases often allow the ability to query certified sites as a selection criteria. Consulting firms, such as Olsson Associates, also find value in assessing site preparedness, and have developed their own site certification programs based upon known development demands and expected needs.
While many of the benefits to site certification may be known or assumed by the site selection community, there are other considerations that may not be as well known that can critically impact time-to-completion for development projects. The following factors are considerations that lead to bottom-line efficiencies as a result of choosing certified sites:
Comprehensive Diligence Standards
Site certification programs typically require collecting and analyzing a variety of natural and built environment factors impacting the function of the subject property. Property assets and deficiencies are documented, and mitigating controllable deficiencies is typically required. This allows corporate end-users an opportunity to gauge, with a comfortable level of certainty, whether or not the site's capabilities will match the needed service.
While it could be assumed that sites that are positioned during the site selection process have undergone some level of diligence, the depth of information available is often not nearly enough for corporate end-users desiring to plug capacities information into their internal processes to ensure operational stability.
No longer is it plausible to maintain a "one-site-fits-all" mentality as it pertains to development property.
Site certification programs such as the Olsson Associates Select Site Program require the understanding of existing infrastructure, but also line sizes, capacities, volumes, pressures, and, if an attribute of infrastructure is lacking, what the timeline and permitting requirements are for mitigating deficiencies.
While the development process will eventually yield responses to these questions, the ability to have this information at the forefront of the site selection process saves considerable time and resources, leading to bottom-line savings for the companies involved in selecting from prospective development sites.
Targeting Viability and Master Planning
The Olsson Associates Select Site Program requires aligning property diligence and function to tract optimization. Corporate end-users benefit greatly from clearly understanding, in initial site selection phases, how much land will be required for purchase to ensure optimum production and property protection.
Corporate end-users can meet multiple challenges in site selection that can be effectively mitigated through pre-assessment programs such as site certification. No longer is it plausible to maintain a "one-site-fits-all" mentality as it pertains to development property. Companies desire development sites that will fit their infrastructure and access needs so that they may construct the most efficient facilities tailored to their exact processes. Properties that have undergone thorough diligence assessments as required in the site certification process allow site selectors and end-users the opportunity to functionally represent their specific facility pad sites for development. This form of planning in the early phases of selection allows corporate end-users to maximize land use to facility needs and avoid purchasing more property than necessary for current or expected future expansions.
As in the Olsson Associates Select Site Program, end-users and site selectors should identify enhanced sites that will provide specific industry certifications to ensure that primary infrastructure, service, capacities, access, and encumbrances compliment specific industry sector needs. For example, an optimal rail-served site will not also serve as an optimal technology or data center location. Hence, there is a real and valuable differentiator created in sites that have assessed, aligned and planned for specific industry verticals.
The beauty of a diligence-assessed and master-planned site is that when the user positions its pad site and development requirements, it is possible to optimally represent this pad site within the site under consideration. This allows the representative of the land to provide critical responses to exactly where the facilities can be located, how much land should be purchased, how long it will take to cure any infrastructure deficiencies, as well as what the permitting process for development will entail.
New Location, Enduring Legacy
Entitlement Processes
Development entitlements are often one of the least understood obstacles that is not addressed when economic developers position sites for development opportunity. However, companies that cannot achieve a clear picture of development entitlement timelines and processes could be delayed for weeks if not months in gaining permitted access or beginning production if permitting delays are incurred.
Sites that have undergone a site certification exercise are almost always required to anticipate development permits required, timelines, processes, and costs for achieving permits, and can then work this information into their own development cost structure to ensure that schedules will mesh with expected development timelines.
Understanding development entitlement processes is critically important, as some restrictions can be mitigated while others will remain deficient, causing potentially deal-killing operational constraints for some users.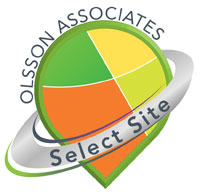 There is a real and valuable differentiator created in sites that have assessed, aligned and planned for specific industry verticals.
Future and expansion planning can also be better understood as a result of analyses completed during the site certification process. For example, the Olsson Associates Select Site Program requires analysis of air permitting attainment capacity in and around the sites we certify. As a result, the end-user better understands if additional ground should be purchased to control air permitting rights to serve current and projected needs while maintaining and allowing ground leases or controlled sale to parties that agree to work within the confines of the original landholders' needs. Through site certification, timelines to development are reduced, land is better apportioned for development, and cost savings are achieved.
The most common buzzword in the site selection process is "incentives." However, no incentive can overcome sites that have insufficient or skewed service capacities, significant development delays due to unknown infrastructure deficiencies, and stagnated permitting. Because time is money, corporate end-users and site selectors are wisest to invest their resources searching sites that have undergone site preparedness and/or site certification processes.
---