SPECIAL ADVERTISING SECTION
BIOTECH LOCATIONS
From Site Selection magazine, September 2015
SHARE THIS ON SOCIAL MEDIA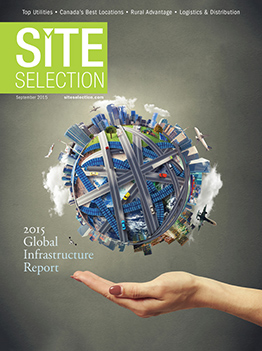 Ready and Able
Boston's called 'The Hub' for a reason, but other markets are rising thanks to rising costs at the top.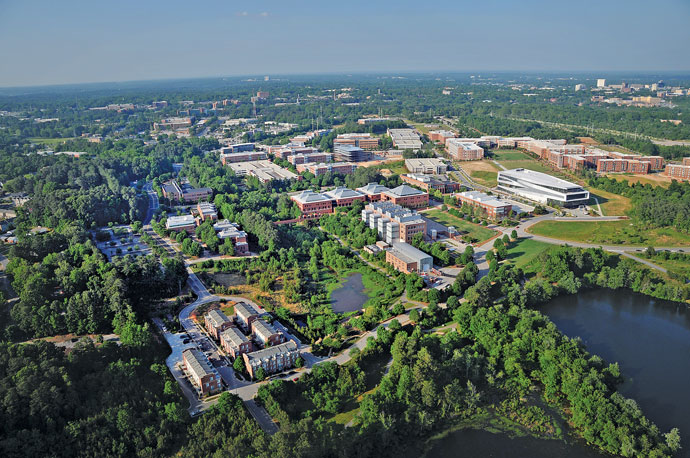 Baxter International and Eli Lilly and Co. in Cambridge. Vertex's big new HQ at Boston's Fan Pier. Enumeral Biomedical Holdings and Blue Stream Labs. Pharma companies Agios, Dicerna, Cerulean, Karyopharm, Verastem and Shire.
Those are just some of the corporate investors who poured capital and jobs into Greater Boston over the past 18 months. The list alone explains why the Boston region continues to be the No. 1 life sciences cluster in the nation, according to JLL's annual Life Sciences Outlook Report released in July.
The area's perennial popularity has pushed companies to more affordable space in the suburbs. That trend holds nationwide. Wherever they may land, they keep coming, chalking the cost up to the price one must pay for access to innovation and talent.
The San Francisco Bay Area continues to lead the nation in patents, with 1,652 total in 2013.
"While the average rent for laboratory space rose by an average of three percent nationwide in the past year, rents grew dramatically in the top clusters — by 16.9 percent in San Francisco and 15.5 percent in San Diego," said JLL. "The national average rent per square foot (PSF) for lab space is $24.30, but has skyrocketed to $47.40 PSF in Boston and to $37.30 PSF in San Francisco."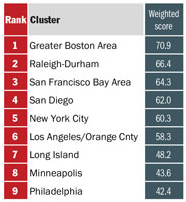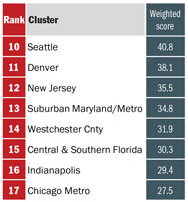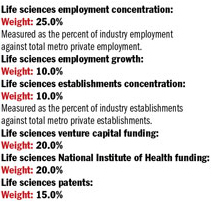 "In their U.S. operations, biopharmaceutical companies are being squeezed by rising costs for highly trained talent, more expensive real estate markets and a shrinking supply of available laboratory space," said Roger Humphrey, executive managing director and leader of JLL's Life Sciences group. The crunch is particularly acute in Boston, Los Angeles and the San Francisco Bay Area. "Many are willing to pay a premium for proximity to the leading research institutions and scientists, but the lack of space is compelling companies to look at secondary sites that are a little less conveniently located."
"Rising rents are one reason small and mid-sized biotech companies are heading to Philadelphia, Denver and other more affordable locales, and saving their dollars for talent recruitment," said the JLL report. As rent growth increases, low interest rates make construction a reasonable option in some locations, such as Minneapolis or Indianapolis, and those locations with available land and few life sciences facilities for rent.
Following are excerpts from the JLL report, whose complete findings are available at a dedicated website found at www.us.jll.com.
Leaders still leading
Boston remains the clear US and world leader. The San Francisco Bay Area continues to lead the nation in life sciences patents, with 1,652 total in 2013, the most recent year for which data is available. The Raleigh-Durham area has experienced a strong uptick in life sciences start-ups and employment stemming from the region's well-regarded research institutions.
Generic demand on the rise
In 2015, the life sciences industry continues to change in response to growing regulatory and demand pressures from across the globe. As policies like the Affordable Care Act (ACA) in the United States take hold, demand for generics is growing.
Branded pharma consolidating rapidly
The increase in generics demand is leaving branded pharma firms looking for new revenue sources. This has also created a spike in merger and acquisition activity as "big pharma" seeks to maximize vertical integration and enhance innovation. Though M&A activity in the life sciences sector is contributing to a disposition of real estate, vacant lab space is often being claimed by mid-size firms and developers looking to capitalize on central location and infrastructure.
Innovation boost means new space and labor requirements
Biopharma production, and its generic counterpart, biosimilars, has increased as firms look to new, creative drugs that will make a profit in the competitive market. Biopharma research focuses on synthesizing biological sources to create pharmaceuticals. Small and mid-size biopharma firms are ripe for M&As, as large companies look to diversify their portfolios and to create high- impact drugs that counteract revenue declines. This type of production is labor-intensive, harnessing the mental acuity of highly trained scientists, often with PhDs. The increase in biopharma work requires highly educated employees and, therefore, real estate near elite educational institutions is more in demand. The overall cost of operating in the life sciences sector is ticking upward due to the increase of lab rents in prime clusters, R&D costs and higher wages for skilled employees.
Lower vacancy, higher rents
The surge of M&A activity, evolution of products and global demographic trends all affect the demand for lab space. The industry is seeing increased development of open floorplans, which foster innovation and attract young, millennial workers. There is also a need for more specialized lab and incubator space, as firms focus on live-cultured biopharma research. Further, new small and mid-sized biopharma firms are scooping up labs across the major U.S. markets — leasing locations vacated by consolidating firms. All this activity is reducing the amount of vacant lab stock across the major clusters and giving landlords the opportunity to push rents higher.
In the future, space restraints may push demand toward new clusters like Dallas, Houston and Portland where talent pools are available and real estate conditions are becoming increasingly favorable to growing life sciences companies.
Generics producers are increasingly looking to emerging markets, which have increasing capital to spend on medications. India, for instance, has experienced a huge expansion in generic development and manufacturing. Generic pharma does not have a large domestic US real estate footprint. Manufacturing mainly occurs in California, which is home to 17.9 percent of all generic manufacturing. Texas, New York, Pennsylvania, North Carolina and Florida are also popular locales for these companies.
In the future, space restraints may push demand toward new clusters like Dallas, Houston and Portland.
In the United States, average annual wages for life sciences jumped 6 percent, from just over $66,000 to over $70,000, between 2011 and 2014. Due to the size of the available labor pool and advanced educational requirements of life sciences companies, we expect wages will continue to increase. This keeps the cost of doing business high for life sciences companies and places expense management in areas such as real estate under greater scrutiny.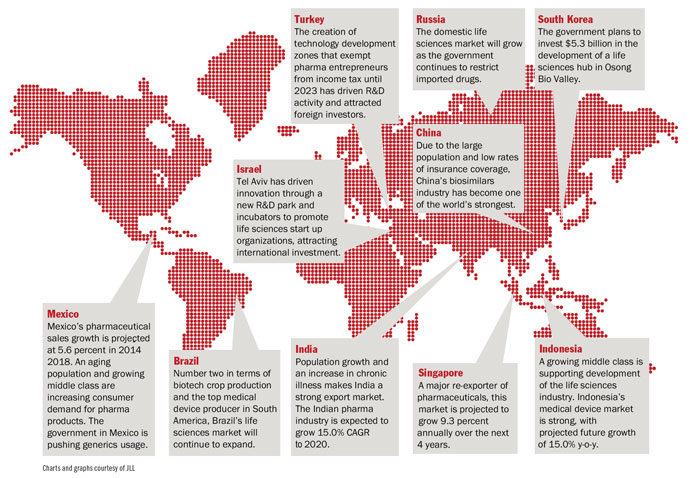 Lab rents went up 3.1 percent on average between 2013 and 2014, which, combined with higher wages, creates a balancing act between cost management and attracting and retaining high-value talent.
"We expect companies will invest in technology to make research less labor-intensive — a long-term strategy for the sector," says JLL.