SPECIAL ADVERTISING SECTION
ADVANCED MANUFACTURING
From Site Selection magazine, January 2016
SHARE THIS ON SOCIAL MEDIA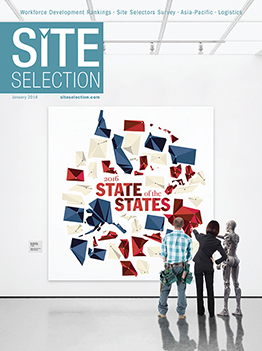 Signs of Progress
For manufacturers who want to thrive in the future, every day is National Manufacturing Day.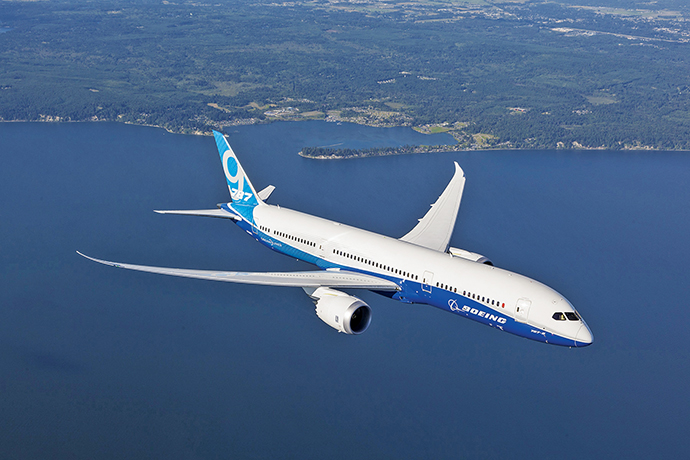 If manufacturing's $2-trillion contribution to the US economy were a country, it would be the ninth-largest economy in the world, US Commerce Secretary Penny Pritzker told the nation on October 2, 2015 — the fourth annual National Manufacturing Day. Making things comprises 12 percent of US GDP.
But though 90 percent of the country believes manufacturing is important and the sector has added approximately 900,000 jobs since 2010, "only 37 percent of parents encourage their kids to pursue manufacturing careers, and only 18 percent see it as a top career choice," she wrote. The end result? Eighty percent of manufacturers cannot find the skilled workers they need, and their efforts are hindered by a) the persistent public perception that careers in manufacturing are undesirable, and b) the lack of sufficient preparatory education.
That discrepancy is why Ed Youdell, president and CEO of the Fabricators & Manufacturers Association International (FMA), came up with the idea of a national Manufacturing Day as a way to bring together other organizations including the National Association of Manufacturers (NAM), The Manufacturing Institute (MI), and the National Institute of Standards & Technology's (NIST) Hollings Manufacturing Extension Partnership (MEP).
The first one in 2012 involved events in 37 states, as some 240 manufacturers and 7,500 people showed up to celebrate the sector's role as fabricator, innovator and employer. Over the three years since, events have popped up in Canada (where they celebrate Manufacturing Month), Puerto Rico, Mexico and the UK. In 2014 there were 1,679 events. 2015's celebration included 2,598 planned events, reaching more than 400,000 participants.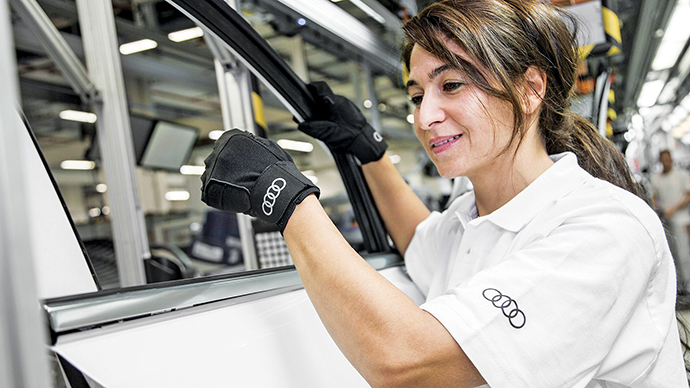 Here's a brief tour of a handful of the companies, programs and locations where the cause of advancing manufacturing converged with advanced manufacturing techniques to show young and old alike that making stuff is still where it's at.
Wheels and Wings
Alcoa Foundation and Discovery Education, the leading provider of digital content and professional development for K-12 classrooms, celebrated with an interactive virtual field trip that provided a behind-the-scenes look at one of the most sophisticated manufacturing facilities in the world.
Hosted live from the Whitehall, Mich., global headquarters of Alcoa Power and Propulsion, a business unit of Alcoa Engineered Products and Solutions, the Manufacture Your Future LIVE Virtual Field Trip sought to connect STEM classroom concepts to career paths available in advanced manufacturing by exploring "the manufacturing processes that yield several of the company's innovative products — all of which play an important role in keeping planes in the air and passengers safe while flying." In addition to an interview with Secretary Pritzker, among the technologies and techniques on display: 3D printers, high-tech robotics and process modeling.
"The manufacturing industry has been and will continue to be a principal engine of our economy," said Suzanne van de Raadt, director, Program Development, Alcoa Foundation. "According to the Manufacturing Institute, nearly 3.5 million manufacturing jobs will likely need to be filled in the next decade, and the skills gap in our nation is expected to result in 2 million of those jobs going unfilled."

At a separate Alcoa event in Cleveland, where the company forges the world's lightest and most durable aluminum wheels and the world's largest aerospace and military aluminum forgings, selected seniors and juniors from John Adams High School participated in a speed mentoring program including engineering, finance, human resources, and operations professionals at Alcoa Cleveland Operations.
The promise behind the events became apparent in December, when Alcoa announced long-term supply contracts with Boeing valued at over $2.5 billion. "Under one contract," said the company, "Alcoa Fastening Systems & Rings will supply advanced titanium, stainless steel, alloy steel, aluminum and nickel-based super-alloy fastening systems for every Boeing platform, including the 777X — Boeing's newest commercial airplane — the 737 MAX — scheduled for first delivery in 2017 — and the 787 Dreamliner." Alcoa will produce these fastening systems at seven of its global Alcoa Fastening Systems & Rings (AFSR) facilities.

The average salary of manufacturing workers is over $77,000.


Alcoa also will supply ready-to-install titanium seat track assemblies for the entire 787 Dreamliner family from the Alcoa Titanium & Engineered Products (ATEP) business (formerly RTI International Metals). "Alcoa is supplying the seat tracks, from raw material to finished part, by utilizing its titanium ingot melting and billetizing, extrusion, machining, processing and assembly capabilities gained through the RTI acquisition," said the company.
The contracts build on a 2014 deal with Boeing for flat-rolled aluminum sheet and plate products, valued at more than $1 billion. That agreement also established deeper collaboration with Boeing on new, high-strength and corrosion-resistant alloys, including aluminum-lithium — virtually defining what advanced manufacturing is all about.
Proclamations and Productivity
Delaware Gov. Jack Markell celebrated Manufacturing Day with observations about the state's comeback from hard times.
"The industry took a hit, like many others, in the aftermath of the 2008 recession. Delawareans experienced this dramatically, with the closing of the GM and Chrysler plants," he wrote. "Faced with that challenge, our state needed to figure out how to rebound and grow in an era when companies have more choices than ever about where to locate and are moving towards greater levels of automation in their production. This presents challenges, but it also presents a significant opportunity if we can seize on this new direction. With automation comes the need for more workers with an enhanced skill set — one that can handle tasks of quality control and operations management, and possesses the greater knowledge of science and math that new technology requires."
Markell said since 2009, thousands have taken advantage of retraining programs to upskill workers in exactly the types of advanced manufacturing techniques the market demands.
"Manufacturing employers now cite workforce talent as the number one factor in their site selection process," said Markell, "and Delaware has been able to attract advanced manufacturing businesses in recent years. They are companies like Uzin Utz, which is developing new types of industrial grade flooring and has picked Dover to establish new operations, and AB Packaging, whose CEO said his management team 'was completely bowled over by the can do attitude, fantastic training centers and support structure' in the state."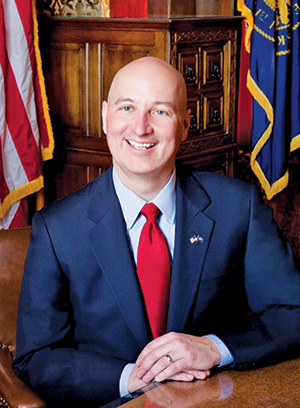 "To grow Nebraska, we must continue to grow manufacturing by making our tax system more competitive, connecting manufacturers with talent pipelines, cutting red tape, and recruiting additional operations to our state."
Down the coast in Florida, Gov. Rick Scott saluted the more than 311,000 manufacturing employees who make up 5 percent of the state's workforce at nearly 18,000 companies, while also taking time to salute his own team's efforts.
"This past spring, we worked with the Legislature to eliminate the sales tax companies pay when purchasing manufacturing equipment," he said. According to the state, each dollar invested in manufactured goods creates another $1.43 of activity in other sectors—a multiplier that is double that of the service sector in Florida.
"With recent measures, such as the elimination of sales tax on the purchase of manufacturing equipment and machinery championed by Gov. Scott and passage of the Manufacturing Competitiveness Act, Florida is well positioned to reap the benefits of manufacturing's renewed vigor," said Thomas Feeney, III, president and CEO of the Associated Industries of Florida.
Recent investments in the state include Johnson & Johnson Vision Care in Jacksonville ($218 million, 100 new jobs); Northrop Grumman in Melbourne and St. Augustine (1,000 new jobs); and Aveo Engineering in Palm Coast ($7.5 million, 300 new jobs).
Far to the north in Wisconsin, Gov. Scott Walker joined GenMet employees and students at a Manufacturing Day celebration in Mequon. The metal fabrication company supplies products to truck and construction OEMs and point-of-purchase display manufacturers, among others, and in 2007 purchased a second facility in the town of Slinger, Wis., in order to increase the company's welding capacity.
"GenMet is creating this opportunity for students to get a taste of manufacturing, maybe even sparking an interest in some to pursue a family-supporting job in this high-demand field," said Gov. Walker.
More than 450,000 people work in manufacturing jobs in Wisconsin — a manufacturing job concentration 87 percent above the national average. In the 2015-17 biennial budget, Walker and the State Legislature invested or maintained roughly $100 million in worker training funding to develop talent through initiatives such as Registered Apprenticeship, Youth Apprenticeship, and Wisconsin Fast Forward.
Just to the south and a bit west of Madison, Nebraska Gov. Pete Ricketts spent a busy Manufacturing Day dropping in on Nucor Steel in Norfolk, Sargent Pipe Company in Broken Bow and Risk Industries in Kimball — just three of the more than 1,900 manufacturers in the state. Manufacturing contributes nearly $14 billion annually in Nebraska's total economic output, compared to just over $8 billion a decade ago.
"As Nebraska's second largest industry, manufacturing provides almost 100,000 quality jobs to people all across our state," said Governor Pete Ricketts. "To grow Nebraska, we must continue to grow manufacturing by making our tax system more competitive, connecting manufacturers with talent pipelines, cutting red tape, and recruiting additional operations to our state."
"Numerous high-paying jobs are provided by the manufacturing sector, allowing our children to have the opportunity to remain in our state as opposed to finding jobs elsewhere," said NUCOR Steel General Manager Dirk Petersen.
Instituting Change
As each manufacturer seeks to instill its own version of advanced techniques, a network of organizations stand ready to serve them with forward-thinking R&D. Among them is the Digital Manufacturing and Design Innovation Institute (DMDII), a UI LABS collaboration established in Chicago in 2014, which announced in October its first five national contract research awards. The contracts, valued at more than $7 million, include 14 DMDII partners, and will fund research aimed at advancing the field of digital manufacturing and design.
Of the 14 contracted parties, three are large companies, four are small and medium manufacturers, five are universities and two are non-governmental organizations. DMDII's industry-driven technology roadmap "is aligned with the Department of Defense's strategic manufacturing base goals and aims to create a technology platform across all manufacturing processes, focusing on three key areas of technology research and demonstration: Advanced Manufacturing Enterprise, Intelligent Machining and Advanced Analysis," said a release.
"These awards highlight that our collaborative innovation model is working," said Dr. Caralynn Nowinski Collens, CEO of UI LABS. "We see a bright future for industry-led consortia to solve large-scale societal challenges to close the gap between innovation and commercialization."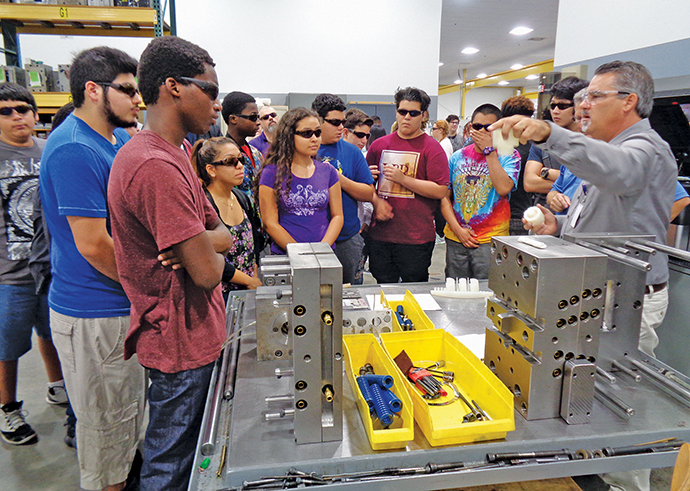 Separately, DMDII in November launched its first two pilot chapters in Rockford, Ill., and the Quad Cities area at the Illinois-Iowa state line. Partners in Rockford, known for its aerospace cluster, include Northern Illinois University and the Rockford Area Economic Development Council.
"The Quad Cities Chamber of Commerce was integral in the co-creation and development of this DMDII chapter," said Caralynn Nowinski Collens, CEO of UI LABS. "We will rely on this relationship to take the digital technologies developed from DMDII projects into the workplaces of small- and medium-sized manufacturers across this community."
Other partners in the area include John Deere, Eastern Iowa Community Colleges, Western Illinois University, and the Quad City Manufacturing Lab.
"This chapter model will be the basis of the many chapters that will open from coast to coast," said Nowinski Collens.
Advancing Abroad
Advanced manufacturing has become such a buzz phrase in the United States, it's tempting to think it's an American invention. That would be a big mistake, as any number of recent projects attest.
In December, Australia-based global developer Lendlease launched its very own manufacturing business, called DesignMake, which it says "will combine smart design and advanced manufacturing processes to make customized building components." The 15,000-sq.-m. (161,465-sq.-ft.) facility will become operational in late 2016 in Western Sydney, working with cross-laminated timber (CLT) and featuring several production lines adaptable to other materials and product solutions such as wall, floor components and full modular solutions.
"With a shift to smart design and advanced manufacturing processes, we are enhancing safety by taking high-risk activities into a controlled factory setting," said Tarun Gupta, Lendlease's CEO for Property, "and improving logistics at building sites with fewer vehicles movements and a reduced disruption to surrounding communities."

Manufacturing supports more than 17.6 million jobs in the United States.


In Germany — perhaps the globe's leading champion and source of automation and robotics solutions — Audi in November introduced an advanced manufacturing solution with the humans in mind.
Production line employees at the company's European plants in Ingolstadt, Neckarsulm, Brussels and Gyo¨r are now testing new medical gloves — or production orthoses — that reduce pressure stresses brought on by many assembly tasks by more than 50 percent. The joint-friendly, shock-absorbent Teflon orthosis was developed together with Spörer AG, an Ingolstadt company that specializes in orthopedic technology. The first place the gloves are being tested is among 1,000 car-door assembly technicians, who install approximately 300 trim strips per shift. The pilot project is part of the "Workplace of the Future" area of the company's ergonomic strategy.
"This helps us to keep our employees healthy and effective, and also enhances the feeling of well-being in our production areas," stated Prof. Dr. Hubert Waltl, Board of Management member for Production at AUDI AG.
Putting people on a par with productivity? Now that's advanced thinking.