SPECIAL ADVERTISING SECTION
THE TRADE COAST
From Site Selection magazine, July 2016
SHARE THIS ON SOCIAL MEDIA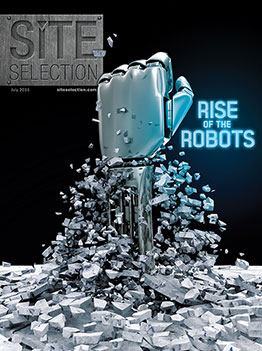 Global Connections Continue to Thrive in the Pacific Northwest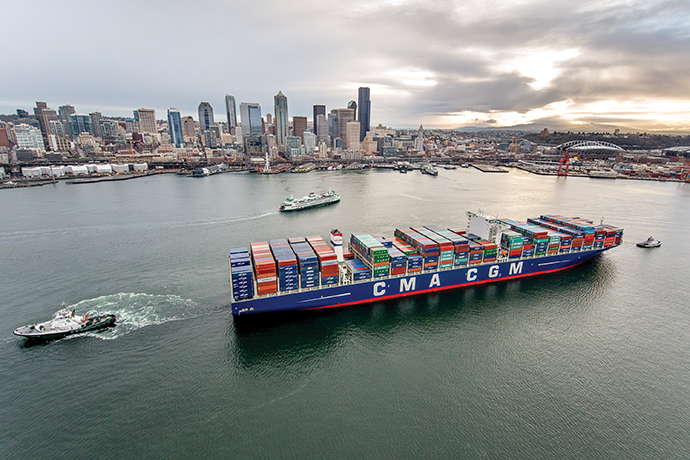 The Pacific Northwest's role as a global hub for commerce just keeps growing.
In May, at a press conference in Shenzhen, China, the Port of Seattle, the City of Seattle and the Seattle Metropolitan Chamber of Commerce announced the first US service by China's Xiamen Airlines for direct connections to Xiamen and Shenzhen with Seattle-Tacoma International Airport, beginning September 26, 2016, with three routes weekly. The announcement was made on "Seattle Day," a celebration of the strong business relationships between the two cities during the Chamber's International Leadership Mission. "Seattle Day" was started in Shenzhen in 2014 and was followed by "Shenzhen Day" in Seattle last year.
"Service between the two leading technology centers of Shenzhen and Seattle is a very important addition to the Port of Seattle's direct flights throughout Asia," said Port of Seattle Commissioner Fred Felleman. "Our goal of being a world-class international airport not only refers to customer service but also reaching new and diverse parts of the world."
The 62-member Seattle delegation's visit to Shenzhen was the third International Leadership Mission trip to China organized by the Seattle Metropolitan Chamber of Commerce and the Trade Development Alliance of Greater Seattle. But there's more than business at hand.
"In addition to our region's longstanding, solid relationships with Chinese businesses in Shenzhen," said Maud Daudon, president and CEO of the Seattle Metropolitan Chamber of Commerce, "we are also experiencing a tremendous increase in tourism between both countries, with a 7.6-percent increase in visitors year over year."
According to New Neighbors: 2016 Update from the National Committee on U.S.-China Relations, there were a record-setting 2.56 million outbound trips from China to the United States in 2015 — a number that is poised to double by 2020. Another report, released in May 2016 by Asia Society and Rosen Consulting Group and titled Breaking Ground: Chinese Investment in U.S. Real Estate, says Chinese investors acquired at least $17.1 billion of existing commercial property between 2010 and 2015, representing an annual growth rate of 70 percent, though half of that investment came in 2015 alone. And Chinese buyers spent at least $93 billion on residential real estate between 2010 and 2015. Though California accounted for 35 percent of Chinese home purchases in 2015, No. 2 was Washington with 8 percent of sales.
"These markets correlate well with the availability of direct flights from China and established Chinese and Chinese-American populations," said the report.
The Big 'B'
The all-Boeing reference in the Xiamen announcement is, of course, meaningful, given the company's major presence in the Seattle region. The company's major ties with China continue to grow too. In June, Boeing and Hainan Airlines, the largest privately owned airline in China, celebrated the delivery of the carrier's first 787-9 Dreamliner. Hainan becomes China's first operator of both the 787-8 and 787-9 variants of the Dreamliner family. Hainan, based in Haikou, leased the airplane through an agreement with Air Lease Corporation (ALC), which has 15 additional 787-9s on order. Hainan Airlines already has 10 787-8s in service, and plans to deploy its first 787-9 Dreamliner on a new route from Beijing to Las Vegas beginning in September. Boeing airplanes make up more than 85 percent of Hainan's current fleet, which serves 500 domestic and international routes.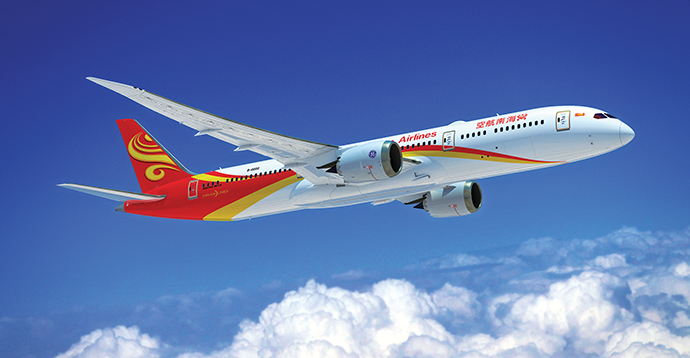 That delivery occurred one month after the delivery of the world's first co-branded 777 to China Airlines during a ceremony in Everett, marking the carrier's 10th 777-300ER (Extended Range). In 2004, China Airlines, Taiwan's flagship airline became the first airline in the world to use Boeing's co-branded livery on its latest 747-400.
Emerging Asia is also spinning into the Pacific Northwest's orbit, as VietJet Aviation Joint Stock Company and Boeing in May finalized an $11-3-billion order for 100 737 MAX 200 airplanes, the largest-ever single commercial airplane purchase in Vietnam aviation, which will double VietJet's fleet by 2023.
"Through this agreement, Vietjet will contribute increasing bilateral trade turnover between Vietnam and the United States," said Vietjet President and CEO Nguyen Thi Phuong Tháo during the signing, "as well as the integration and development of the aviation industry in Vietnam."
More international commerce expansion unfolded in the region as the Port of Seattle in June welcomed DHL daily cargo service to Sea-Tac from Boeing field in order to access Sea-Tac's enhanced cargo facilities with 20 flights a week. The news marked the seventh new air carrier to announce service at Sea-Tac in 2016, including cargo carriers Lufthansa Cargo (operated by AeroLogic) and ABX Air, along with passenger service from Spirit (started in March), Volaris and Xiamen. Virgin Atlantic also just announced service to Sea-Tac beginning in 2017. The slew of good news follows $23 million in airfield cargo facility expansion and upgrades in 2015.
Potential for More
The New Neighbors report found that Oregon is an important destination for overall FDI in the US, but has only attracted $180 million of Chinese investment to date, with 23 Chinese establishments providing nearly 530 jobs. "Prior to 2015, Oregon had not received significant Chinese investment, but a handful of transactions in the most recent year has more than doubled total investment value and added 500 jobs," said the report. The acquisition of LED display maker Planar Systems, headquartered in Beaverton with a manufacturing facility in Hillsboro, is the most significant investment to date. The report said forestry and wood products could attract further Chinese investment going forward.
More investment could come once the Trans-Pacific Partnership trade agreement is approved. The Portland Business Alliance, in announcing support for the agreement, found that 44 percent of Oregon's goods exports in 2014 went to TPP nations, and 88 percent of the Oregon companies exporting to these countries were small or medium-sized companies.

From May 2015 to May 2016, the largest percentage gains in state-level nonfarm employment were led by the Pacific Northwest states. No. 1 Oregon (3.4 percent) and No. 2 Utah (3.3 percent) were followed by Florida, Idaho, and Washington (3.2 percent each).
Washington has attracted $358 million of Chinese investment since 2000, said the report. In 2015, the state was home to 81 Chinese establishments providing over 860 jobs. "Most operations in the greater Seattle area are small-scale greenfield offices of Chinese technology firms," the report noted, including software companies iSoftstone and ChinaSoft in Kirkland and Redmond. And a Chinese JV has been instrumental in keeping the operations of REC Silicon in Grant County viable.
"Washington's strength in aerospace, telecommunications, and high-technology sectors should make it an attractive destination for Chinese FDI in the future," said the report.
The biggest pending investments in both states are two methanol plants in Oregon and Washington from a Chinese JV. The $1-billion Oregon plant would be in St. Helens, and is on track to receive permission in late 2016. The Washington plant will be in Kalama, after a third project planned for the Tacoma area was cancelled this spring after local opposition. The $3-billion Port of Kalama project is set to break ground in late 2016, with Houston-based Technip USA leading its engineering and construction.