Where Canadians Like to Work
Canadians like working for Canadian companies. That's one takeaway from a recent survey by Forbes and online statistics provider Statista. The survey asked 8,000 Canadian employees from 250 employers across 25 industries, including companies with more than 500 employees, non-profit institutions, government departments and agencies and local multinational divisions, to rate their employer on a scale of 1 to 10. They were also asked to rate other employers in their industry. Seven of the Top Ten are Canadian companies, and more than 70 percent of the Top 50 companies in the ranking are Canadian.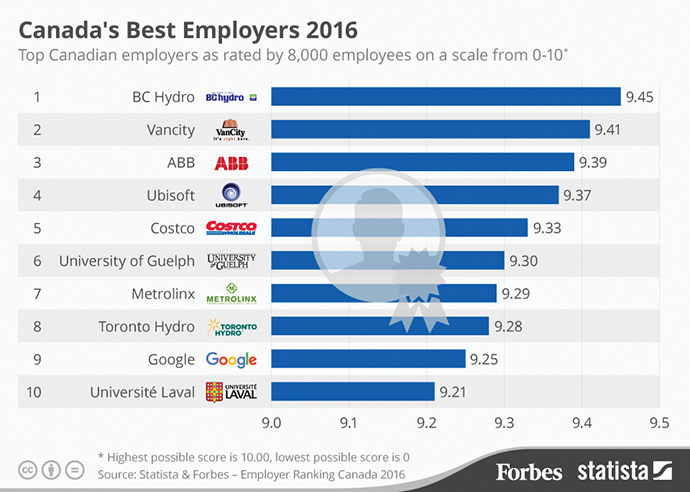 ---
Tucson Touchdown
World View, the commercial balloon spaceflight company, announced plans to invest $47.3 million to build a stratospheric ballooning facility at Spaceport Tucson, the state's first designated launch site for commercial space ventures. The company is building a new 135,000-sq.-ft. (12,542-sq.-m.) campus on 28 acres (11 hectares) that will house a manufacturing facility and spacecraft bay. World View will hire more than 400 employees. "From an employment growth and innovation standpoint, this is one of the most significant announcements in recent years for Southern Arizona's aerospace manufacturing industry," said Joe Snell, president and CEO of economic development organization Sun Corridor Inc.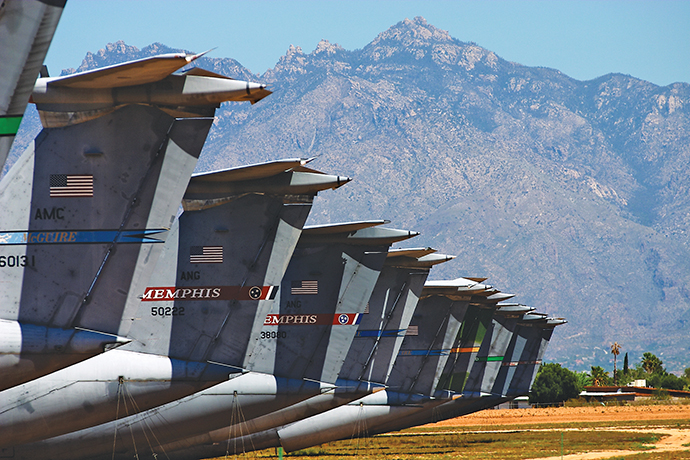 ---
Red Letter Day
It was the largest, single-day, economic development success in Mississippi's history, when Continental Tire the Americas, LLC, and Edison Chouest Offshore's TopShip announced plans to invest a total of $1.5 billion and create 3,500 jobs with an average salary of $40,000. Both projects were officially announced on Feb. 8. Continental Tire, the world's fourth largest tire manufacturer, is locating a commercial vehicle manufacturing plant near Clinton, Miss., investing $1.45 billion in the project and creating 2,500 jobs. TopShip, an affiliate of Edison Chouest Offshore, plans to invest $68 million in shipbuilding operations at the Port of Gulfport in Gulfport, Miss. The project will create 1,000 jobs.
---
Blade Runner
TPI Composites, Inc., a leading global wind blade manufacturer, announced plans to open a 360,000-sq.-ft. (33,445-sq.-m.) wind blade manufacturing facility in Juarez, Mexico, in the second half of 2016. The new facility is situated on 62 acres (25 hectares), giving the company plenty of room to expand production capacity. The company also announced that it signed a long-term agreement with Gamesa to continue to supply wind blades from TPI's two Juarez facilities.
---
Top 10 US Metropolitan Areas for STEM Workers
It's one of the recent workforce buzzwords, or buzz acronyms — STEM — which stands for Science, Technology, Engineering and Mathematics, for those who have been living on Mars for the past five years. WalletHub recently released its findings on the top metropolitan statistical areas for highly prized professionals with STEM degrees based on a range of data including per-capita job openings for STEM graduates to annual median wage growth for STEM jobs to the projected demand for STEM workers in 2020.
The Top 10 are:
San Jose-Sunnyvale-Santa Clara, CA
Austin-Round Rock, TX
Seattle-Bellevue-Everett, WA
Denver-Aurora-Lakewood, CO
Minneapolis-St. Paul-Bloomington, MN-WI
Boston-Cambridge-Newton, MA-NH
Madison, WI
Houston-The Woodlands-Sugar Land, TX
Pittsburgh, PA
Columbus, OH
---
 "GE aspires to be the most competitive company in the world. We want to be at the center of an ecosystem that shares our aspirations." — Jeff Immelt, GE Chairman and CEO, announcing the company's plans to move its headquarters from Fairfield, Conn., to Boston.