Google's Expanding Footprint
Just as Amazon's bid to put part of its HQ2 in New York was coming apart, its tech rival Google revealed that it's quietly sprinkling billions of dollars across states that Amazon spurned. In a February 13 blog post, CEO Sundar Pichai revealed that Google is investing more than $13 billion this year in data centers and offices in 14 states.
"These new investments will give us the capacity to hire tens of thousands of employees, and enable the creation of more than 10,000 new construction jobs in Nebraska, Nevada, Ohio, Texas, Oklahoma, South Carolina and Virginia. With this new investment, Google will now have a home in 24 total states, including data centers in 13 communities. 2019," Pichai wrote, "marks the second year in a row we'll be growing faster outside of the [San Francisco] Bay Area than in it."
Among the highlights:
New data centers in Nevada, Ohio, Texas and Nebraska;
New office buildings in Texas and Massachusetts;
Expansion of New York campus at Hudson Square;
Major expansions that will double Google's head count in Georgia and Virginia, with new offices and data center infrastructure in both.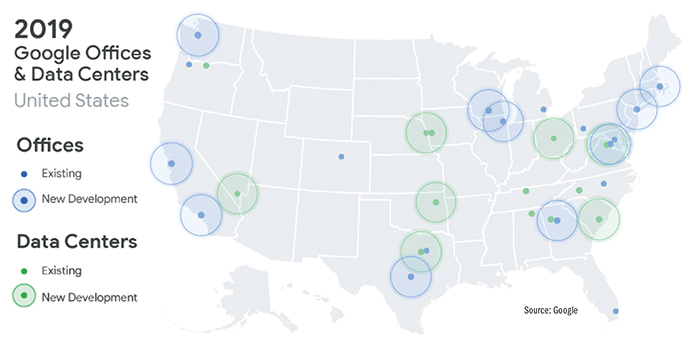 ---
Skidding to a Halt
That smell of burning rubber is China slamming the brakes on investment in the United States, now at its lowest level in seven years. Chinese FDI in the U.S. declined to $4.8 billion in 2018, down 90 percent from the record year of 2016, according to a year-end report by the Rhodium Group, which analyzes global economic trends. Counting a $13-billion divestment of U.S. assets, Chinese FDI was net negative in 2018. The outlook for 2019, says Rhodium, looks much the same, with Beijing tightening controls on outbound capital and Washington ramping up scrutiny of major Chinese investments through the Committee on Foreign Investment in the United States (CFIUS).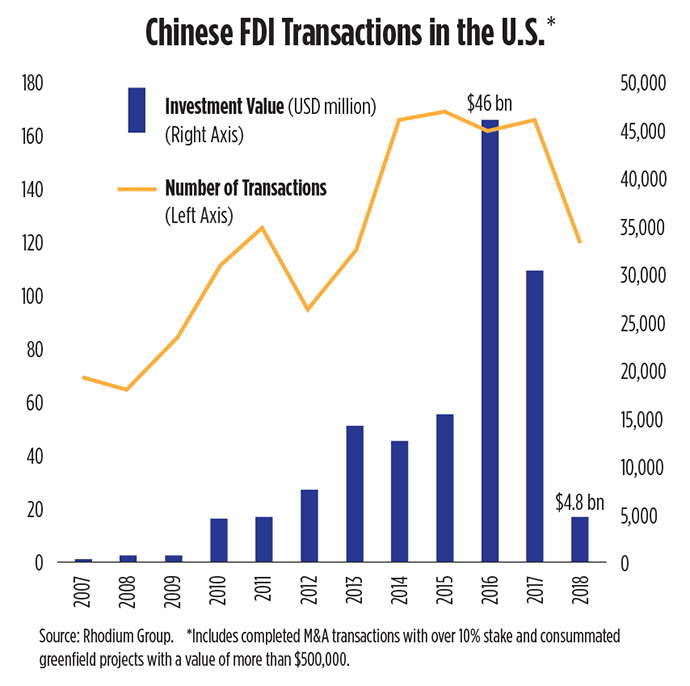 ---
Maine Has Cause to Celebrate
Listed on the Nasdaq exchange in early February, newly formed Covetrus, an animal health technology firm, plans to bring 1,200 new positions to downtown Portland, Maine, where the company is building a five-story headquarters. Formed by a merger of Vets First Choice and a division of Henry Schein Animal Health, Covetrus becomes Maine's biggest public company, with annual revenue of some $4 billion. Covestro's new 170,000-sq.-ft. (15,793-sq.-m.) home will be the biggest building in 25 years to be constructed on the Portland peninsula.
---
Need a Lift?
It went straight up, it hovered, then it came back down. All by itself. In January, Boeing successfully tested its electrically powered, self-flying taxi, officially called the autonomous passenger air vehicle (PAV). The short flight in Manassas, Virginia, was a milestone in the race to develop on-demand autonomous air transportation. "In one year, we have progressed from a conceptual design to a flying prototype," said Boeing Chief Technology Officer Greg Hyslop.

---
Study: Mayors Still Embrace Incentives
Amazon's highly fraught breakup with New York City has renewed public debate about the costs and benefits of business recruitment incentives. In public, many elected officials lament that proffering incentives, if aggravating, is essential to remaining competitive. But Boston University's Menino Survey of Mayors, based on 110 interviews held during the summer of 2018, finds that 84 percent of U.S. mayors view financial incentives for economic development as good policy. Further, 55 percent agree that the city that wins a competition to recruit a company or facility sees net gains in the long run.