Rebuilding from the Rubble
Unmaking Architecture, New York — an AI-based tool to optimize re-use of demolition rubble — earned top recognition among recipients of the Next Generation Prizes-North America, awarded by the Switzerland-based Lafargeholcim Foundation for Sustainable Construction. "Starting from an indexed library of demolition rubble, a computational tool is able to guide the design of new buildings in order to optimize available materials. The entire library," the citation explained, "can be matched like jigsaw puzzle pieces onto adjustable shapes, producing significant money savings as well as a reduced carbon footprint for building construction." The project is the work of Daniel Marshall, a Brooklyn-based façade consultant and former teaching fellow at MIT.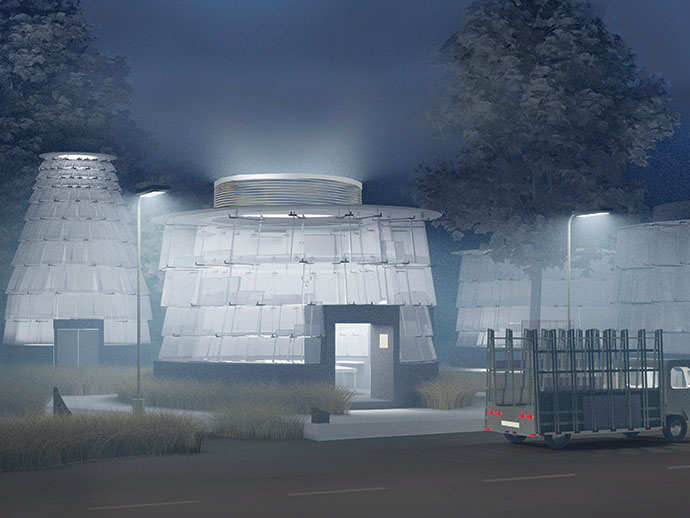 ---
Injecting Life into Manhattan Commercial Leases
Amid widespread concerns of an on-going swoon in New York City's broader commercial real estate market, life sciences leases are growing at a record pace, according to a June 1 report by CBRE. After a remarkable 2020 that witnessed steep declines elsewhere but 65% growth within the life sciences sector, NYC's lab leasing activity already has reached a record high for a single year, at 257,000 sq. ft. (23,880 sq. m.) through May 2021. "This year's leasing activity has been bolstered by the Icahn School of Medicine at Mount Sinai's 165,000-sq.-ft. [15,330-sq.-m.] research-focused lease at 787 Eleventh Avenue and C16 Biosciences' 19,000-sq.-ft. [1,765-sq.-m.] lease at the Hudson Research Center, where the Bill Gates-backed startup will relocate from its incubator space at BioLabs New York," reported CBRE.
---
Kansas City Southern Chooses a Suitor
On May 21, Kansas City Southern officially ditched a deal reached with Canadian Pacific Railway and announced a ground-breaking merger with Canadian National Railway to create the first freight-rail network linking the U.S., Mexico and Canada. The new rail network is to connect ports in the three countries with the expectation of leveraging the U.S.-Mexico-Canada Agreement on trade that rolled out in 2020. Kansas City Southern assessed the roughly $30 billion deal with Canadian National as superior to an agreement reached in March with Canadian Pacific. Earlier in May, Canadian National announced an order for 1,000 high-capacity grain hopper cars to be built in Mexico.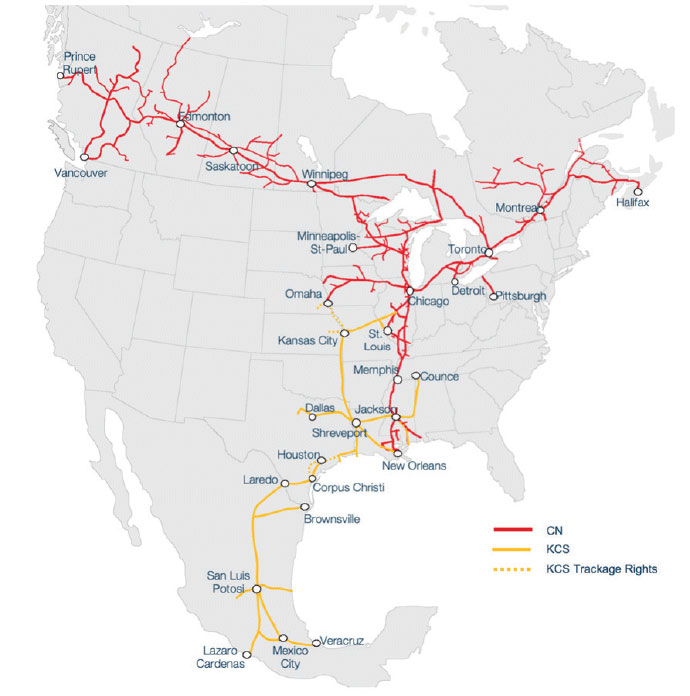 ---
"I never thought I'd see the day when Texas took the same path California took decades ago when lawmakers took manufacturing jobs for granted and hurt their economy."
---
Offshore Wind Gains Traction 
The Biden Administration moved on multiple fronts to advance its goal of generating 30GW of offshore wind power by 2030. On June 8, the Interior Department announced its intent to assess potential opportunities for clean energy development on the Gulf of Mexico Outer Continental Shelf. A Request of Interest to assess interest in potential wind development is focused on areas off the coasts of Louisiana, Texas, Mississippi and Alabama. On June 11, the administration announced its first proposed offshore wind lease, encompassing an area between Long Island and the New Jersey Coast called the New York Bight. On June 14, Virginia Gov. Ralph Northam announced that wind energy projects off Virginia and North Carolina (see "Offshore Wind is Blowing Up," Site Selection, May 2021) will be accelerated under a streamlined permitting process adopted by the Bureau of Offshore Energy Management.