Helmut Lives in Chicago
Whether an architectural icon worthy of preserving or a major miss by a celebrated son, Chicago's James R. Thompson Center in the Loop isn't going anywhere. Illinois Gov. JB Pritzker opted in mid-December to sell the seat of state government in the Windy City — and font of high maintenance — to a developer who plans to preserve it, not raze it. Having purchased the 17-story landmark for $70 million, longtime local developer Michael Reschke says he'll pump $280 million into a "gut renovation" to yield a mixed-use property with office, retail and hotel space. The state is to retain 30% ownership. Opened in 1985 and designed by Chicago architect Helmut Jahn, the Thompson Center, with its glass exterior, can require year-round air conditioning and other costly upkeep. In Pritzker's estimation, it failed to live up to the architect's "creative genius."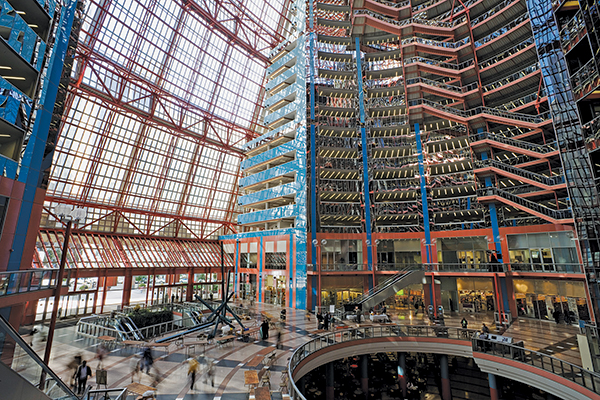 ---
"My new role at Strada Education Network 
will enable me to help advance at the 
national level much of the work we have 
done together at the state level in Virginia."

— Stephen Moret, Strada's new President and CEO, upon resigning as CEO of Virginia Economic Development Partnership after five years that included landing Amazon's HQ2
---
Hub Dreams
Backers of a real estate and business development play in Midtown Atlanta are banking that the Center for Global Health Innovation proves to be the hub of a long-imagined life sciences corridor, bolstered by ties to Atlanta's Emory University, the Centers for Disease Control and Prevention and Georgia Tech. A non-profit coalition formed by the merger of two local life sciences initiatives, the Center for Global Health Innovation, formed shortly before the pandemic, has signed a 17-year lease on 200,000 sq. ft. (18,580 sq. m.) at a Midtown tower formerly home to AT&T and walking distance to Tech Square startups. Transwestern, according to a release, "provided strategic business consulting, project development, and transaction structuring services to bring The Center's vision for the innovation hub to life." Transwestern has also committed a $1.5 million donation to advance the project.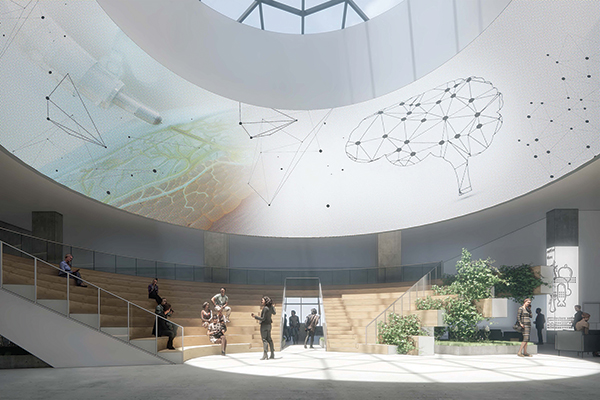 ---
Another Win for Greenville's Automotive Cluster
EV bus maker Proterra, based in Silicon Valley, is making a major expansion to its East Coast manufacturing base. On December 14, the company announced plans for an EV battery plant in Greer, South Carolina, not far from the company's bus manufacturing plant in Greenville. According to a release, Proterra has committed to a minimum investment of $76 million and expects to create more than 200 jobs at the 327,000-sq.-ft (30,380-sq.-m). facility at the Carolina Commerce Center.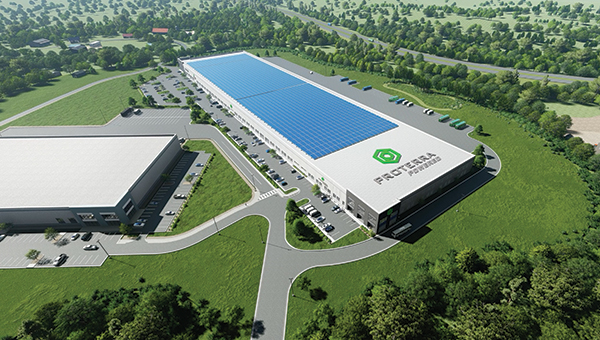 ---
Tech Comes Back
The tech industry, says CBRE in an October 27 report, is powering the early-stage office market recovery. Among the report's more intriguing takeaways: "Charlotte has the best combination of tech job growth and momentum, office market performance and demand recovery among Tech-30 markets." The map graphic shows how San Francisco tech firms lead the way expanding into other markets. (For more on top tech hubs, turn to p. 100 of this issue.)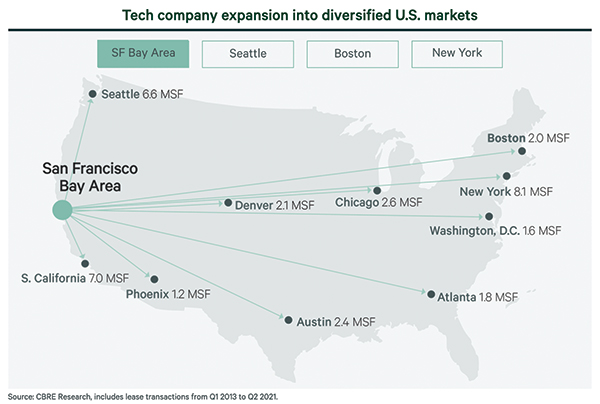 ---
All Aboard for Cascadia 
Oregon, Washington State and British Columbia are one stop closer to high-speed rail. The leaders of all three, ahead of the fifth annual Cascadian Innovation Corridor Conference held in Vancouver in November, signed a Memorandum of Understanding that establishes "ultra-high-speed transportation" as a regional priority. A joint release points out that "the recently signed Bipartisan Infrastructure law presents new opportunities." A 2018 study, partly funded by Microsoft, estimated costs of a network running between Vancouver and Portland (less than two hours at up to 250mph/400kmh) could be as much as $42 billion, with economic spinoffs in the hundreds of billions of dollars and 200,000 jobs.