Turin Chosen for HQ Pursuing'Vehicle of the Future'
In October 2022, Luxoft opened its new HQ in Turin, Italy. The DXC Technology company's decision to open its HQ and Automotive Center of Excellence in Italy will support Italian automotive companies with software needs including data analytics, application management and business process optimization. Luxoft's $5 million investment will create 400 new jobs over the next two years. "Operating from Turin allows us to be part of one of the most important automotive hubs in the world where there is expertise, research capacity and an ecosystem of companies all working in pursuit of the vehicle of the future," said Luxoft EVP Luz G. Mauch (left in picture, with Marco Bottero, country director for Luxoft in Italy, Spain and Portugal.)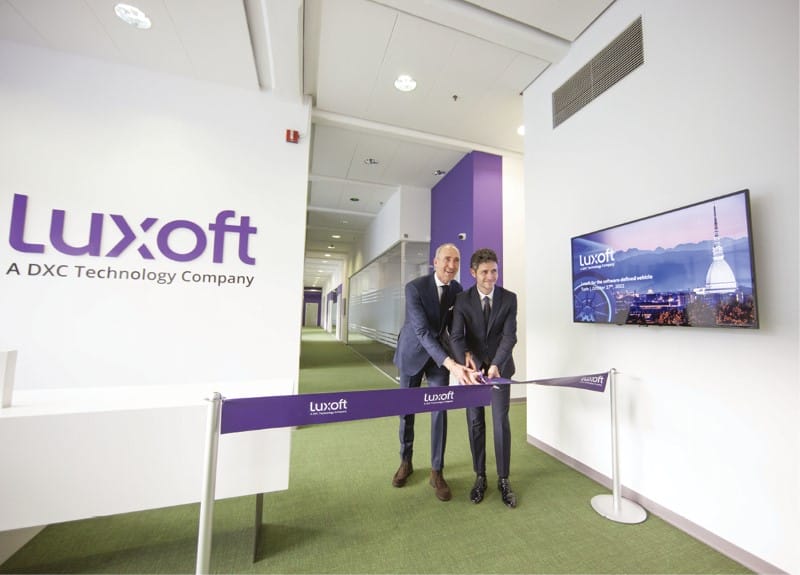 ---
Global Corporate Excellence Recognized by U.S. Secretary of State
In December, U.S. Secretary of State Antony J. Blinken recognized the 2022 winners of the Secretary of State's Award for Corporate Excellence. Honorees in three categories are U.S. companies recognized for their contribution to elevating business standards and conduct globally:
Responsible Business Operations: Anova Technical Services, LLC. and GAP, INC., India.
Climate Resilience: Drinkwell, Bangladesh.
Inclusive Economic Growth: Intel, Costa Rica.
---
Dublin Welcomes $1 Billion Biologics Investment
Dublin Welcomes $1 Billion Biologics Investment Bristol Myers Squibb opened a $1 billion Cruiserath Biologics facility in Ireland. The 125-acre north Dublin plant houses science and technology labs and a warehouse and cryogenics logistics facility to develop, test and manufacture biologics drugs substance. The site will create 450 new jobs to meet global demand. This plant joins the company's growing Ireland portfolio which includes additional manufacturing plants, labs, a distribution center and its global HQ.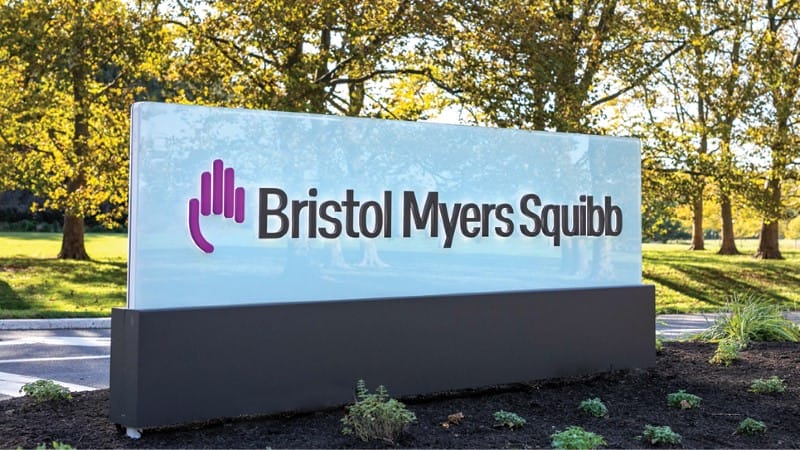 ---
Pakistan Lands $4.5 Billion Refinery
Gwadar Port, located in Pakistan along the Gulf of Oman, landed a $4.5 billion investment from East Sea Group for an 8-million-ton oil refinery. The Gwadar Petroleum Storage and Transportation Trading Centre was strategically selected by the company due to its location on the Gulf and proximity to oil-producing countries in the Middle East. Fang Yuling, CEO of East Sea Group, said the company will bring in six ships a month carrying crude oil for blending and transshipment, a total of 2 million tons per month.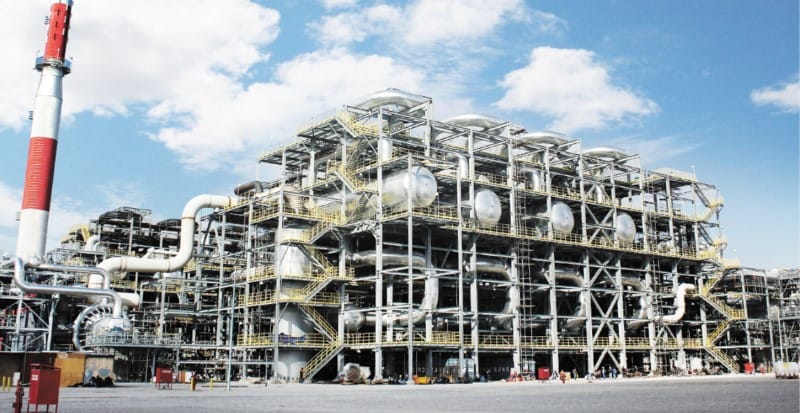 ---
Planting Roots in Turkmenistan
The Federation of Turkmenistan Industrial Entrepreneurs and Hyundai Engineering have entered a memorandum of understanding (MOU) for Hyundai's new ammonia urea fertilizer plant, a $1.4 billion project. The December 2022 announcement stated that the facility would be in the Balkan region, west of capital Ashgabat. Since 2009, Hyundai has invested billions of dollars in Turkmenistan on a multitude of projects from a gas desulfurization plant to a crude oil processing plant. This new investment will produce over 1.2 million tons of urea fertilizers and over 660,000 tons of synthetic ammonia annually, a benefit for the country's agricultural industry.

---
Novelis Pursues Circular Economy in South Korea
Novelis Inc., a sustainable aluminum solutions provider, broke ground in Ulsan, South Korea in November 2022 on a $50 million recycling center. "As the world leader in sustainable, low-carbon rolled aluminum solutions, we are focused on accelerating the transition of the aluminum industry to a circular economy model through the increased use of recycled content in our products," said Sachin Satpute, president of Novelis Asia. "Doing so will reduce our carbon footprint — as well as that of our customers and industry as a whole — and lead us closer to realizing our 2050 goal for carbon neutrality." Anticipated to be online by 2024, the facility will recycle 100,000 tons per year, increasing current capacity by more than 20%. Novelis runs Yeongju Recycling Center in South Korea, the largest in Asia.
---
ArcelorMittal and Nippon Cleared for $5 Billion India Expansion
Leading steel makers ArcelorMittal and Nippon Steel received environmental clearance in October 2022 to expand their Hazira, Gujarat plant in India. The $5 billion expansion for ArcelorMittal Nippon Steel India will take crude steel manufacturing capacity from 9 million metric tons per annum (MTPA) to 15 MTPA. The company's move is significant for India's National Steel Policy looking to double domestic capacity to 300 MTPA by 2030. "This expansion will give a fillip to our next phase of growth, enabling us to meet the growing domestic market demand, while also equipping us to produce high-grade value-added steel. It reinforces AM/NS India's commitment to supporting India's growth journey towards a $5 trillion economy," said AcrelorMittal Nippon Steel India CEO Dilip Oommen.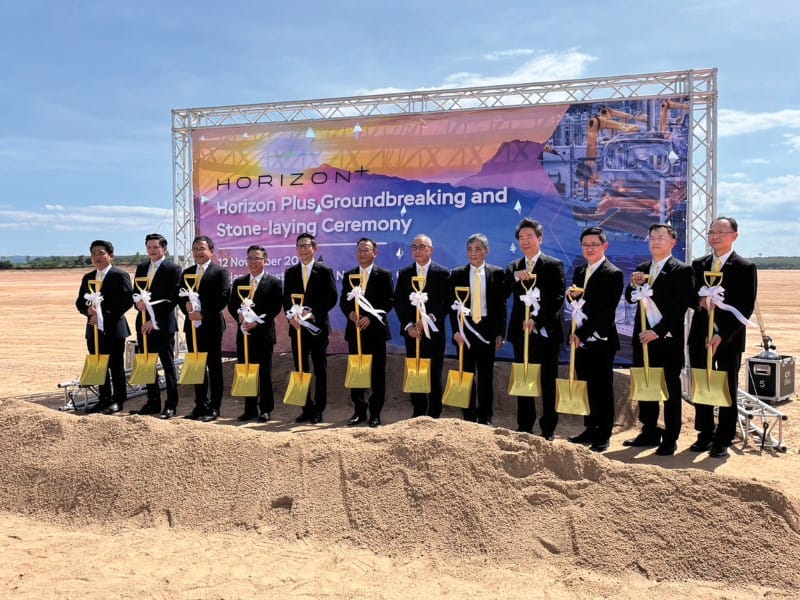 ---
5 Million Square Feet on The Thailand Horizon
Horizon Plus, a joint venture between electronics manufacturer Hon Hai (or Foxconn) and oil supplier PTT Public Co., was announced in November 2022, concurrent with plans for an over 5-million-sq.-ft. EV plant in Thailand. The $1 billion investment at Rojana Nong Yai Industrial Estate is anticipated to begin production in 2024, manufacturing both vehicles and EV component parts. Initial production estimates are 50,000 EVs a year, increasing to 150,000 by 2030.