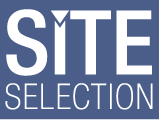 Contact: Adam Bruns,
Managing Editor, Site Selection
(770) 325-3491
adam.bruns@siteselection.com

6625 The Corners Parkway, Suite 200
Peachtree Corners, GA 30092 • USA
www.siteselection.com
Press Release
Site Selection Names Global Groundwork Index Leaders, Canada's Best Locations and Top Utilities in Economic Development

Atlanta, August 31, 2023 : The new September 2023 issue of Site Selection features three rankings prominent in the world of corporate location decision-making and economic development.
First, the Global Groundwork Index looked back at five years of Conway Projects Database corporate facility project data, then blended in data from the Federal Permitting Dashboard (which tracks infrastructure projects across the nation) and OECD infrastructure data to arrive at a unique snapshot of where private- and public-sector physical facility investment are converging for the public good and increased prosperity.
Among U.S. states, Ohio tops the list, just head of powerful corporate/infrastructure blends in Indiana, Texas, Georgia and Kentucky. This year for the first time, metro areas were evaluated too, led by No. 1 Indianapolis-Carmel-Anderson, Indiana. The Top 5 included a cluster of Midwest metros with Columbus, Ohio, No. 2; Chicagoland No. 4; and the tri-state Cincinnati region No. 5, with Dallas-Fort Worth-Arlington, Texas, sliding in at No. 3.
"There's no denying the impact of Intel's initial $20 billion investment in two chip fabs in Ohio on both the corporate end-user and infrastructure sides of our index," says Site Selection Managing Editor Adam Bruns. "Look closely at the other top performers in our state and metro rankings — including No. 1 metro Greater Indianapolis — and you see what it means to be called a crossroads of commerce."
The United States is far and away the world leader when it comes to the combined infrastructure and corporate end-user facility investment and job creation data. Topping the list of foreign countries were Canada (repeating last year's finish), Australia, South Korea, Mexico and the United Kingdom.
Canada's Best Locations
Based on Site Selection's exclusive, proprietary project data from corporate end-users evaluated on a cumulative and per-capita basis, the business publication's Canadian Competitiveness Award once again recognizes Ontario as the most competitive province in a competitive nation, followed by Alberta and Nova Scotia. Metro areas from Halifax to Vancouver and Québec City to Calgary populate Site Selection's annual Canada's Best Locations list of top Canadian economic development groups (see full lists below), with 12 of the 21 communities in Ontario.
This elite group of regions is determined by examining total corporate facility projects and their associated capital investment and job creation numbers over a period from April 2022 through March 2023. The projects qualified for Site Selection's Conway Projects Database (at least $1 million invested, at least 20 new jobs created or at least 20,000 new sq. ft. of space) are evaluated on both a cumulative and per-capita basis.
Top Utilities in Economic Development
Also featured in the September issue are Site Selection's Top U.S. Utilities in Economic Development (see list below), based on analysis of corporate end-user project activity in 2022 in those utilities' territories (from the Conway Projects Database and submitted materials in an annual questionnaire). In addition to examining facility investment project totals and calculating those projects' jobs and capital investment numbers on a cumulative and per-capita basis, Site Selection also welcomed questionnaire responses about the utilities' website tools and data, and innovative programs and incentives for business.
"The elite Top Utilities we named this year earned the honor amid a field of around 3,300 electric utilities across the country, including around 900 cooperatives," says Bruns of the rankings Site Selection has published since 1999. "Like the power they generate, their robust economic development teams and programs are well distributed throughout the country. And just as their generation and distribution portfolios turn toward renewables and smart technologies, these utilities' economic developers are helping their communities pursue sustainable growth by cultivating the flow of smart capital and talent."
The new issue of Site Selection also includes stories on transit-oriented development, remote work, quality of life, rare earth operations, food & beverage and logistics. In addition to the Xcel Energy Intelligence Report, the issue features area spotlights on Asia and on California, Pennsylvania, Upstate New York, North Carolina, Arkansas, the Upper Midwest and the Mid-Atlantic. The September issue also includes Site Selection Investment Profiles about San Bernardino County, California; Consumers Energy; Hoosier Energy; Indiana Municipal Power Agency; TeamCalifornia; Rancho Cucamonga, California; Monroe, Louisiana; and Hilco Redevelopment Partners. Two resource guides put Site Selection's corporate readers in direct contact with economic development organizations across Canada and utility economic development departments.
Site Selection magazine, the leading publication covering global corporate real estate strategy and economic development, is in its 70th year of publication, and goes to a qualified circulation of more than 41,000* corporate end users, in addition to publishing all of its material at www.siteselection.com. Global corporate expansion experts Conway Data Inc. — publisher of Site Selection, state economic development guides under its Custom Content Publishing Division, and the Site Selection Investor Watch, Project Bulletin and Snapshot newsletters, has been a trusted source of business intelligence to corporations, government economic development and investment promotion agencies around the world since 1954. Conway Data also manages the Atlanta-based Industrial Asset Management Council, a professional association of corporate real estate executives, economic developers and commercial real estate service providers.
*June 2023; all circulation information is publisher's own data unless otherwise specified.
---
2023 Canadian Competitiveness Award (most competitive province)

---
| | |
| --- | --- |
| 1. | Invest Ontario/Ontario Ministry of Economic Development, Job Creation and Trade |
| 2. | Invest Alberta |
| 3. | Invest Nova Scotia |
---
2023 Canada's Best Locations (Top 20 regions and ties, presented alphabetically)

---
| | |
| --- | --- |
| Advantage Brantford | ON |
| Burlington Economic Development | ON |
| Calgary Economic Development | AB |
| City of Mississauga Economic Development Office | ON |
| Economic Development Winnipeg | MB |
| Edmonton Global | AB |
| Halifax Partnership | NS |
| Invest Brampton | ON |
| Invest in Hamilton | ON |
| Invest Oakville | ON |
| Invest Ottawa | ON |
| Invest WindsorEssex | ON |
| London Economic Development Corporation | ON |
| Moncton Economic Development | NB |
| Montreal International | QC |
| Quebec International | QC |
| Sherbrooke Innopole | QC |
| Toronto Global | ON |
| Invest Vancouver/Vancouver Economic Commission | BC |
| Waterloo EDC | ON |
| York Region Economic Strategy/York Link | ON |
---
2023 Top Utilities in Economic Development (alphabetical order)
---
| Utility | Headquarters City |
| --- | --- |
| Alabama Power Company | Birmingham, Alabama |
| Alliant Energy | Madison, Wisconsin |
| American Electric Power | Columbus, Ohio |
| Arizona Public Service | Phoenix, Arizona |
| Consumers Energy | Jackson, Michigan |
| Dominion Energy | Richmond, Virginia |
| DTE Energy | Detroit, Michigan |
| Duke Energy | Charlotte, North Carolina |
| Entergy Corporation | Baton Rouge, Louisiana |
| Evergy | Kansas City, Missouri |
| FirstEnergy | Akron, Ohio |
| Georgia Power | Atlanta, Georgia |
| Indiana Municipal Power Agency | Carmel, Indiana |
| Kentucky's Touchstone Energy Cooperatives | Winchester, Kentucky |
| LG&E and KU Energy LLC | Louisville, Kentucky |
| National Grid | Syracuse, New York |
| Omaha Public Power District | Omaha, Nebraska |
| Salt River Project | Phoenix, Arizona |
| South Carolina Power Team | Columbia, South Carolina |
| Tennessee Valley Authority | Nashville, Tennessee |
---
2023 Global Groundwork Index Rankings
---
Top 10 U.S. States
Ohio
Indiana
Texas
Georgia
Kentucky
Tennessee
Michigan
North Carolina
Louisiana
Arizona
Top 10 U.S. Metros
Indianapolis-Carmel-Anderson, IN
Columbus, OH
Dallas-Fort Worth-Arlington, TX
Chicago-Naperville-Elgin, IL-IN-WI
Cincinnati, OH-KY-IN
Austin-Round Rock-Georgetown, TX
Houston-The Woodlands-Sugar Land, TX
Savannah, GA
Kansas City, MO-KS
Waco, TX
Baton Rouge, LA
---
Top 10 International Countries (combined infrastructure and corporate end-user project investment strength)

---
Canada
Australia
South Korea
Mexico
United Kingdom
Germany
France
China
Spain
Poland