Rotterdam-based HousingAnywhere in July released its Q2 2023 International Rent Index, a practical tool for professionals and students looking for a place to live in Europe.
The index's headline tries to put a positive spin on the housing trend: "European Yearly Rent Increase Falls Below Double Digits." "Young professionals and students are still facing major challenges in finding available, affordable and accessible rental housing," said Djordy Seelmann, CEO of HousingAnywhere.
Median rental prices for a 1BR were highest in Lisbon, Portugal (€2,500); Amsterdam, Netherlands; and Utrecht, Netherlands. The highest year-over-year increase was in Budapest, Hungary (42.9%), a metro that looked to be a relative bargain in this exercise one year ago and honestly still is at €1,100.
The 20th quarterly edition of the index analyzed 64,004 single rooms, studios and one-bedroom apartments across 23 cities in continental Europe that received interest from potential tenants on the HousingAnywhere platform in the past year. (That's up from 57,104 properties analyzed one year ago, which is presumably a good sign for HousingAnywhere's own fortunes.) "About 95.8% of the listed properties were fully furnished and 58% included bills in their rent," says the organization, with listings mainly geared toward mobile talent, i.e. young professionals and students.
Here are the Top 10 by average 1BR rental price:
Four of the 10 most expensive are in HousingAnywhere's home country of the Netherlands. No. 1 Lisbon's median rent has risen by 29% from €1,940 last July. The rent in Paris, though still high at €1,802, has actually dropped from its Q2 2022 price of €1,908. The only other city in the Top 10 to show a year-over-year decrease in rent is Milan (down from €1,833).
This graph (interactive at HousingAnywhere's site) shows each city's color-coded rent trend: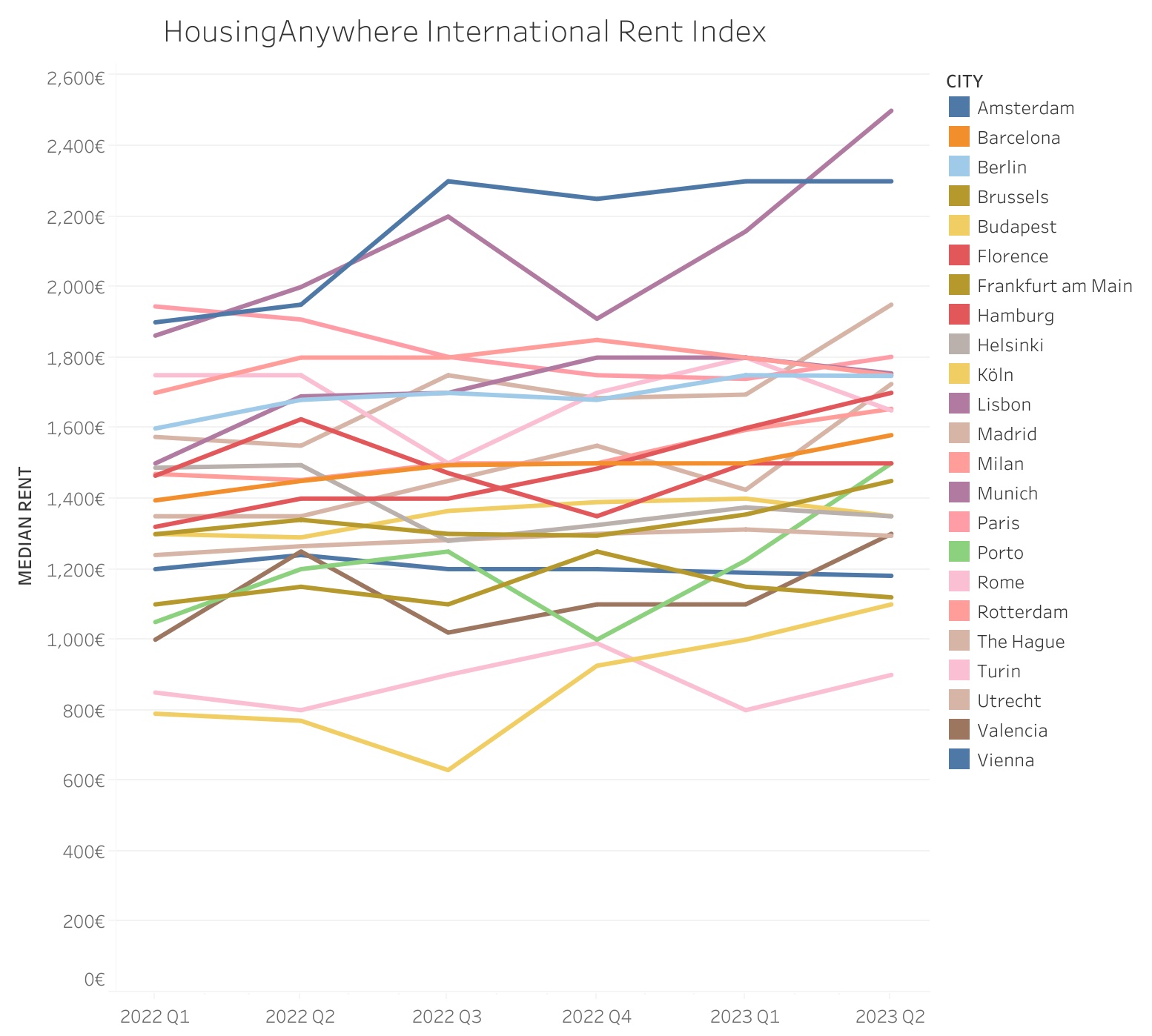 Graph courtesy of HousingAnywhere
Which of these 23 cities are attracting the most corporate facility investments? The Conway Projects Database shows 251 qualifying projects (at least $1 million invested, 20 new jobs or 20,000 new sq. ft. of space) across the 23 metro areas since January 2020, with Spain and Portugal leading the way:
| City | No. of Projects |
| --- | --- |
| Barcelona | 48 |
| Lisbon | 41 |
| Porto | 19 |
| Amsterdam | 16 |
| Madrid | 16 |
Among the projects landing in Barcelona: a $200 million project from Schneider Electric, a Google office investment of $50 million and a 1,000-job distribution center from sporting goods equipment company Decathlon. The most affordable of those top project attractors? Madrid, with a monthly rent of €1,295.
Turin, Italy, the most affordable city on HousingAnywhere's list, has welcomed six major projects in the past few years, including a $200 million, 161-job expansion by automotive company FPT Industrial SPA, a $400 million headquarters investment from Luxoft and a 32-job R&D expansion from Marelli Corp.
The chart below shows year-over-year comparisons for all 23 markets. — Adam Bruns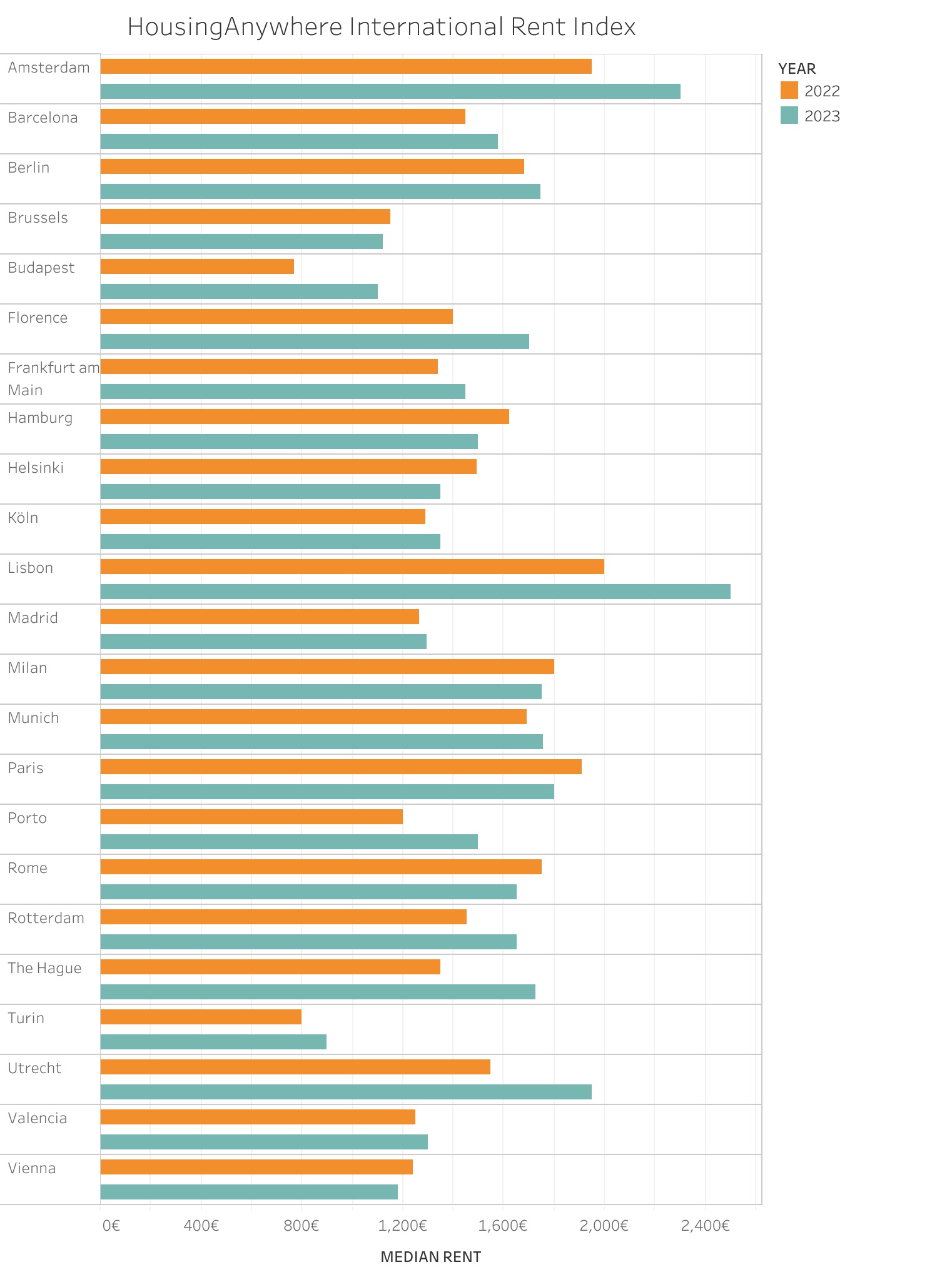 Chart courtesy of HousingAnywhere