T
hanksgiving is a time we gather at the place the heart calls home. Itís a homecoming that has its own elegant simplicity: We simply sit down together, give thanks and share a meal.
But itís a different kind of thanks theyíre offering up this year in Wilmington, Del. That city is celebrating the homecoming of 2,500 jobs. And theyíre coming back to the very same auto plant that
General Motors
padlocked in July after 62 years of continuous operations.
Start-up
Fisker Automotive
is bringing that venerable facility back to life. Already creating a stir by fusing green tech with sexy style, the California-based company will build a new plug-in hybrid in the mothballed GM facility.
"With all those jobs coming back to the GM plant, yes, this project is very definitely a homecoming, and weíre certainly thankful for that," Alan Levin, director of the Delaware Economic Development Office (DEDO), tells the SiteNet Dispatch. "And weíre giving thanks for a lot of other things that we have in Delaware, like the old GM plant and the site. But what weíre really thankful for is the people here. They really made the difference in this deal. We had the right people."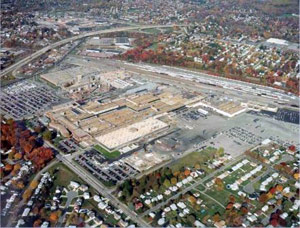 Powered by that combination of factors, Delaware officials sealed the Fisker deal at the site-selection equivalent of Mach speed.
"We got this deal done in, ah, exactly two months and two days," Levin says, thumbing back through his calendar at his office in Wilmington. "From the time Fisker first contacted us to the day the companyís board approved the deal, it was two months and two days."

Two Plants Padlocked in Six Months
Fiskerís expansion probably couldnít come fast enough for Delawareans. In only six months, the stateís last two auto plants shut down: First,
Chrysler
in December of 2008 closed its assembly plant in Newark, Del., putting 1,100 people out of work. Then came GMís June 1 announcement that it was shuttering its plant at the end of July; that meant that 450 more jobs would vanish like morning fog on the Christina River that flows past downtown Wilmington. GM built that facility on Boxwood Road in 1947; its shutdown marked the end of a long, slow fade. At the plantís peak in the mid-1980s, 5,000 GM employees worked inside those walls.
"Weíve certainly had the wind knocked out of us in the last few months," Levin says. "Delaware is known for the four "Cís": cars, credit cards, chicken and chemicals. Then in six months, one of our "Cís" was just gone.
"So the Fisker deal had provided a huge shot in the arm for the state," he continues. "People in Wilmington, where I live, have a little spring in their step now. And we not only have one of our "Cís" back now; Fisker is also creating green jobs for the auto industry of the future."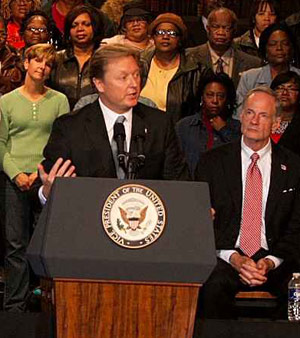 That future is moving forward very fast, Fisker executives insist.
"We are really starting a new era of American automobile manufacturing," Fisker CEO and co-founder Henrik Fisker said at the project announcement on Oct. 27. "Since we moved from the horse to the gasoline engine, there has never been such a big change as is happening right now."
Fisker got a heroís welcome in Wilmington from a gung-ho crowd of 1,700 people who gathered inside the old GM plant. And so did U.S. Vice President Joe Biden, a Wilmington native. Through much of Bidenís life, the Boxwood plant has been a constant. As a college student, he applied for a summer job at the GM facility, but they turned him down. Later, Biden often campaigned outside the plant gates. Even now he passes by the Boxwood facility every day as he commutes to the nationís capital.
"I refuse to believe that [the U.S.] will not once again lead the entire world in the manufacturing of automobiles," Biden said to a crowd that included a large number of former GM and Chrysler workers. "This factory in Delaware and the whole industry are going to get back up off the mat."

The ĎNinaí Sails Early
But the Wilmington crowdís loudest cheers rose up when Henrik Fisker outlined the companyís ambitious expansion plans.
"We believe the future is plug-in hybrids," Fisker told the audience. "We believe the vehicles have to be desirable, beautiful and attractive to people. Fisker Automotive is only going to play a small part. But weíre willing to
grow
. And I think you guys are willing to grow
with us
."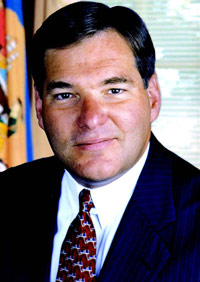 The company is starting up its growth by buying GMís 3.2 million-sq.-ft. (288,000-sq.-m.) factory for US$18 million. Then Fisker plans to spend at least $175 million in revamping the Boxwood plant. Production of the companyís plug-ins will start as early as late 2011, with the plant increasing its annual output over time to as many as 100,000 cars. And in a turnaround from most U.S. carmakers, Fisker plans to use the Port of Wilmington to
export
more than half of those cars to
other
countries. "I think this is the first time an American car company is designing cars with a taste of the world," Fisker said.
But what will Fisker build in Wilmington? For the moment, that remains a mystery. Fisker officials only say that the Boxwood plant will build a "family-oriented" sedan thatís codenamed "Project Nina" for one of the ships that brought Columbus to the New World. The unnamed car will list for around $40,000 (after a $7,500 federal tax credit). Biden is one of the few people outside of Fisker whoíve seen the "Nina" carís design.
"Itís going to have a very exciting, radical design," Fisker said inside the old GM plant. "We actually just showed it to the vice president of the United States of America and he said, ĎIt looks like a four-door Ferrari. I canít believe itís only going to be $40,000.í "
The Nina will also feature the next generation of Fiskerís technology, company officials say. That technology is drawing considerable interest from equity investors, whoíve reportedly invested $100 million in Fisker.
But the U.S. Department of Energy (DOE) is the backer thatís having the biggest impact on Fiskerís growth. The DOE on Sept. 18 approved a $528-million low-interest loan to Fisker through the $25-billion
Advanced Technology Vehicle Manufacturing Loan Program
. (The DOE is also providing loans to
Ford, Nissan
and
Tesla
.)
"We were planning to start in about three years," Fisker told the Wilmington crowd. "But with the help of the Department of Energy, we are able to start this car
today
."

Sowing the Seeds for Growth
Actually, Fisker was sowing the first seeds for its
Delaware
expansion two months earlier.
"Fisker first came onto our radar on Aug. 14," says Levin. "That day they visited the GM site and briefly talked with us. Our understanding was that the visit was no big deal, that they were seeing us mostly as a courtesy call. They left us with the impression that theyíd let us know if they had any interest going forward."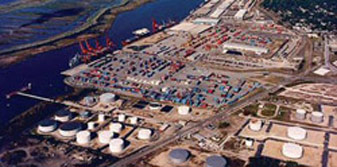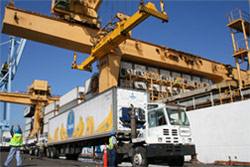 At that point, Delaware officials actually knew very little about Fiskerís plans.
"Iím a car nut," Levin explains. "So I had read about Fisker in car magazines. I knew they were based in California, and they had an engineering center there, as well as another engineering enter in Michigan. But at that point, I didnít know that they wanted to build a new car on a different platform from the Karma, the luxury sedan that Fiskerís now making in Europe.
"So when the governor (Jack Markell) asked me if Iíd heard much about Fisker, I told him, ĎI donít know a whole hell of a lot about them, but I
will
know a lot about them, and Iíll know it
soon
.í "
While Levin was digging for data about Fiskerís new car, Gov. Markell took a different tack. Markell came to the Delaware governorís mansion after a decade-long career with Nextel and Comcast. That business background gave him an entrée with a friend who worked for Kleiner Perkins Caufield & Byers, a venture capital firm thatís one of Fiskerís financial backers.
"The people at Kleiner Perkins told us, ĎYes, these guys are for real. They have a great business model and we believe in them,í " says Levin. "So by the time they came back for their second visit two weeks later, we were ready."

ĎWhat Are You Looking For?í
Fisker came back to town on Sept. 1. The companyís two founders, CEO Fisker and Chief Operating Officer Bernhard Koehler, toured the shuttered GM plant for the second time. And they were once more accompanied by representatives of Motor Liquidation, the legal entity thatís disposing of the unwanted assets that GM left behind in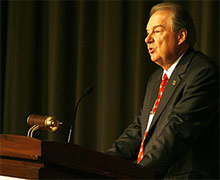 bankruptcy court. The Boxwood plant is one of 16 factories that Motor Liquidation is trying to sell. (All told, GM left behind some 200 properties valued at $2.3 billion. In the current market, however, those abandoned operations will likely fetch a much lower price.)
After the Sept. 1 plant tour, Fisker and Delaware began to talk some very serious turkey. Fisker and Koehler came to Levinís office at 3:00, where they also talked to representatives of U.S. Senators Tom Carper and Ted Kaufman, as well as U.S. Rep. Mike Castle.
"At 4:00 that afternoon, we then went up one floor to the governorís office," Levin recalls. "That was where we sat down and asked Henrik (Fisker) and Bernie (Koehler), ĎExactly what are you looking for? What do you need from the state to make this project happen?í And then they laid out what they were looking for in the Boxwood facility and what they hoped to get from the state."
After that, Fisker and Koehler went out to dinner with the Delaware team. Not coincidentally, Levin had also invited someone else to that dinner: Jim Wolfe, president and CEO of the Delaware State Chamber of Commerce. Jim Wolfe
knows
from autos. He spent 40 years working for Chrysler, including a stint managing the companyís Newark plant, before retiring in 2004.
"Jim Wolfe understood what it took to run an automotive manufacturing plant," says Levin. "He spoke the same language as Henrik and Bernie. I think the dinner conversation that those three people had that night went a long way in making the expansion case for Wilmington."

ĎAs Clean a Deal as You Could Possibly Makeí
Once Fisker left town, the Delaware team quickly got busy structuring a deal that would support the automakerís growth. Time was of the essence then, since not many people knew the particulars of Fiskerís expansion plan. But the rest of the world would eventually know those details. And then states galore would come knocking on Fiskerís door to bid for the project.
By Sept. 3, Delawareís official offer letter was sitting on the desks of Fisker and Koehler. That offer arrived only two days after the Fisker executives flew back to the companyís Irvine, Calif., headquarters.
And then there was silence.
"We didnít hear anything back from Fisker for quite a while," Levin says. "Like Gov. Markell, I come from a business background, only my experience is in retail. (Levin owned and operated Happy Harryís, a retail drug store chain with 76 locations, until he sold it to Walgreens three years ago.)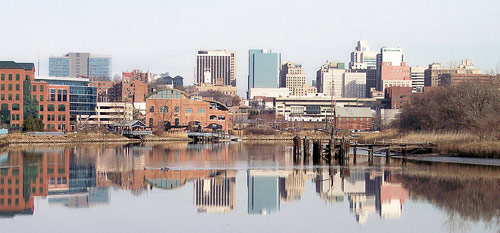 "So the governor and I sat down and made our offer with two things in mind. First, we wanted to make our
best
offer from the
beginning
. Second, we didnít want to lose this deal by worrying about a couple of bucks."
Delawareís early offer on Sept. 3 may have helped the state stand out in the competition for Fiskerís expansion. And that competition started really heating up after the DOEís Sept. 18 funding award, which effectively blew to bits the stealth cover on Fiskerís plans. Other states quickly began to ardently woo the company. California, Louisiana, Michigan and Ohio were among those making strong bids, Levin learned.
Then Koehler came back to Wilmington, arriving Oct. 6 for a three-day visit. The Fisker COO spent a lot of time talking to people, including state and local officials and the cityís business leaders. One of those leaders was Ellen Kullman, CEO of DuPont, which will likely partner with Fisker. Finally, in what would turn out to be a fateful exchange, Koehler sat down and talked to leaders of United Auto Workersí Local 435.
During the whole site-selection process, Fisker only asked for a single change in the initial deal that Delaware had offered: The company on Oct. 15 asked whether it could get a five-year abatement on its property taxes in New Castle County. Delaware officials quickly agreed to the abatement, which county officials valued at $1.3 million.
"Other than the abatement, our offer never changed at all," Levin explains. "Delaware offered Fisker a $9-million grant to offset the plantís utility costs. And we offered them a five-year, $12.5-million loan at zero interest to make improvements to the plant. Theyíll use that loan to put in new plumbing, new HVAC and lighting systems, plus a new façade that looks like a 2010 plant rather than a 1960 plant."
The $12.5-million loan will revert to an outright grant in five years if Fisker has met employment standards by creating 2,500 jobs inside the facility.
"And that was it; that was basically the deal," says Levin. "It barely varied any at all from Sept. 3. It was about as clean a deal as you could possibly make."
Ultimately, it was an offer that Fisker didnít refuse. The companyís board approved an expansion in Delaware on Oct. 16. Then, on Oct. 27, the company told the world where it was setting up domestic production.

Strong Labor-Management Links
Some of Delawareís strongest attractions, however, werenít in the particulars of the written agreement. Most significantly, the Wilmington area had a deep pool of auto workers who were experienced, skilled and quite possibly looking for work. And those workers also had loads of attitude — the good kind.
"The quality rankings for GMís Boxwood plant were consistently off the charts," Levin explains. "So the labor base was certainly very important to Fisker. But the cooperative relationship between the Boxwood plantís management and labor was even more important. In that plant, thereís never been a single disagreement that had to go to national mediation.
"Thatís not to say there werenít disputes at the Boxwood plant; there definitely
were
. But the people in the plant worked them all out at the local level," he continues. "You know, itís funny. I would go in and watch meetings at the Boxwood plant, and you would have trouble telling who was with labor and who was with management. I know that sounds weird and hard to believe. But other than a few guys having on a UAW shirt or jacket, you really couldnít tell."
Fisker officials were struck by that atypical relationship.
German native Koehler wondered aloud at the expansion announcement: "I was almost amazed that [GM] gives that [relationship] up, because thatís something you cannot build up even if you want."
Fiskerís Wilmington plant will be a union shop. Company officials and the UAW are currently negotiating the particulars of the labor agreement, including pay scales and job descriptions. The UAW workers at GMís Wilmington plant were strong supporters of flexibility in job roles.
Still to be determined is whether former GM and Chrysler workers will get the first shot at Fiskerís jobs. "Obviously, we donít know the answer to that yet," says Levin. "But I feel comfortable saying that the GM workers will get the first shot."

Plantís In-Place Equipment Played Role
Plant equipment was another significant factor in Fiskerís location decision. Not new equipment, but equipment that was sitting idle inside GMís closed plant.
Gov. Markell in June approached GM and asked it to leave the facilityís equipment intact. The automaker agreed, leaving the equipment in place after July 28, when the last GM car (a Pontiac Solstice)
rolled off the Boxwood plantís line. But Markellís agreement with GM wasnít open-ended. The agreement would expire after Dec. 31 of this year. After that, GM said that it would begin to move all of the equipment out of the Boxwood plant.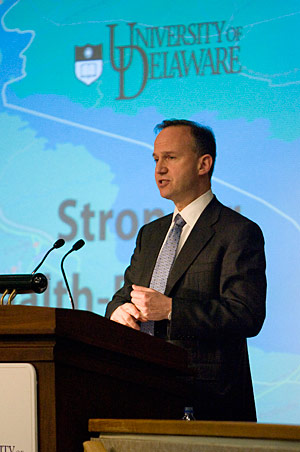 Fisker officials paid their visits to the plant long before that Dec. 31 deadline. Consequently, all the equipment was in place inside the facility, sitting eerily quiet. Fisker and Koehler were both keenly interested in the Boxwood plantís paint shop, which had won GMís No. 1 ranking for quality. When the two Fisker executives saw that shop, they saw major dollar savings.
"That paint shop was really important to Fisker," says Levin. "If you had to replicate that shop, Iíve heard estimates that it would cost you from $250 million to $350 million. And the Boxwood paint shop is definitely operational. GM closed down the plant the right way; they left solvent in the lines to protect them."
Thereís one last intangible that helped sway Fiskerís decision, and itís a factor thatís almost impossible to quantify. Call it teamwork ó even though thatís a term that tons of people talk, but not many walk. But when Delawareans talk about teamwork, you get the feeling that thereís a lot of meat on the bone.
"People in Delaware just have this ability to work together, and we take that seriously. Thatís just the nature of the state. On the Fisker deal, everybody checked their ego at the door. In politics, usually everybody wants to take credit. But with the Fisker project, there was so much credit to go around that it really didnít matter."
All that constant collaboration got Fisker officialsí attention.
"Henrik told us numerous times that he marveled at how fast Delawareís governor was able to call a meeting that would quickly get together all the governorís staff, the stateís entire Congressional delegation and local government officials. He said, ĎYou can do that as easily as I can get my family of four together to go to dinner.í "
Getting together for dinner, of course, is a big part of what this Thanksgiving season is all about. And with Fiskerís arrival, there may be a few extra thanks offered up around many homecoming dinners in Delaware.
Enjoy this original content? Bookmark it to share with your friends!