Patience pays off as an A-list company lands on Georgia's showpiece megasite.
A
fter several near-misses since its ill-fated start
seven years ago
, a megasite in the Savannah-area community of Pooler, Ga., finally will be home to a corporate project worth the wait.
The plant is coming in part because of Gov. Sonny Perdue's decision to make the site less "mega."
Just in time to welcome autumn, officials from Mitsubishi Power Systems Americas (MPSA), the Lake Mary, Fla.-based subsidiary of Tokyo-based Mitsubishi Heavy Industries, gathered at the Chatham County megasite near I-95 and I-16 outside Savannah to announce a $325-million, 500-job plant to build gas turbine combustors for the power generation industry. Expecting to launch production by the end of 2010, the project is just the first phase of the company's plan to construct and service gas turbines in the U.S., for distribution to customers in both North America and South America, and its initial 119-acre (48-hectare) footprint has ample room for incremental expansion.
"This expansion is a vital part of our long-term strategy to further globalize our manufacturing and service capability," said Dave Walsh, senior vice president of service and manufacturing at MPSA. "This state-of-the-art plant will provide combustor components for both Western Hemisphere customers as well as for global new turbine needs. It will also provide Mitsubishi a service capability for large components supporting Western Hemisphere power providers. Finally, it will be the Western Hemisphere assembly site for our latest technology — large frame gas turbines. This location boasts convenient access by road, rail and sea, an excellent work force, and it has the capacity to support our power generation product growth for decades to come, given its size."
Interviews with several concerned parties confirm that "Project Black," paying an above-average salary of $60,000, will brighten the landscape for company and community alike.
"It is rewarding to see something go on that site after all," says Peggy Jolley, region project manager for Georgia Power community and economic development, who was senior vice president of the Savannah Economic Development Authority back when the site was first developed in 2002 for a DaimlerChrysler commercial van plant that never came. Now the state can begin to justify its long-term commitment to the site, which began with some $150 million in infrastructure and land investment in 2002.
"I think it's a sense of satisfaction," says Heidi Green, Georgia's deputy commissioner of economic development. "We have been very careful in who we've shown that land to. We're very pleased with the quality of the company that will be the first tenant on the site. We've always said the return on investment and quality of jobs are critical. We firmly believe MPSA does that."

Water View Desired, But Not Required
Georgia Power, a customer that recently installed some MPSA products at its McDonough power plant in north Georgia, was the first point of contact for MPSA's site quest. It happened way back in May 2007, says Jolley, when a VP at the utility got a call from Walsh.
"We immediately called the state and put together a team," she says. The Georgia Dept. of Economic Development team was led by Green, Senior Project Manager Scott McMurray, and project managers Jim Ewing and Brian Warsham, all under the leadership of Ken Stewart, the state's commissioner of economic development.
Meanwhile, MPSA was composing its own team, consisting of Walsh, Jim Williams, vice president; Steve Woodall, general manager, special projects; Joe DeBarro, project manager; and tax and financial specialist Gary Mortimer. The firm also sought out the guidance of Charlotte-based Development Advisors, represented by John Krug, vice president.
MPSA's key operations are in Orlando; Newport Beach, Calif.; Houston; and Juarez, Mexico. Woodall says the company looked at sites in Alabama, Florida and South Carolina too (the latter two were also finalists for the DaimlerChrysler project in 2002). "There were locations in all of those states that could fit our needs," says Woodall. "We analyzed each one, listened to each of the states' development agencies, and analyzed the benefits that were offered. Slowly some of the locations started to fall out, and it became clearer which ones were better for Mitsubishi." The option of manufacturing at the company's existing (and enormous) Takasago Machinery Works in Hyogo Prefecture, Japan, was also on the table initially, says Jolley.
The company's best-case scenario involved the ability to lift components directly off a barge and into the plant: "At first we wanted to be on the water, but that was a little difficult, so we backed away from the water," says Woodall.
"The problem is that on the East Coast, there are not a whole lot of water sites," says Green. "They looked at a lot of sites up and down the coast. We had a couple, but they all had some challenges to them. We did not offer the megasite."
But then they did, which Green recalls vividly because it was two days before Christmas.
"We were trying to finalize the incentive letter while I was Christmas shopping," Green recalls with a laugh. "We had come to a point where we knew we did not have a viable water site, but with the company's timeline, we felt like it was appropriate at that time to put the megasite on the table as an option."
Proximity to a vibrant port and nearby rail was a must, as was a heavy-lift capability. At one time a site in Brunswick, Ga., south of Savannah, was under scrutiny. But Perdue's decision in December 2008 to allow the megasite's break-up was a big step.
"What really cinched the deal with Georgia was this megasite became available, and they split it up," says Woodall. "Georgia had a very good package to offer us as well. They are very business-friendly."

Too Good to Be Untrue
The package includes tax breaks related to job creation and capital investment. Part of that package was the state's increasingly imitated QuickStart training program, which often strikes prospects as too good to be true.
"We just did an announcement with
Dendreon
, a biomanufacturing company," says Green of a new Georgia corporate resident from Washington State. "They said, 'Our board has told us that there is not a chance that everything you say you're really going to do.' "
"At our first presentation in Orlando, they couldn't believe all it was offering," says Jolley, who notes that the presence of the Georgia Tech-Savannah campus made a difference too, as MPSA was seeking a research university partner. Other area institutions also played a part.
"The Savannah area, with the military bases nearby and the labor pool, seemed like it had the labor source we needed for machining and welding," says Woodall. "With the technical schools in Georgia and also the engineering schools, we had everything we needed to build a strong organization, and hire the people we needed. Out of the 500 employees, probably 400-plus will be skilled workers — welders, mechanics and machinists."
Another milestone decision by the governor also played a part.
"One key gap we had was the ability to have heavy-lift movement from ship to rail," says Jolley. "The governor stepped up and expanded the capability of the port authority to have a heavy-lift crane."
Stacy Watson, manager, economic and industrial development for the Georgia Ports Authority, explains that the GPA's 200-acre (81-hectare), break-bulk ocean terminal has two gantry cranes capable of lifting up to 175 tons.
"But the biggest pieces for Mitsubishi were between 400 and 500 tons," he says, "so we had our engineers come in, re-examine our dock, and confirm that our dock could handle the weight of the railcar and the piece. And they brought in the railroads to make sure they could handle the width and height of the piece, to clear the terminal."
The crane is now being assembled by Stevens Towing, based in Charleston, S.C. Once it's delivered, it holds the promise of serving other port customers and prospects as well, including Portuguese transformer manufacturer Efacec, which recently opened
its new plant in Effingham County
just to the north.
Heavy-lift capability also was important to recent power-industry module projects from
AREVA/Northrop Grumman
and
Alstom
, and ultimately played a big part in those projects' locations in Virginia and Tennessee, respectively.
While many U.S. ports east of the Panama Canal are focused on expansions to accommodate container cargo, "this is not container operations," says John Krug. "The focus was on the ability to lift very heavy components one at a time. Most port authorities had a very open mind about that, and were keen to grow that part of their business and parlay it into some other marketable strength."
GPA's momentum received a further boost in early October as the U.S. Congress approved more than $21 million in construction and dredging funds for the authority's harbor expansions in Savannah and Brunswick.

Vehicles Are So 2008
To say the Chatham County megasite has had its close calls would be an understatement. But the importance of fortitude in its marketing cannot be overstated. Lynn Pitts, senior vice president at the Savannah Economic Development Authority, has lived it every day since the 2002 "announcement without the company" by then-Georgia Gov. Roy Barnes.
"Just about a year later, [DaimlerChrysler] announced they were pulling the plug on the project," he recounts. "They had all sorts of engineers here working to get ready for it, but that whole DaimlerChrysler merger was unraveling quickly. The state literally was still finishing up the development of the site, and did another six top eight months of work into 2004 before they locked it up."
The state led the marketing effort, focusing on a single user for the 1,500-acre (607-hectare) site. Within the next few years, DaimlerChrysler came back, wanting the same incentive package for one-sixth of the investment and jobs.
"Everybody felt very much in favor when the governor turned them down, and they went over to South Carolina and did something there," says Pitts.
But the Chrysler connection continued, as the next quarry, contract manufacturer Magna Steyr, was bidding on a contract to manufacture another Chrysler product. At the last minute, says Pitts, Chrysler decided not to do the project.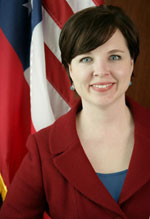 When Kia came looking at Georgia, "their consultants came and raved about the site, but said it was too far from their suppliers," says Pitts. "We had heard that previously — unless the port was integral to what they were doing, we were a full truck day from their suppliers." Kia now is on the brink of launching its new plant in West Point, Ga.
"The seed was planted then that maybe this was not going to be an assembly plant," says Pitts of the megasite's prospects. "At the beginning of 2008, we filled out a big questionnaire, and the state had visited Volkswagen a number of times, but VW and their consultants wouldn't even come visit the site." That plant went to Chattanooga.
"The writing was on the wall," says Pitts, "and we as a community made it known to the folks in Atlanta we were in favor of splitting it up for the right kind of project."
All along, explains Heidi Green, the site kept up its 404 wetlands permit (often a long slog), as well as other important environmental, geological and archaeological permits.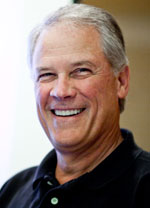 "So they really are going to be able to begin construction immediately," she says. "That is of significant value, not only because of time, but uncertainty. The unknown adds risk. The megasite doesn't have that kind of risk."
What it still does have is 750 developable acres (304 hectares).
"If we had somebody who needed 300 to 400 acres [121 to 162 hectares] next to Mitsubishi, we could accommodate that," says Green, noting there are also 118 acres (48 hectares) of lakeside property conducive to office or training facilities.
"It's a great site," says Woodall. "Too bad it had to go so long without a tenant on it. We hope to see some other companies build there soon as well.
If he had his druthers, what sort of company would Woodall like to see next door?
"Maybe a foundry," he says, with half a laugh.

Power Plays
"With the establishment of this base in North America, where significant increase in demand for gas turbine combined cycle (GTCC) power generation systems is expected, MHI aims to enhance its worldwide gas turbine production capacity to 50 units per year" from the current 36, said the official project announcement from
MPSA parent company Mitsubishi Heavy Industries in Japan.
But as the energy picture diversifies in general, plants such as MPSA's may need to preserve their ability to diversify in particular. Woodall, with 37 years of experience in the industry to back him up, foresees additions to plants like MPSA's that follow the direction of the market, whether the generation source be gas, wind, solar or nuclear.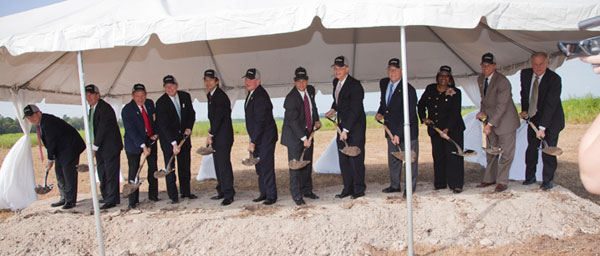 "You'll see changes in the way these plants are being operated, how they're built, and probably additions to accommodate different equipment," he says. "It's not a stated part of this plant. But it's Mitsubishi's way of operating to build out on a site before they move to another site."
That's certainly occurred in Orlando, where the company is maxed out on space. Helping to fill in around the Pooler site, and more broadly throughout the state and the country, will be a supplier network for such items as special welding products, tools and fixtures.
"We'll have quite a few suppliers of raw materials and even manpower," says Woodall. Materials such as the high-temperature exotic alloys needed for combustor baskets and transition pieces will be specialized, "so they won't necessarily locate right next to the factory, but could be in the state, or in an adjacent state," he says. "Our intent is to source much if not all material for this manufacturing plant in the United States. So we'll have a global sourcing group that will have a very extensive job to do to keep the flow of product going through this plant."
"They want to source locally and in state as much as possible," says Heidi Green. "That is really important to us, because we're in a time when our existing companies are our bread and butter. We have a supplier database, and we will be working with Mitsubishi to identify companies in Georgia they could source from."
Expansion of trade scope is something on the minds of company and community alike.
"Some of the equipment and parts we will build here will actually be exported back to Japan," says Woodall. "And then we'll also build turbines which will be installed here in the U.S. South America is primarily 50 cycles. We're going to have the capability of building 50- or 60-cycle machines, and we could export either from here or from Japan to South America, depending on which was most cost-effective."
Asked if the company has any other projects in the offing besides the Savannah plant, Woodall says, "It's the only one I can speak about. There are others."

Sparkling Opportunity
For southeast Georgia, the MPSA project could truly spark the incipient I-16 corridor leading northwest toward Macon and Atlanta.
"This project will definitely be a big catalyst to help get this initiative more exposed and active," says Watson at the Georgia Ports Authority, which is spearheading the I-16 Corridor Alliance. "We'll be looking at suppliers for Mitsubishi's plant, and the I-16 corridor is a definite contender."
"It's the untapped area," says Heidi Green of that long stretch of Interstate. "It has a lot of great land, and some really good work force. And we want to see that area really develop. They've done some light manufacturing, and we do have some names, such as New Holland in Dublin. But there's still a lot of opportunity. The more the port grows, the more that I-16 corridor continues to develop. And there are aggressive communities along that corridor that are ready to do a deal."
Lynn Pitts at SEDA has seen a substantial increase in advanced manufacturing interest in the past two years, especially from foreign companies wanting to establish a production foothold in the United States. Having that direct link to Atlanta is a big attractant, he says. Evidence of increased activity can be seen in rail increases too: "When I first got here six year ago, Norfolk Southern was running five unit trains a week, and now it's running 10," he says. "You're going to see more and more move up I-16. It's a natural."
If more and more is in the energy industry, that's a bonus.
"Energy in general is a good sector, and I'm so glad Georgia is getting in the game," says Peggy Jolley at Georgia Power.
"Absolutely we're seeing a pickup in this energy subsector," says Heidi Green. One reason is the sheer need for energy generation, but something just as tangible for industrial developers is what Green labels the "huge need" to upgrade the aging energy infrastructure of the nation. With massive components frequently comes massive investment, and an acceptably massive long-term commitment to a product, an operation and a market.
"Companies need significant lead time to build out their product," says Green. "These are companies that are great to locate because you know they're going to be there long-term because of the investment they're making."
High-quality jobs. A high-reputation international corporation. A sector and a site with long-term growth potential. And new capabilities at a port complex that already was adding them right and left.
"Look at it from any possible direction," says SEDA's Lynn Pitts of the long-sought landmark project, "and it looks like an absolute jewel."