Lear Puts Expansion Pedal to the Medal:
New Plant, Three 'Technology Centers'
Adding 1,000 European Jobs
By JACK LYNE • Site Selection Executive Editor of Interactive Publishing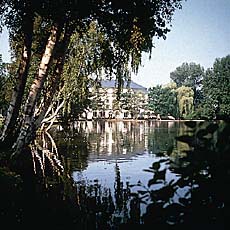 Lear Corp. (www.lear.com), the world's largest supplier of automotive interiors, has the pedal to the medal in its European expansion: Already a major European presence, with some 36,000 employees in 80 locations, the company is rapidly moving to further strengthen its market position on the continent. Lear has just announced that it will expand its European portfolio by building a new 400-employee seating plant, as well as three new "advanced technology centers."
The company hasn't released employment projections for all of the four new projects in Europe, the world's second-largest auto market. It appears, however, that the expansion quartet will produce more than 1,000 new Lear jobs on the continent.

---
The biggest of Lear's facilities will be a 400-employee plant in Genk (pictured),
60 miles (96.5 km.) east of the port of Antwerp.
---

Belgium Seating Plant Comes
After Landing New Ford Contract
Of the four, the biggest job generator looks to be the seating plant in Genk, Belgium, 60 miles (96.5 km.) east of the port of Antwerp. The 400-employee, 90,000-sq.-ft. (8,100-sq.-m.) plant was spurred by Lear's winning a new Ford Motor Co. contract to provide seating for Ford's Mondeo model.
"Lear is extremely proud to be chosen to supply the Mondeo seating systems, which Ford is outsourcing for the first time," said Kenneth Way, Lear Chairman and CEO. One of the first suppliers to capitalize on the auto industry's demand for global suppliers, Southfield, Mich.-based Lear is also among the ranks who've turned just-in-time into just-next-door. The company's seating plant will be located adjacent to Ford's Genk assembly plant. Lear's Genk facility will employ an elaborate conveyor system that will deliver seating components to the Ford plant not only on time, but also in the proper order for installation, company officials say.
"When this new factory is operational, Lear will be the largest local supplier to Ford in Genk," said Randall Carron, Lear President of International Operations." Other Ford suppliers in the park that sits adjacent to the automaker's Genk facility include Conix, Johnson Controls and Magna Textron Automotive.

Three New Centers Will Emphasize 'Intertronics'
The Belgian plant announcement coincided with Lear's divulging its plans for the three European advanced technology centers.
The new three facilities are part of Lear's broader strategy to establish "centers of expertise," officials say. The three new centers will encompass the company's engineering competencies in seating, electronics and electrical systems.
"By concentrating our engineering expertise in three locations in Europe, we will be able to utilize the collective of skills of our divisions in the region to provide customized, flexible, and intelligent interior system design," Way explained. "These new centers will make it possible to accurately tailor the design needs of each of our customers."
The three new European facilities will also place an overarching emphasis on extending the company's competencies in "intertronics" - Lear's initiative to integrate electronics into vehicle interior systems. In May, the company unveiled the revamped Lear Electronics and Electrical Division (LEED) Product Development Center and Intertronics Innovation Center in Dearborn, Mich.
"Our vision is to be the full-service interior systems integrator of choice to our automotive customers in Europe and throughout the world, by fully developing our electronics and electrical systems capabilities within the vehicle."

Spain, Germany Will Land Two
Centers, Third Location Undisclosed
One of Lear's new European engineering centers will be solely dedicated to intertronics and will be built in Valls, Spain. The Valls center will focus on developing interior systems with integrated electronic subsystems and designing new intertronics concepts for European automakers. Lear's Spanish engineers will use electronic technology transfer to exchange ideas with the Dearborn-based LEED Product Development and Intertronics Innovation Center. Scheduled to open in 2002, the 40,000-sq.-ft. (3.600-sq.-m.) facility in Valls is expected to employ 350 people. The center will be located adjacent to Lear's existing European Technology Center that focuses on developing smart junction boxes and advanced electrical distribution systems.
A second new European engineering center will be built near Kronach, Germany. Scheduled to open in 2001, the Kronach center will be centered on communications electronics and will focus on creating electronic multimedia products, telematics and safety systems for the European premium car market.
Lear's third new advanced technology center in Europe will focus on seating. Company officials have not yet divulged the location for the seating engineering center.