Capital One's 8,000-Employee Expansion
Sets New Record in Old Dominion
By JACK LYNE • Site Selection Executive Editor of Interactive Publishing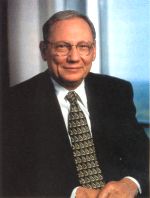 Fast-growing Capital One (www.capitalone.com) has hit No. 1 on Virginia's business expansion chart. The Falls Church, Va.-based credit card issuer has announced a multi-pronged US$700 million expansion that will create 8,000 new jobs in Old Dominion over the next four years. Seven thousand of the jobs will be located at three campuses in the Richmond metro (www.grpva.com).
"Today, we have written another chapter in the shared history of this great company and our great commonwealth," Virginia Gov. Jim Gilmore (www.yesvirginia.com) said at the press conference in Richmond, where Capital One's plans were announced.
Hyperbole, of course, is invariably the order of the day in hailing business expansion. In this case, however, solid substance backed the exuberance. Capital One's announcement ranks as the largest corporate expansion in Virginia's history - and in a state that ranked No. 10 in new and expanded facilities in Site Selection's 1999 business location scoreboard.
---
To cope with its extremely rapid growth, Capital One has adopted "a phased consolidation approach"
with its campuses, says Vice President, Corporate Real Estate, Bill Yontz (above).
---

Creating Three Campuses
The bulk of the mega-expansion will unfold at three separate Richmond-metro campuses that Capitol One is creating to consolidate existing area operations.
One campus will be located in Henrico County, where Capital One already leases space in 27 facilities. A second campus will be located in Chesterfield County, where a new structure will double Capital One's existing space. A third campus will be located in Goochland County, a new location for Capital One.
The 7,000-job announcement comes after Capital One's earlier announcement in May that it is adding 1,000 additional employees in Fairfax County, Va. (www.fairfaxcountyeda.org).

Florida Reportedly Other Frontrunner
Florida was reportedly the other short-list contender. Many observers, however, wonder how seriously Capital One considered abandoning the huge Richmond operation it's amassed. Even before the newly announced expansion, Capital One had some 10,000 employees in the Richmond metro - more than 60 percent of its total work force.
Capital One Chairman and CEO Richard Fairbank alluded to the company's deep Virginia roots at the expansion's unveiling.
"This announcement is the latest chapter of a story that began 12 years ago when Capital One first began to change financial services for consumers," Fairbank said. "Virginia has been home to Capital One from the beginning, and we are pleased that the Commonwealth is also the location for our expansion."
Virginia's labor availability and its business-friendly environment drove capital One's decision, said President and COO Nigel Morris.
"Capital One's decision to consolidate and expand our local presence was based on our confidence in the company's ability to maintain a robust growth rate, the positive business environment at the state and local levels in Virginia, and the availability of talented and dependable workers here in the greater Richmond area," Morris said.

Yontz: Formidable Growth Pressures
Spurred 'Phased Consolidation' Strategy
The Virginia announcement reflects Capital One's startling growth in its six-year existence as a standalone entity. Its 1999 sales of $3.9 billion, for example, marked a 52.5 percent annual upswing.
That, in turn, spurred 1999's 37.5 percent increase in Capital One's work force (or "associates," as they're called in Capital One parlance). In fact, Capital One has increased its total employment by more than 500 percent since it became an independent operation in 1995.
Such gazelle-like growth, of course, creates tremendous work-space pressures. In the last two years alone, Capital One has doubled its square footage, with 18,000 employees now occupying 5 million sq. ft. (465,000 sq. m.) in 53 facilities in 10 U.S. and European cities.
Writing in the November Site Selection, Capital One Vice President, Corporate Real Estate, Bill Yontz provides a look at how the company has reacted to those growth challenges. (The article, "Capital One's Demand-Forecasting Solution Is More than Just a Phase," will be online at siteselection.com on Nov. 29.)
Growth pressures, Yontz writes, once forced Capital One's corporate real estate (CRE) arm to operate "in a reactive mode, operating under a 'just-in-time' delivery method."
Since then, however, CRE has moved to "a phased consolidation approach that groups staff functions into campus locations and leverages existing long-term leases and owned buildings for consolidation of operations and call center functions," Yontz explains.

Promoting Workplace Flexibility, Collaboration
That strategy sounds like what will likely unfold at the three new Virginia campuses, giving Capital One the flexibility and collaboration it needs to maintain, and cope with, its rapid growth.
"Our consolidation approach allows flexibility to accommodate a variety of growth scenarios in a collaborative environment," Yontz writes.
"In addition, associates will have easier access to one another for meeting and collaborative efforts," Yontz continues. "By eliminating the multi-building dispersion of the associate population and the time each week that associates must invest to overcome this obstacle, associates can redirect this lost time to more productive business activities."
Productivity, of course, is what punches your ticket in today's business environment. With its record-breaking job creation in Virginia, Capital One is moving to paint productivity on an ambitiously broad campus.