Northern Virginia Lands $1.4 Billion Data Center Billed as 'Nation's Largest'
By JACK LYNE • Site Selection Executive Editor of Interactive Publishing
How hot is the market for Internet data service provider (IDSP) space?
This hot: San Jose, Calif.-based U.S. Data Port (www.usdataport.com) has announced that it's building a US$1.4 billion, 3.5 million-sq.-ft. (315,000-sq.-m.) center for IDSPs in Gainesville, Va. U.S. Data Port is billing the huge complex in Prince William County (www.pwcounty.com) as "the nation's largest multi-data center facility."
The project, which will rise on a 190-acre (76-hectare) tract inside the 1,200-acre (480-hectare) mixed-use Virginia Gateway, is nothing if not large. Its sprawling dimensions and sky-high costs rival the scale of a semiconductor fab. (Anyone still thinking that the Internet Age signaled the death of the importance of place?)
The project's mammoth dimensions, in turn, reflect the leapfrogging growth among IDSPs, an assortment of providers of outsourced web hosting, applications, data storage and access services. The size of that market is now increasing 10fold each year. By 2003, total IDSP revenues will reach $72 billion a year, according to some estimates.
"Our Internet campus is being designed and built to address the most pressing issues that the Internet data services providers currently face -- namely, rapid time-to-market, critically reliable energy and cooling, broadband optical-fiber connectivity and very high security," U.S. Data Port President and CEO Grant Sedgwick explained as the project was announced.

Recruiting Plum Picks Ripe Area
U.S. Data Port picked a ripe IDSP location.
"Some 55 percent of the world's Internet traffic goes through Northern Virginia," explained U.S. Data Port Senior Vice President of Business Development Lewis Shadle.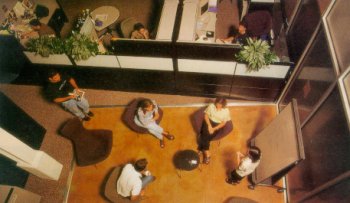 America Online (AOL), PSINet and MCI WorldCom, for example, are major area players. Dulles, Va.-based AOL, in fact, earlier this month announced that it was building a $555 million technology center in Prince William County, then the county's largest-ever investment. The facility will be AOL's second center in Prince William County.
Despite its billion-dollar dimensions, the project won't generate gargantuan job tallies. U.S. Data Port officials projected that the built-out complex will house some 2,200 tenant-company employees, most of them engineers. Some 50 U.S. Data Port employees will also be housed in the complex.
---
ABOVE: With its headquarters in Dulles, Va. (pictured), America OnLine is part of the high-tech cluster that drew U.S. Data Port to Northern Virginia -- which carries 55 percent of the world's Internet traffic.
---
Those job totals may seem paltry for such an expansive project. Data centers, however, have become coveted recruiting prizes in the economic development recruiting wars. Their vast acreage and arsenal of pricey hardware translate into substantial real estate and personal property taxes. And their proportionally low employment is part of their appeal: Fewer people equal less strain on area infrastructure.

Data centers are part of Prince Williams' successful high-tech targeting. Recently, for example, the county cut its computer-equipment tax rate to one of the region's lowest.


'Clean Operations,' Military-Style Security

The appeal of data centers' is further enhanced by the fact that they're cleaner operations than many high-tech facilities.

The Virginia campus, for example, will feature what U.S. Data Port officials called a "critical reliable energy center" (CREC). The on-site, natural gas-supplied CREC will generate electricity and chilled water dedicated and distributed to the 10 to 20 campus data centers. That will reduce dependency on the existing power grid and eliminate the need for multiple diesel-fired backup generators, said U.S. Data Port officials.

And the campus will be an energy-eater. It will be wired with fiber-optic cables that can carry more than a terabit of broadband data, and it will consume from 100 to 150 watts per square foot.

California-based Calpine c*Power (www.calpine.com), will develop and build the Virginia CREC.

Based on U.S. military standards, security at the Prince William complex will tight, employing, for example, perimeter fencing, foot patrols and extensive electronic detection devices. "You could conceivably imagine a targeted assault here," said Shadle.


San Jose, NYC Area Also Getting Centers

Only launched as a start-up in January 2000, U.S. Data Port plans to open similar data centers in San Jose and New York City, said company officials.

The San Jose center was announced in late June. It has an $800 million price tag and will cover 2 million sq. ft. (180,000 sq. m.).

The New York-metro location hasn't yet been determined. Sites in both New York and New Jersey are reportedly under consideration.