Staples' European HQ in Brussels
Part of 900-Employee Belgian Expansion
By JACK LYNE • Site Selection Executive Editor of Interactive Publishing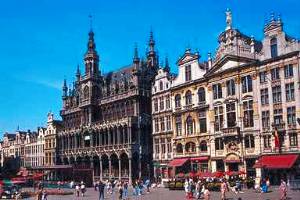 Staples (www.staples.com) means more than just offices. It also means headquarters, call centers and distribution facilities, as the world's No. 2 office-supply retailer is demonstrating in Belgium (www.belgium.fgov.be).
Staples recently opened its European headquarters in Brussels. That opening came only a few months after the Framingham, Mass.-based firm opened two other facilities in Belgium: a call center in Eupen and a distribution center in Tongeren, the latter serving customers in Germany.
---
Designated by the European Union as one of nine "European Cities of Culture of the year 2000,"
Brussels boasts a sophisticated lifestyle that's attractive to headquarters like Staples'.
---
Together, the three facilities will employ 900 people by 2003, according to estimates provided by Staples' officials.


Logistics, Labor Drive Belgian Expansion

Logistics and labor were the key factors driving the rapid Belgium expansion, said Staples International President Jacques Levy. "Belgium has a very good, vibrant workforce," Levy explained. "An added advantage is the central location. Brussels, the capital of Belgium, is roughly 200 miles (322 km.) or less from many of Europe's major cities, including London, Amsterdam, Paris and Frankfurt."

Added company President Ronald Sargent, "Staples is very pleased to announce it has located its European headquarters in Belgium. We believe the country will provide an excellent hub for us as we expand our operations in Europe."

Staples officials made their comments at the company's Boston-metro headquarters in conjunction with a visit to the operation by Patrick Dewael, minister-president of Flanders (www.flander.be). Officials praised Dewael's government, as well as its predecessor, for "being instrumental in helping" Staples in its expansion in the Belgian region. In addition, recent changes in Belgian tax laws have been increasingly favorable for multinationals' customer-oriented facilities such as call and customer service centers.

The company plans to open as many as 20 more stores in Europe during 2001, Staples officials added. The company already has 153 stores in the United Kingdom, Germany, the Netherlands and Portugal.


Expansion Outlays Hurt 3Q Results

The Belgian blitz is part of Staples' rapid-fire expansion in both physical space and cyberspace. In the last 21 months, the company has opened 268 stores in the USA and Europe.

Recently, however, Staples had to pay the Wall Street piper for its aggressive expansion. Released Nov. 14, Staples' profits for third-quarter 2000 (ending Oct. 28) fell by 8 percent, sparking a 5.5 percent drop in its stock. The company's 3Q-2000 earnings fell to $84.7 million, or 19 cents a share, from 3Q-1999 earnings of $92.5 million, or 20 cents a share.

Company officials attributed the downturn to retail-sector sluggishness and Staples' rapid expansion. Staples' European results, noted a company statement, were "dampened by the costs of entering new markets and the United Kingdom's gas crisis," which prompted a cut in consumer spending.

In releasing its 3Q-2000 results, Staples also noted that 4Q-2000 earnings would fall short of analysts' expectations. The company added that it might write down $170 million in Internet investments during fourth-quarter 2000.

Nonetheless, Staples officials explained that the company would meet or top 1999 profits of 26 cents a share. Staples also expects per-share earnings for fiscal 2001 to be "at least 30 percent higher" in than in fiscal 2000.


Though Pricey, Expansion May Have
Strengthened Staples' Hand, Analysts Say

The high price tag of Staples' expansion was reflected by the fact that 3Q-2000 sales of $2.80 billion actually marked a 17 percent increase from 3Q-1999 sales of $2.39 billion. Staples officials conceded that the company would begin to decrease the speed of the company's worldwide expansion.

Still, the expansion may be paying off. In discussing the company's 3Q-2000 results, analysts noted that Staples' seems to be gaining ground on Office Depot. The market-share leader in the office-products industry, Office Depot is grappling with store closures and market saturation, several analysts noted.

The expansion has also pushed the company's European operations closer to the black, company officials noted. Staples' European arm is "expected to be profitable in the next 12 to 18 months," officials said at the Nov. 14 press conference. Staples' same-store sales growth for its Europe stores is running at the highest rate of any of the company's retail operations.