Museum Piece: $800 Million Guggenheim
Expansion Will Create 2,550 New NYC Jobs
By JACK LYNE • Site Selection Executive Editor of Interactive Publishing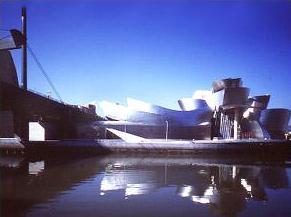 "Museum pieces": With today's push for low-frills functional space, that's the phrase used to unflatteringly describe trophy buildings. New York, however, will be getting a new US$800 million structure that's the essence of a museum piece.
It is, in fact, a museum. The Solomon R. Guggenheim Foundation (www.guggenheim.org) has announced that it will develop a new 40-story Guggenheim Museum in New York City that will create 2,550 permanent jobs. The new 575,000-sq.-ft. (51,750-sq.-m.) facility will be 10 times larger than the Guggenheim's current home on the Upper East Side of Manhattan's "Museum Mile."
The project was announced in New York after the city's Economic Development Corp. (EDC at www.newyorkbiz.com) comprehensively reviewed the Guggenheim proposal, one of nine considered.
---
Frank Gehry, the architect for the new Guggenheim space, also designed the Guggenheim Bilbao (above), which has become a hot tourist attraction. With the expansion, the Guggenheim's current Fifth Ave. home (below), designed by Frank Lloyd Wright, will be able to continually display more of the museum's permanent collection.
---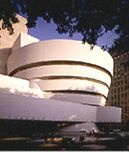 City Providing $67.8 Million in Backing
Mayor Rudolph Giuliani has covered the waterfront in his aggressive and successful efforts to attract business. For the Guggenheim deal, Giuliani literally covered the waterfront - or at least a sizable part of it.
The city is providing the Guggenheim with three underutilized piers on the East River in Lower Manhattan.
In addition, the city has pledged to contribute $32.8 million over a five-year period toward building the museum, Giuliani noted at the project's unveiling. Together, the land and cash are valued at $67.8 million.

Project Weds Art, Commerce
Those incentives, though, will promote the love of commerce as well as the love of art. The new Guggenheim facility will generate $14 million a year in city tax revenues, plus $280 million a year in local economic activity, according to New York City officials' analyses. Guggenheim's new space will draw between 2 million and 3 million visitors a year, officials estimated. Giuliani underscored the marriage of art and commerce in announcing the project.
"We are without doubt the cultural capital of the world, and this new project will strengthen our claim to that title," Giuliani said. "It will give a boost to our cultural life, and also to Lower Manhattan, the historic heart of New York City. It will not revitalize that part of the city, but it will stabilize the revitalization that has already taken place."

Gehry's Design Major Part of the Mix
Even with the city's strong support, the expansion will require heavy private-sector participation. Another $730 million must still be raised to fully finance the project, with fund-raising beginning in spring 2001. "This is a very, very expensive project, [and] the overwhelming majority of that money would be private money," Giuliani said.
Both city and Guggenheim officials are counting heavily on architect Frank Gehry's clout to stimulate private-sector participation.
Gehry packs a singularly impressive resume, including the design of the Guggenheim Museum in Bilbao, Spain, which immediately became one of the world's most recognizable structures. The facility has drawn a chorus of critical praise. New York Times chief architectural critic Herbert Muschamp, for example, called the work "a miracle."
Moreover, the Gehry-designed facility rapidly transformed once-sleepy Bilbao into a hot tourist destination.

Initial Design Aims for Grand Scale
Gehry described his initial New York plans at the announcement. The Los Angeles-based architect gently deflected comparisons of his Gotham design to the wispy, twisting Bilbao Guggenheim, similarly dominated by titanium and glass.
"I wouldn't fix on it," he said. "I have never repeated myself, and I'm not likely to repeat Bilbao here."
Goethe called architecture "frozen music." Judging from his initial design, Gehry is aiming for architectural music on a grand, striking scale. The current design, for example, calls for most of the facility to perch on huge stilts buried in the East River's bed. Interior space will feature large light and air wells. The design also includes 900- and 400-seat theaters, a large public plaza, an outdoor ice-skating rink and a sculpture garden.
Unlike many architectural heavyweights, Gehry welcomed design participation. "I'm no prima donna. I like input," he said.

Despite Hurdles, Design/Development 'Begin Immediately'
Grand scale and all, the project still has several hurdles to clear.
In addition to the $730 million that must be raised, the expansion must secure approvals from the city planing commission, the city council and a host of state and federal bodies. The project's huge scale is also sure to spur environmental and community groups' concerns over traffic and parking problems.
Even so, Guggenheim Foundation Director Thomas Kerns noted, "Our expectation is to immediately begin the two-year design and development phase, which includes environmental reviews and obtaining various approvals. Once this process is complete, we anticipate the construction will be carried out in three to four years."
The Guggeheim's landmark Fifth Ave. home, however, will endure. The new space will enable the existing Frank Lloyd Wright-designed building to continually display the museum's "prewar permanent collection," Guggenheim officials emphasized.