$280 Million, 2,200-Job Complex:
Is It Heaven, Iowa or a Rainforest?
By JACK LYNE • Site Selection Executive Editor of Interactive Publishing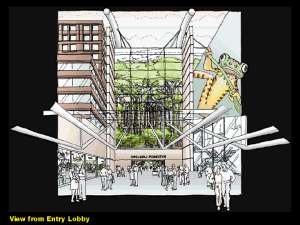 CORALVILLE, IOWA - It's a US$280 million deal that evokes a paraphrase of a line from "Field of Dreams": Are we in heaven, Iowa . . . or a rainforest?
It's definitely two out of three. The project, which will create 2,200 new, fulltime jobs, is headed for Coralville, Iowa, three and a half miles (5.6 km.) northeast of Iowa City. The Iowa Child Institute (www.iowachild.org) has tapped the city as the site for the Iowa Child Project, designed to enhance state education and quality of life, according to project officials.
The Coralville complex will include an enclosed rainforest spanning five acres (two hectares), ranking as the world's largest. In addition, the project will include an IMAX theater, an aquarium, a K-12 public school and a teacher education facility. The heaven part of the project awaits. That will only arrive with the project's payoff, which includes a significant economic development impact.
---
ABOVE RIGHT: The project's entrance, as depicted in an artist's rendering.
---

Panel: 'A Defining Moment for Iowa'
A rainforest in cornfield-rich Iowa may sound far-fetched. Even so, a number of high-profile Iowans are strongly backing the project.
One of them is former Gov. Robert Ray, chairman of the Iowa Child Institute. Ray chaired the group of prominent Iowans who authored the "Iowa Child Study Panel Report," the project's raison d'Ítre. The report asserted that the project represented "a defining moment for Iowa that comes perhaps once in a lifetime [that] Iowa must seize . . . before it is gone." Coralville Mayor Jim Fausett is another strong adherent. "It's difficult to put this into perspective of what this means to our community," Fausett said at an Iowa City press conference announcing the project's location.
Iowa Child Institute founder and President Ted Townsend asserted that the Coralville complex "will create the world's ideal environment for early childhood education."

Coralville Beat Out Cedar Rapids
Despite the project's unconventional nature, the decision came down to time-tested location, location, location. Coralville and Cedar Rapids were the two finalists, Ray noted. Coralville offered an undeveloped tract, while Cedar Rapids offered a downtown industrial site.
The Coralville site was also at the I-80/I-380 intersection - a major consideration in light of the project's goal of 1 million visitors a year.
The complex "will benefit everyone along the [I-380] corridor," Townsend emphasized. However, some other Iowa cities, including Des Moines, passed on competing for the project.

---
Pictured above in an artist's rendering, the Child Project's five-acre (two-hectare)
enclosed rainforest will rank as the world's largest.
---
Much Project Funding Must Be Raised
Much of the project's $280 million cost must still be raised.
Coralville has agreed to purchase the 85-acre (35.3-hectare) site for some $25,000 an acre. Another $75 million will come from the Vision Iowa Program (www.visioniowa.org), approved in the Iowa General Assembly's 2000 session to fund projects to improve state education. Fausett, however, vowed no new city taxes. "We're not looking for this to come out of general funds," the mayor said.
"We intend to earn the full amount," Townsend noted. "One way or another, we will build this project." The owner of Des Moines-based Townsend Engineering and Management has personally committed $10 million to fund the project.
Officials said they will pursue both federal grants and private-sector donors.

Payback Includes ED Component
Iowa Child Institute officials emphasized the project's economic payoff. The complex, they said, "will create $115 million annually in new spending on goods and services in Iowa [and] generate $4.6 million annually in tax revenues for local and state government."
The project will also have a significant economic development impact, according to the "The Iowa Child Study Panel Report":
"As a major center for education and research . . . the Iowa Child Project can spark other, related private development that will exploit proximity to the project, its programs and its faculty and staff," the report explained. "These qualities will enhance the reputation of Iowa and Cedar Rapids, making the Waterloo/Cedar Falls/Cedar Rapids/Iowa City I-380 corridor a more attractive environment for existing businesses and those looking for new locations."

Officials: Rainforest Has State Tie-In
The project has not been without detractors. The Iowa City Press Citizen (www.press-citizen.com), for example, editorially noted that the complex "[has been] much derided around the state." (The editorial's bottom line: "If [the location] is Coralville, that's great. But let's be wary of the cost to taxpayers.")
And Iowa Child Institute officials have emphasized the rainforest's linkage to the state: "While a rainforest seems exotic, Iowa has always had a strong agrarian tradition that recognizes the ultimate interdependence of people and the land," the panel report explained. "The [project] pays homage to that interdependence and the role that education in Iowa has played in supporting an economy based on natural resources."
Officials outlined a five-year plan for building and opening the entire complex. One year will be devoted to plant and animal inhabitation of the rainforest. After that, guests will be allowed to tour the facility.
---
©2001 Conway Data, Inc. All rights reserved. Data is from many sources and is not warranted to be accurate or current.