Newcastle Beats Out Pilbara
$2.8 Billion, 2,500-Worker Mill Could
Revive Australia's Ailing 'Steel City'
By JACK LYNE • Site Selection Executive Editor of Interactive Publishing

NEWCASTLE, NEW SOUTH WALES, AUSTRALIA -- For one Australian state, the US$2.8 billion plant came as a pleasant surprise. For another, the announcement arrived as a rude shock.
New South Wales (www.nsw.gov.au) -- and particularly the city of Newcastle -- was the beneficiary of the pleasant surprise. Austeel (www.ozemail.com.au/~austeel/) has picked Newcastle as the site for its 2,500-employee steel mill. The $2.8 billion project, which will include rolling mills and an electric-arc steel furnace, is New South Wales' largest-ever industrial investment announcement.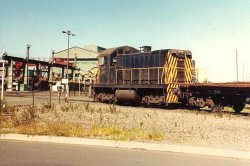 Speaking in Newcastle as the location went public, Austeel Chairman Clive Palmer said, "I think it is favorable for the community in the Hunter [River region] as a whole and a major achievement for Australia."
For Newcastle, Palmer's comment amounted to a $2.8 billion understatement. Austeel's project could be a godsend for what was once one of the city's industrial anchors.
Australia's original "steel city," Newcastle had seen its steel industry dwindle, suffering a major body shot in October of 1999. That was when Melbourne-based Broken Hill Proprietary Co. (BHP at www.bhp.com) shuttered its Newcastle mill after 80 years of operations. The closing marked the end of BHP's last 1,500 steel jobs in the city. At its peak, BHP's Newcastle operation alone employed 4,000 in the Australian eastern seaboard city at the mouth of the Hunter River. Most of BHP's laidoff employees feared they'd never work again in Newcastle's steel industry.
---
---
A Letdown for Pilbara

Newcastle's good news, however, had a bitter taste for West Australia (www.wa.gov.au). West Australia's Pilbara region had seemingly locked up the Austeel steel mill way back in the late 1980s. That was when Austeel Chairman Parker first began talking about focusing a $5 billion-plus investment in Pilbara, establishing at one site what Parker called "a fully integrated steel operation."
The company did pick Pilbara for the first part of the complex. In December of 1999, Adelaide-based Austeel selected a remote site some 47 miles (80 km.) south of Dampier for a $3 billion mining and first-stage processing operation to produce hot briquetted iron. The site was a natural fit for the operation, given the nearby Fortescue iron ore deposit, Palmer pointed out.
---
---
Two Years of Confidential Negotiations

But some industry analysts questioned whether Pilbara was a natural for the projected $2.8 billion steel mill. In particular, they pointed out that Pilbara wasn't connected an electric grid. And the mill's arc furnace would require electrical surges that, while sporadic, would be massive.
Austeel apparently had its doubts, too. At the Newcastle location's announcement, Palmer divulged that he had been confidentially negotiating for two years with New South Wales Premier Bob Carr.
"It has got the full support and determination of my government to cut the red tape and to back this proposition at every turn," Carr said.
Carr, in fact, piled up the frequent flyer miles to land the project. He met in London last year with the heads of the consortium backing Austeel. And last month, Carr flew to Buttrio, Italy, to meet with the heads of Danieli (www.danielicorp.com), which will build the Newcastle mill. Newcastle got the nod over Pilbara because of its wealth of experienced steelworkers and its strong supporting infrastructure, Palmer said.

Carr: $240 Million in Incentives
Provided on 'Commercial Basis'

New South Wales' backing of Austeel includes a $240 million incentive package that could prove controversial if the project doesn't come off.
Site purchase and preparation account for $60 million of the incentives. Local observers speculated that the mill will be located on a 375-acre (150-hectare) tract north of BHP's shuttered steelworks. The remaining $180 million will go to establish a new port at BHP's old site and install a rail link connecting the new mill with the port.
Carr said the incentives were provided on a "purely commercial basis."
The agreement requires Austeel to reimburse New South Wales for the $60 million for site acquisition and preparation once the mill turns a profit. The company has no obligation, though, to reimburse the $180 million for the port, which Austeel will use on a fee basis. Carr pointed out that the new port will attract other companies and will be used by smaller steel-making projects proposed by Protech and Hunter Specialty Steels.

Will the Project Fly?

Still, some industry observers question the project's viability. Even Carr conceded that the mill was "not a certainty" and "had a long way to go."
Skeptics pointed out that an uncertain, often oversupplied export market scuttled BHP's Newcastle operation. Supporters countered that Macsteel has already committed to a 15-year contract to buy the Austeel mill's projected output of 3.8 tons (3.85 million metric tons) a year.

Insufficient financing has also bedeviled some steel-industry players. Austeel officials said the project's main funding would come from debt financing from the Industrial Bank of Japan. Austeel plans to have the Newcastle mill online by 2003. The company will maintain its Pilbara operation, shipping the briquettes from Cape Preston as feed to Newcastle's new mill.




LOOKING FOR MORE? BROWSE THE "BLOCKBUSTER DEAL OF THE WEEK" ARCHIVE
---
©2001 Conway Data, Inc. All rights reserved. Data is from many sources and is not warranted to be accurate or current.