LEVERKUSEN, GERMANY --
"Asia is the fastest-growing market for plastics worldwide," said Gottfried Zaby, a member of Bayer AG's Board of Management.
Bayer (
www.bayer.com
) is taking to heart -- in billion-dollar ways -- that observation by Zaby, Plastics Business Group general manager until his ascendance last year to Bayer's top management tier.
As part of the German giant's huge Asian expansion, Bayer has announced that it will build a US$110 million plant in Shanghai (
www.shanghai.gov
). In addition, Bayer will open a technical service center in Shanghai to support the new plant, which will produce 11,500 tons a year of polyurethane coating raw materials.
The Shanghai plant is part of the $4.5 billion that Bayer earmarked in late 1999 to spend in expanding its Asian presence through 2010. Of that $4.5 billion, $2 billion-plus is allocated to bolster Bayer's Asian production base.
---
---
Onetime 'Paris of the East' Now
Bayer's Southeast Asian Plastics Hub
Explaining the Shanghai location decision, Steffen Kurzawa, head of Bayer's Asia-Pacific communications, said, "Establishing a strong manufacturing base in China enables Bayer to meet the need for having production facilities that are located close to the market, and China has become one of Asia's primary growth markets for coatings."
Shanghai already ranks as a major epicenter in Bayer's Asian expansion. The company's series of multimillion-dollar expansions in the area have made Shanghai the hub of Bayer's burgeoning plastics business in Northeast Asia. (Thailand's Rayong province anchors Bayer's Southeast Asian plastics business.)
Bayer's operational clustering in the onetime "Paris of the East" has yielded market access on the yawning scale of the Great Wall. Shanghai sits in the center of the Yangzi Delta, which contains one-six of China's population and one-third of the nation's economic output -- the equivalent of the entirety of Indonesia.
Shanghai Challenging HK's HQ Reign?
Scheduled to be fully operational in 2003, Bayer's new $110 million plant is part of the company's larger shift toward the mainland's business center.
That shift toward Shanghai got very high-profile exposure last year, when Bayer announced a new polymer R&D center in Shanghai. The R&D center is located near the site for $450 million polycarbonate plant that Bayer announced in late 1999.
The new polymer center, said Bayer China Group Managing Director Michael Portoff, "is the nucleus of Bayer's future plans for establishing its headquarters for the China Group in Shanghai."
Those plans will mean relocating the China Group headquarters in Hong Kong. While the onetime British territory has long been an Asia-Pacific stronghold for regional HQs, Shanghai has mounted a major challenge. Companies in recent years announcing a move of all or part of their Asia-Pacific regional HQs to Shanghai have included Alcatel, Allied Signal, General Motors, Johnson & Johnson, Kodak, Roche, Rhodia Chemicals and Sharpe.
Like Bayer, many of those firms have sited their operational bases in eastern Shanghai's Pudong New Area (
www.pudong.shanghaichina.org
). Established by the government in 1990 on 201.5 sq. miles (522 sq. km.) of open land, the bustling Pudong new town has rapidly become the city's commercial heart. In 2000, Pudong's GDP increased by 16.5 percent.
---
---
WTO Membership: Plus or Minus
For China's Economic Development?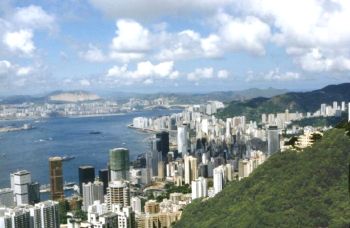 Hong Kong (
www.hkinfo.com
), however, will continue to be a regional HQ powerhouse. More than 3,000 companies now have Hong Kong regional HQs, according to government statistics. And The Economist Intelligence Unit (
www.eiu.com
), after surveying 8,000 of the region's multinationals last year, concluded, "Hong Kong will remain the most important regional headquarters base in the Asia-Pacific."
Nonetheless, China's almighty central government smiles on companies that locate in Shanghai, considered a socialist market economy showcase. The government, in fact, picked Pudong for the new Shanghai-area airport.
And some observers feel that the HQ balance of power could tip in Shanghai's direction if two factors converge: China's impending WTO membership and the Chinese renminbi's full convertibility. Other observers aren't so sure, including the Carnegie Endowment for International Peace (
www.ceip.org
). A newly released Carnegie report contends that WTO membership will exacerbate tensions over the growing gap between China's increasingly open economy and its closed political system.
"Without laying a political foundation that incorporates rule of law, pluralism, and democratic participation, China's next generation of leaders will jeopardize not only their country's economic development, but the very survival of the ruling regime," writes Carnegie Senior Associate Minxin Pei. "At the moment, the threats arising out of the gap between the economy and the political system are most prominent in two related areas: corruption and declining governability."