500-Employee R&D Expansion in Dublin
Will Boost Xilinx Work Force by 20 Percent

By JACK LYNE • Site Selection Executive Editor of Interactive Publishing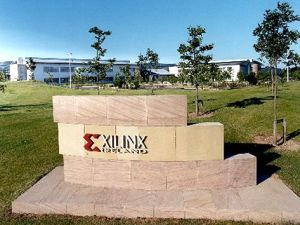 DUBLIN -- Many high-tech players are paring back expansion plans faster than the Mir space station can plunge. Not so for California-based Xilinx (www.xilinx.com), dubbed by som e industry observers as the "designer of the world's smallest gated communities."
Thinking big and aggressively at slowdown time, Xilinx has announced a 500-employee, US$41 million expansion of its existing 360-employee R&D, engineering and operations center in Dublin.
It's by far the largest-ever expansion for Xilinx, a fast-growing player in advanced chip design. The 500 high-end employees will mark a whopping increase of almost 20 percent in the company's worldwide work force.
---
---

That gung-ho expansion attitude continues Xilinx's torrid pace during 2000. The company's work force grew by 30 percent last year on income of $652.5 million, a staggering upsurge of 536 percent.
Much of that fast growth has been in the 330-acre (132-hectare) Citywest Business Campus (www.citywest.com) in south Dublin, where Xilinx initially located in 1995. Product shipments from Xilinx Ireland, in fact, now account for some 30 percent of the company's total revenues from programmable logic. Xilinx even chose Dublin as the site of last year's annual board meeting, the first time the gathering had been held outside California, where the firm was founded in 1984.


"This expansion marks a logical progression for our company, based on the exceptional work carried out in Ireland since our establishment here six years ago," Xilinx CEO Willem Roelandts said in Dublin as the project was announced.
---
---



CEO: Down Time Best Time to Expand

Xilinx has carved out a strong high-tech niche. It invented the field programmable gate array (FPGA) logic chip, which can support literally thousands of gates. That feature has made FPGAs especially popular for integrated-circuit prototype designs.
Xilinx now supplies more than half of worldwide demand for FPGA devices. Its major customers include 3COM, Alcatel, Boeing, Cisco Systems, EMC, Ericsson, Hewlett-Packard, IBM, Kodak, Lockheed Martin, Lucent Technologies, NEC, Nortel, Northrop Grumman and Sun Microsystems. With many of those players struggling with diminished demand, Xilinx, though, would seem a likely candidate for a wary expansion strategy. But where others hear high risk coming, Xilinx hears opportunity knocking.
"We're in a very cyclical industry," Roelandts explained. "During the down cycles is the best time to begin new expansions; then, there is time to build something."
And it appears that Xilinx's Irish expansion jig isn't over. The company last year secured a planning permit from the South Dublin County Council (www.sdcc.ie) for a 238,642-sq.-ft. (21,478-sq.-m.) site with three three-story facilities that could house 1,000-plus employees.


Dublin Will Be Largest Design Services Group

The Dublin operation was already a strategic Xilinx site. The center handles advanced integrated circuit design, software development, design services and supply-chain management, as well as serving as Xilinx's European center for information technology and human resources. But with 500 jobs added over the next five years, the Dublin operation will become Xilinx's largest design services group.
That concentration takes on added heft in light of Xilinx's business model. The company outsources almost all manufacturing, concentrating on R&D. Last year, for instance, the company spent $187 million in new-technologies R&D - an area that accounts for fully 30 percent of Xilinx's work force. More than 80 percent of the company's 2,600 employees are college graduates.
"Xilinx's growth plans for the future are concentrated on continued investment in R&D, sophisticated new processes and highly skilled personnel," Roelandts said. "Europe is the second largest market for Xilinx products outside of North America, with sales representing 20 percent of our total revenues," he added.


Came for Low Costs, Stayed for High Quality

Xilinx had been discussing the expansion since last June with IDA Ireland (www.idaireland.com), the national agency charged with "win[ing] internationally mobile projects that can operate competitively and profitably from Ireland."
IDA Ireland has helped recruit more than 600 U.S. companies, including high-tech heavyweights like Apple, Compaq, Dell, EMC, Hewlett-Packard and IBM. Many, like Xilinx, were initially drawn by Ireland's lower costs, but stayed and expanded because of high work-force quality. Roelandts said Ireland's location incentives and its 10 percent corporate tax rate, the European Union's lowest, "were probably one of the deciding factors" in Xilinx siting its R&D center in Dublin. The Irish capital won out over other finalist sites in Israel, the Netherlands and Scotland, Xilinx officials said.

After six years in Ireland, though, Roelandts said, "The R&D capability and technical expertise which have been achieved in Dublin are second to none worldwide. Providing leading-edge design services, designing integrated circuit components and developing advanced software tools to the highest standards are critically important factors in our business success."

Editor's note: Ireland's corporate tax rate will increase to 12.5 percent on Jan. 1, 2003.




LOOKING FOR MORE? BROWSE THE "BLOCKBUSTER DEAL OF THE WEEK" ARCHIVE
---
©2001 Conway Data, Inc. All rights reserved. Data is from many sources and is not warranted to be accurate or current.