Wyoming Landing Lowe's Regional Center 'Like Catching Hail Mary Super Bowl Pass,' Official Says

By JACK LYNE • Site Selection Executive Editor of Interactive Publishing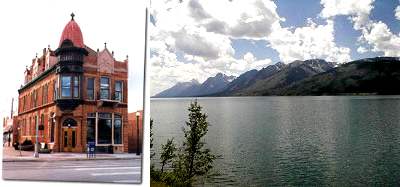 CHEYENNE, Wyo. -- Lowe's (www.lowes.com) has picked Wyoming, the U.S. state with the smallest population, for a very big anchor in its US$2 billion expansion program, one of the most aggressive ever in the home-improvement industry.
The world's No. 2 home-improvement player (after Home Depot) will build a 425-employee, 900,000-sq.-ft. (81,000-sq.-m.) distribution center in Cheyenne. The facility will supply products to the company's central and western U.S. stores.
---
---

This year alone, Lowe's projects opening 115 to 125 new stores. But with a total population of some 490,000 residents, Wyoming isn't exactly teeming with potential Lowe's customers. Nonetheless, the Cheyenne site custom-fit the specs for the world's 34th largest retailer, company officials said.
Tom Whiddon, Lowe's executive vice president of logistics and technology, called Cheyenne "a perfect location for our eighth strategically located distribution center." The area's major pluses, said Whiddon, included the Cheyenne area's strong work ethic and infrastructure, and its enthusiastic community support.
Lowe's spokeswoman Suzanne McCoy described Cheyenne as "strategically placed in an area in which we plan to build more stores."
The pick of Cheyenne concludes a nine-month site search, Lowe's officials said.


Facility Spans 20 Football Fields

The new center's dimensions reflect Lowe's expansive aggressiveness.
The highly automated $60 million facility will span the equivalent of 20 American football fields under a single roof, with conveyor lines inside stretching for more than five miles (8.5 km.). The Cheyenne center will handle more than 25,000 items, ranging from paint to power tools to ceiling fans to lawn mowers.
Construction of the huge new facility will begin this year and take two years to complete, according to company officials. The center will join Lowe's five existing regional U.S. distribution centers, as well as new regional centers now under construction in Perris, Calif., and Findlay, Ohio.
The Wyoming center's heaviest focus will be within a 300-mile (510-meter) radius, said Whiddon, but it will supply Lowe's stores as far away as 600 miles (1,020 km.).


Business Park is Difference-Maker

Lowe's will locate inside the Cheyenne Business Parkway, which sprang to life via some big thinking not unlike the new mega-center's dimensions. Tucker Fagan, CEO of the Wyoming Business Council (www.wyomingbusiness.org), pointed out that Lowe's selection of the Business Parkway underscores the importance of state communities developing quality infrastructure.
"If Cheyenne didn't have the 130 acres (52 hectares) with water and sewer ready to go, this announcement would more than likely have been made in another state," Fagan said. Offering 10-day permitting approvals, the 914-acre (365.6-hectare) Business Parkway lies adjacent to I-80, four miles (6.8 km.) east of I-25 and 90 minutes north of Denver. A cooperative government-business effort in the 1990s led to the creation of the park.
"We compete nationally in recruiting businesses to locate here," explained Jack Crews, president the Cheyenne-Laramie County Corp. for Economic Development (a.k.a. Cheyenne LEADS at www.cheyenneleads.org). "Our experience showed that the only missing ingredient for our business recruiting efforts was having competitively priced, developed land immediately available."
Owned and managed by Cheyenne LEADS, the park began its second of four phases of development in 1999. Some $1.3 million was spent on Phase I construction of water and sewer systems.


Development Exec: 'Like Catching a Hail Mary'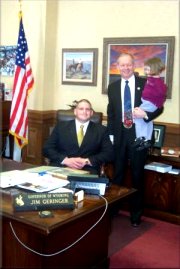 That investment has paid off, helping fuel Cheyenne's success as a distribution and light-manufacturing hotspot. The park has landed a clientele that includes EchoStar Communications, Quark, Sierra Trading Post, and U.S. West. Lowe's, though, represents a whopper of a catch for Laramie County and its some 80,000 residents.
"Getting Lowe's to commit to Cheyenne was like catching a Hail Mary pass to win the Super Bowl," Crews said. "This puts Wyoming on the map, giving us national credibility from a well-known company. This is a major victory for the community.
"Not only will we benefit from the huge Lowe's project, but also we can expect very significant spin-off benefits," Crews continued. "Once Lowe's locates in an area, other companies tend to follow."
Commented Gov. Jim Geringer, "Attracting Lowe's to Wyoming has been a team effort. Cheyenne LEADS and city officials have led this successful effort with the assistance of state agencies like the Wyoming Business Council and the Dept. of Employment (wydoe.state.wy.us)."
---
---



Projected Portfolio Increases of '18 to 20 Percent'

Lowe's plans to continue its torrid expansion pace, annually increasing its overall square footage by "18 to 20 percent," officials said. Now numbering roughly 86,000, Lowe's work force increased by 30 percent last year.

Moreover, the pricey expansion seems to be paying off thus far for the bottom line. Last fiscal (which ended Feb. 2, 2001), the Wilkesboro, N.C.-based firm recorded sales of $18.8 billion, an 18.1 annual increase. And last fiscal's net earnings for the Fortune 500's No. 109 player increased 20.4 percent to $809.9 million.




LOOKING FOR MORE? BROWSE THE "BLOCKBUSTER DEAL OF THE WEEK" ARCHIVE
---
©2001 Conway Data, Inc. All rights reserved. Data is from many sources and is not warranted to be accurate or current.