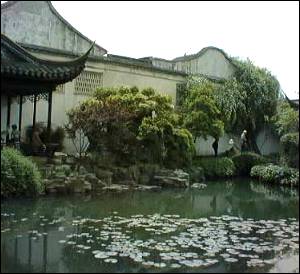 Site Stirred China-Singapore Rift


Philips Semiconductor to Build $1 Billion Plant in Eastern China

By JACK LYNE • Site Selection Executive Editor of Interactive Publishing EINDHOVEN, THE NETHERLANDS -- While China and the USA continued their war of words over a midair mishap, Philips Semiconductors (www.semiconductors.philips.com) was making billion-dollar news on Sino soil:
The chip arm of the world's No. 3 consumer electronics manufacturer has announced that it will build a US$1 billion, 3,500-employee integrated circuit (IC) assembly and testing plant in the eastern China city of Suzhou, 50 miles (80 km.) from Shanghai. The vast, 1.1-million-sq.-ft. (100,000-sq.-m.) facility won't be fully completed until 2006. Philips officials, however, said that plant production will begin in second-quarter 2002, while phased-in construction is still under way. At full capacity, the Suzhou facility will have an annual output of 750 million units, most of it in ball-grid array and chip-scale-package products.
---
---

Philips has picked a site in the Suzhou Industrial Park (www.suzhou.gov.cn/english/6develop/cssip/Default.htm) - the source of another major, albeit far less violent, global contretemps.
"As one of the world's leading semiconductor manufacturers, we investigated carefully possible locations of our new plant," explained Ger Schonk, Philips Semiconductors Assembly and Test Organization senior vice president. "In choosing the Suzhou Industrial Park, we found we had access to a wide range of potential employees and a well-developed technical and logistics infrastructure - both of which are key ingredients in the success of our venture."
Most of the Suzhou plant's 3,500 employees will be local hires, Schonk said; 500 of them will be engineers.


Amid Cutbacks, China Project Part
Of 'Long-Term Growth Strategy,' CEO Says

The Dutch giant's announcement came as it was scaling back elsewhere. Parent firm Philips Electronics has announced that it expects to take a net loss in second-quarter 2001. Those results, Philips said, will prompt cutting up to 7,000 of its 220,000 employees, as well as a decrease in capital expenditures.
Philips Semiconductors' executives, however, are projecting strong demand for the Suzhou plant's output, all of which will be sold within China. Chips assembled and tested in Suzhou will be used in a variety of applications, including consumer electronics, communications, computing and automotive products.
"We have long realized the importance of China in our strategy for growth and have made significant investment in Asia-Pacific as a whole in recent years," explained Arthur van der Poel, Philips Semiconductors president and CEO. "This new facility in Suzhou is part of our long-term growth strategy. As we have demonstrated in the past, we look to the long-term needs of our customers, while also managing through the short-term market developments."
---

---
Added Schonk, "The new plant will perfectly complement the existing IC assembly and test facilities we have located in Taiwan, Thailand and the Philippines."
Philips isn't alone in anticipating high Chinese chip demand. Intel in August of 2000 announced a fivefold capacity expansion at its Shanghai chip-assembly plant. The U.S.-based chipmakers' expansion will involve an investment of $198 million, adding 2,200 workers at the plant in Shanghai's Waigaoqiao export zone.


Suzhou Park Sparks China-Singapore Dustup

The Suzhou Industrial Park that will house Philips Semiconductors' new plant has sparked a controversy that's spilled over into foreign investment patterns.
The Suzhou park began in 1994 as a joint Singaporean-Chinese project, with Singapore's initially controlling 65 percent of the shares, while China's shares totaled 35 percent. The vision, officials from both nations said, was to create a cutting-edge Singapore-style industrial township to host multinational firms in China.
By 1999, though, the park was at the eye of a full-blown international dustup. Singapore Senior Minister Lee Kuan Yew warned that Singapore might pull back its support of Suzhou Industrial Park, one of Lee's pet projects. The former Singapore premier charged that the Suzhou municipal government was demonstrating favoritism toward another project that the city had begun developing, the Suzhou New District Park.
"Obviously we are not happy because we are not getting the kind of attention which we were assured that we would get, special attention. Indeed, what we are getting now is competition," Lee said. "Having learnt how we are doing it, they can always duplicate it and offer it at a lower rate of land."


Singapore's Mainland Investment
Down 23 Percent During 2000

The matter wasn't settled to Lee's satisfaction. Philips' announcement comes as Singapore prepares to scale back its interest in the project in 2001 to 35 percent, with China assuming the other 65 percent.
Singapore has already pulled out of managing Suzhou Industrial Park after only 3.2 sq. miles (eight sq. km.) of the projected total of 28 sq. miles (70 sq. km.) had been developed.
China's government is proceeding with developing the rest of the park. Xinhua, the state-run news arm, reported, "The decision to enlarge the park came after both sides found the performance of the first district highly satisfactory . . . "
Other sources tell a very different story. Singapore's Straits Times (www.straitstimes.asia1.com.sg/home), for example, has reported that the park has sustained accumulated losses of $90 million since 1994.

The impact on inward investment seems to involve much larger numbers. Singapore's investment in mainland China fell by a whopping 23 percent in 2000 to $2.62 billion, according to figures compiled by Beijing's Ministry of Foreign Trade and Economic Cooperation (www.moftec.gov.cn). Many observers attribute the sharp drop-off in Singaporean investment to the Suzhou Industrial Park dispute.




LOOKING FOR MORE? BROWSE THE "BLOCKBUSTER DEAL OF THE WEEK" ARCHIVE
---
©2001 Conway Data, Inc. All rights reserved. Data is from many sources and is not warranted to be accurate or current.