$357 Million, 400-Employee Operation


Biogen picks Danish Site in 'Medicon
Valley' for First International Plant

By JACK LYNE • Site Selection Executive Editor of Interactive Publishing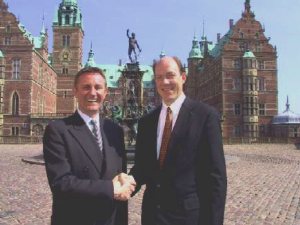 HILLEROED, DENMARK -- Pharmaceutical birds of a feather flocking together: That was the strategic linchpin in fast-growing Biogen's (www.biogen.com) decision to locate its first non-U.S. manufacturing facility in Hilleroed, 25 miles (40 km.) north of Copenhagen.
The 60-acre (24-hectare) Danish site positions Biogen's US$357 million, 400-employee operation squarely in a biotech hotbed, "Medicon Valley," spanning the Greater Copenhagen and southern Sweden. Medicon Valley boasts Europe's highest number of biotech firms on a per-capita basis; and Denmark and Sweden are, respectively, the world's third- and fifth-largest per-capita exporters of pharmaceuticals.
Biogen CEO James Mullen cited Medicon Valley's pluses in announcing the new plant at Hilleroed's Renaissance Frederiksborg Castle.
---
---
"The decision was made after 14 months of thorough research and evaluation of many potential sites," Mullen explained. "The new site represents solid ground for Biogen's long-term global business strategy. Our conclusion was that Denmark is extremely competitive when it comes to the quality of the work force. The region of Copenhagen and the southern part of Sweden - often referred to as Medicon Valley - is world-class in the biotech and pharmaceutical field." Reflecting that world-class status are the area's 32,000 employees in the medico/human-life-science industry, 11 universities and five science parks. Medicon Valley has attracted a particularly potent biotech/pharmaceutical cluster, including AstraZeneca, Ferring, H. Lundbeck, Leo Pharmaceuticals, Novo Nordisk and Pharmacia-Upjohn.


Biogen has Biotech Rarity: Capacity

Biogen's first global manufacturing announcement comes during go-go growth for the Cambridge, Mass.-based company founded in 1978. Fortune ranks Biogen No. 69 among its "100 fastest-growing companies." Biogen's 2000 net income of $333.6 million marked a striking 51.3 percent upsurge. (In fact, officials say that the company is paying for the new facility with cash on hand and requested no location incentives.)
The 400-employee Danish facility marks another aggressive milestone; it will increase Biogen's worldwide employment by more than 20 percent. Among the products manufactured at Hilleroed will be Avonex, Biogen's hot-selling multiple sclerosis drug.
The Danish announcement comes as many of biotech's complex manufacturing plants struggle with capacity shortages. In addition, most biotech contract manufacturers are suffering from similar capacity shortfalls.
"With this new plant, Biogen reinforces its manufacturing leadership," said Paul Coleman, Biogen's senior director of manufacturing, who will also be the Hilleroed site's general manager.
Biogen officials conceded, however, that the new facility's production costs will be about the same as third-party manufacturers'. Mullen however, asserted that Biogen's building its own plant "will give us greater flexibility and control of finished product . . . and enhance our presence outside the United States."
Mullen added that the company's coveted manufacturing capacity is spurring other biotech and pharmaceutical firms to contact Biogen, investigating joint ventures or technology licensing.


ED Official: 'Once-in-a-Lifetime' Project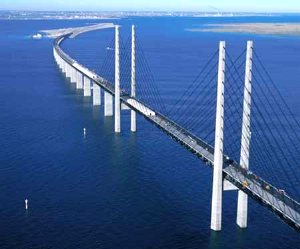 With its Nordic headquarters in Copenhagen, Biogen was no stranger to Medicon Valley. (The company's international headquarters is in Paris.)
Medicon Valley was apparently a major site-selection contender early on. In March 2000 invited officials from Copenhagen Capacity (www.copcap.dk, Greater Copenhagen's investment promotion agency) and Invest in Denmark/Danish Trade Council (www.investindk.com) arrived in Cambridge to make a presentation to Biogen's location team.
For the next 14 months, Birgitte Thygesen, Copenhagen Capacity business development director, became Biogen's local contact. "I believe this is a chance you only get once in a lifetime," Thygesen said after the announcement. "To provide all types of information and create contact to all relevant private and public cooperation partners has been fantastic."
---
---
Biogen officials praised development assistance. "We have received 14 months of outstanding service from Copenhagen Capacity and from the local municipality of Hilleroed," said Coleman.
"The close co-operation eased our decision, and makes us confident in the further development of the project."
James Kirkness, Biogen's regional director for Northern Europe, agreed. "It's plain to us that Danish professionals are accustomed to working internationally, which is really important to us," he said.
Biogen also found Denmark's cultural fit comforting, Kirkness added.
"An important reason for choosing Denmark is its liberal business climate and an approach to business very similar to that of the U.S.," he explained. "Labor legislation, business structures and tax rules are in many respects close to those of the U.S. And that is important when you expand so rapidly."


A Bridge over Business Waters

Biogen's decision also buttresses some cross-cultural vision.
Medicon Valley's seeds were sown in 1992 discussion between researchers from the University of Copenhagen and Sweden's University of Lund. What they discovered was that the two technologically sophisticated nations were doing more collaborative work with Japan and the United States than with one another.
The shared vision that grew from those meetings has created what many regard as Europe's first cross-border region for investment promotion. That cooperation has a striking metaphoric counterpart: the Oresund Bridge, which spans the Oresund Strait to connect the two nations. Opened in July 2000, the bridge is Europe's largest infrastructure project since the Channel Tunnel.

That border-crossing bridge is paying off for Biogen's new facility. The company anticipates that half of its Hilleroed work force will come from Denmark, with the other half coming from Sweden.
"We are fascinated by the large concentration of biotech and medical companies in Medicon Valley," said Kirkness. "We have seen great enthusiasm for the region and the concept, and we have easily been able to recruit skilled staff from both sides of the Oresund Strait. This environment enabled us to establish our Nordic headquarters within a very short period." Biogen positioned itself for further growth in Hilleroed, securing an option to buy an adjacent 36 acres (14.4 hectares).




LOOKING FOR MORE? BROWSE THE "BLOCKBUSTER DEAL OF THE WEEK" ARCHIVE
---
©2001 Conway Data, Inc. All rights reserved. Data is from many sources and is not warranted to be accurate or current.