Symantec Picks Virginia Peninsula for
East Coast Product Development Center

By JACK LYNE • Site Selection Executive Editor of Interactive Publishing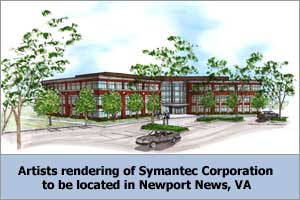 NEWPORT NEWS, Va. --

Symantec's search of eastern Canada and the U.S. has ended in the Virginia Peninsula, where the company will locate an East Coast product development center. Officials for Symantec (www.symantec.com), best know for its Norton anti-virus software, said that construction of the 300-employee, 100,000-sq.-ft. (9,290-sq.-m.) center in Newport News, Va., will begin shortly.
Officials expect project construction to be completed by the spring of next year. The three-story facility will house the product development groups for two Symantec products, Norton Internet Security and pcAnywhere.
Anywhere also described where the project could have gone, according to Symantec Senior Vice President Gary Warren.
"Symantec could have made this investment anywhere in North America," Warren explained. "We specifically selected the Virginia Peninsula because it is an ideal place for high-tech firms to grow and prosper. From world-class colleges and universities to a forward-looking business environment, Virginia has what it takes to help technology companies succeed."
---
---



Labor the Deal-Maker, Say Local Officials

Labor was the deal-maker for Symantec, according to local economic development officials.
"Symantec chose Newport News as its East Coast hub because of its ability to recruit, retain, and relocate skilled software engineers on the Virginia Peninsula," explained Ann Hunnicutt, chairman of the Virginia Peninsula Alliance for Economic Development (www.paed.org).
In addition to tapping the area's labor pluses, Cupertino, Calif.-based Symantec is receiving 11.2 acres (4.5 hectares) of free land from the city of Newport News. The acreage is located in the Jefferson Center for Research and Technology (www.asite4u.org/sites/jefferson.html). The 190-acre (76-hectare) Jefferson Center is owned by the city of Newport News, William and Mary College and the Southeastern Universities Research Assn. (www.sura.org), a consortium of 41 universities in 13 Southeastern states and the District of Columbia. Other Jefferson Center occupants include Canon Virginia's copier and laser printer plant and the U.S. Dept. of Energy's Thomas Jefferson National Accelerator Facility.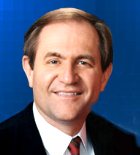 Symantec is also receiving a US$1.2 million grant from the Governor's Opportunity Fund (www.yesvirginia.org). Of that $1.2 million, Symantec will receive $1 million upon meeting its goals of 300 jobs and a $22 million investment. The other $200,000 will go to the city of Newport News toward building the infrastructure for the East Coast product development center.
"My administration is dedicated to broadening the high-tech explosion to every corner of the commonwealth," said Gov. Jim Gilmore (www.thedigitaldominion.com). "Symantec's expansion to Newport News is a clear sign that we are making progress. I remain committed to fostering a technology-friendly atmosphere throughout Virginia and safeguarding the privacy of consumers on the Internet."
---
---



Other Recent Expansions in San Antonio, Istanbul

In addition to bringing in an influx of high-end jobs, Symantec's announcement significantly raises the area's location profile for software development, a sector that the Peninsula Alliance for Economic Development had targeted.
"The highly skilled, highly compensated jobs Symantec will create will . . . put the Virginia Peninsula on the map in regards to commercial software development," said Richard Weigel, president of the Peninsula Alliance for Economic Development.

Symantec has had a presence in the area since 1999, when it acquired URLabs, a developer of software for filtering the online content that can be viewed on an organization's network. The company further expanded its presence last year, relocating its pcAnywhere software development group to the Virginia Peninsula from Long Island, N.Y.
Symantec's Virginia growth mirrors the company's larger expansion. On May 1, Symantec opened its expanded security operations center in San Antonio. And on April 13, the company opened an office in Istanbul, Turkey. The Istanbul office brings Symantec's total number offices in its Europe, Middle East and Africa region to 30 in 22 countries.
Symantec's 2000 sales of $745.7 million marked a 17.6 percent increase. This year, company officials are predicting that Symantec will for the first time top $1 billion in sales. Worldwide, the company has some 3,700 employees in 37 nations.




LOOKING FOR MORE? BROWSE THE "BLOCKBUSTER DEAL OF THE WEEK" ARCHIVE
---
©2001 Conway Data, Inc. All rights reserved. Data is from many sources and is not warranted to be accurate or current.