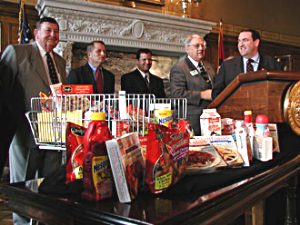 Nestle Picks Northeast Arkansas for $165 Million, 1,000-Employee Plant

By JACK LYNE
Site Selection Executive Editor of Interactive Publishing





JONESBORO, Ark. -- Ending a search that initially involved 700 contending cities, Nestle USA (www.nestleusa.com) has picked a site in Jonesboro, Ark. (www.jonesborochamber.org), for its new US$165 million frozen-foods manufacturing facility. The 325,000-sq.-ft. (30,193-sq.-m.) plant in northeast Arkansas will initially employ some 1,000 workers, but that total could eventually double.
The facility will produce Nestle's Stouffer's and Lean Cuisine brands. Brisk demand for those products had outstripped capacity at Nestle's three U.S. frozen-food plants in Ohio, South Carolina and Utah, officials explained.


"Today's announcement . . . reflects our commitment to investing in manufacturing capacity to help us meet demand for our successful Stouffer's and Lean Cuisine brands," said Stephen Cunliffe, president of Nestle USA's Prepared Foods Division.
The Jonesboro press conference announcing the project featured a battery of Nestle executives and state and local officials. All were flanked by grocery carts and tables crammed with Nestle products. Arkansas officials said the Nestle plant ranks as the state's second-biggest job-creator in the last 10 years. Only Acxiom's 1,850-employee project in 1998 has been larger, they explained.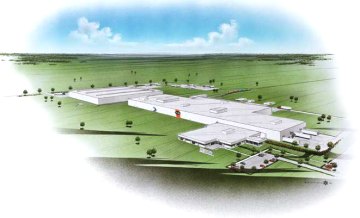 Major Millard Center Connects with Plant

The facility footprint is actually larger than Nestle's 325,000-sq.-ft. plant. Millard Refrigerated Services' (www.millardref.com) dedicated 200,000-sq.-ft. (18,580-sq.-m.) warehouse and distribution center will attach to the factory. Initially employing 65 people, Millard's center will provide temperature-controlled storage for Nestle's incoming ingredients and finished products.
Both parts of the project could greatly enlarge over the long term. The Nestle and Millard facilities will each be built with flexible designs to accommodate future expansion, company executives explained. State officials said that Nestle's plant might ultimately employ as many as 2,100.
Commented Jim Pickens, director of the Arkansas Dept. of Economic Development (www.1-800-arkansas.com), "One of the most exciting things is that the flexible design of this facility will allow for further expansion. If you look at the massive size of Nestle's operations and its history of expansion, you have to believe Nestle will grow in Arkansas." Nestle has selected Jacksonville, Fla.-based Stellar Group (www.thestellargroup.com/res_arch_eng.html) to provide architectural, engineering and construction management services for the manufacturing space. Nestle and Millard will locate in Craighead Technology Park on the city's eastern edge. Created In 1986 by the Jonesboro Industrial Development Corp., the park spans more than 1,000 acres (400 hectares).


Food-Friendly Infrastructure 'Particularly Attractive'

Nestle's location team targeted small U.S. cities like Jonesboro, with its population of some 55,500. The remaining finalist site that Jonesboro bested was Tupelo, Miss., which has some 31,000 residents.
"This site in Jonesboro offered the best combination of an enthusiastic work force, competitive operating costs, a central U.S. location and a strong emphasis on quality of life," said Jay Weaver, vice president of operations for Nestle USA's Prepared Foods Division.
"By quality of life, I mean the quality of the residential neighborhoods, the schools and the medical institutions," Weaver continued. "The people who will move here shortly to oversee the construction of the facility and hiring of the work force will find the assignment to be challenging, since we hope to be making frozen meals in 18 months or so. However, it will be a challenge made enjoyable by the people and community of Jonesboro."
Jonesboro's food-industry targeting also custom-fit Nestle's strategy. Frito-Lay Inc. and Swift-Eckrich have already located facilities in Craighead Technology Park.
"The state and the city of Jonesboro obviously know how to work with business," Weaver said. "They've built an industrial infrastructure particularly attractive to the food industry."


Officials: Incentives Are Performance-Based

State and local incentives were another obvious attraction.
Incentives include a state sales-tax break on all equipment purchased for Nestle's plant; state funding for a railroad spur to the site; and a state grant to Jonesboro to fund infrastructure expansions. State and local monies will fund a $5.5 million wastewater-treatment expansion to handle the plant's added volume.
State officials declined to put a total dollar figure on the incentives, citing "competitive reasons," the

Arkansas Democrat-Gazette

(www.ardemgaz.com) reported. All incentives are based on performance goals, officials said.
In March the Jonesboro City Council approved a $225 million construction bond for a manufacturer. Then in June it approved a $34 million bond for a distribution center. In both cases, the council honored Nestle's request for confidentiality, declining to name the companies.


Governor Praises Partnering

Nestle officials lavishly praised the recruiting team.
"We were impressed by the efforts of the state and the community of Jonesboro to meet the needs of future business," said Cunliffe. "They planned well to meet the needs of a business such as ours."
"This is a great example of building a partnership," said Gov. Mike Huckabee. "The people at Jonesboro have worked for months with those of us at the state level to make this happen. This same type of thing can happen all across our state if we'll work together. . . . It's a happy day for all of us."




LOOKING FOR MORE? BROWSE THE "BLOCKBUSTER DEAL OF THE WEEK" ARCHIVE
---
©2001 Conway Data, Inc. All rights reserved. Data is from many sources and is not warranted to be accurate or current.