CEDAR FALLS, Iowa
-- Fast-expanding Target (
www.target.com
) has picked Cedar Falls, Iowa, for a mammoth 900-employee distribution center.
Target's 1.35 million-sq.-ft. (121,500-sq.-m.) facility is on the fast track, with construction scheduled to start in September. Cedar Falls' ability to facilitate the short-fuse project was a major reason for its win over a short list that included Clear Lake and Mason City, Iowa, and North Mankato, Minn. Target also looked at sites in "several surrounding states," company officials said.
"We selected the Cedar Falls site because of the area's excellent highway access and transportation costs, its work force, and its quality of life," said Target spokesperson Kristin Jahnke. Jahnke also cited "city officials' responsiveness in getting the project done and their capacity to meet our schedule. And the Cedar Falls site was ready to develop."
Target eliminated North Mankato after it found it couldn't quickly develop the local site, officials reported.
Target's announcement marks the biggest industrial or commercial construction project in the Waterloo-Cedar Falls metro in 20 years. Built in 1980, John Deere's 2 million-sq.-ft. (180,000-sq.-m.) Tractor Works in Waterloo is the only larger facility.
Target's US$45 million facility will rise on a 133-acre (53.2-hectare) site in southwest Cedar Falls, just west of the city-owned Cedar Falls Industrial Park.

Study Validates Labor Supply
Obviously, a large labor pool was an major concern for the 900-employee facility.
With 105,000 residents, the Waterloo-Falls Creek metro was the most populous short-list contender. The metro buttressed its labor credentials with a recently completed study of work-force availability. Conducted by the University of Northern Iowa's Institute for Decision-Making, the study found that 27 percent of currently employed local residents would be "willing to change employment under the right conditions." Target's wages meet one of those "right conditions."
Target spurred a labor flood when its Waterloo store that opened in 1982 drew 3,000 applicants for some 150 jobs. The store recently doubled its size as it was expanded into a 180,000-sq.-ft., 300-employee (16,200-sq.-m.) SuperTarget. The SuperTarget, which includes Waterloo's first-ever Starbucks, opened only a week before the Falls Creek announcement.
Satisfying the Speed Need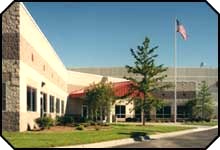 Target's ambitious expansion plans made speed essential. The slowed economy is giving a business bump up to the Minneapolis-based company's 1,348 stores in 46 U.S. states. With its more upscale merchandise than rivals Wal-Mart and Kmart, Target is drawing customers who've previously shopped at more pricey department stores.
Eager to capitalize, Target is opening 33 new stores this year, a third of them SuperTargets on average spanning 170,000 sq. ft. (15,300 sq. m.).
The company is also rapidly expanding its distribution network. Other centers are under construction in Kalamazoo, Mich., and Phoenix, while a Huntsville, Ala., center just opened. The Cedar Falls City Council accommodated the fast-track schedule for Target's 13th distribution center by rezoning the site from agricultural to light industrial. The council suspended the requirement to approve rezonings at three successive meetings. The zoning change came at about the same time that Target eliminated North Mankato.
The council's procedural change drew criticism from some residents, who voiced traffic concerns.
"I'd have kissed . . . on the courthouse steps at high noon to get this," Councilman Stan Smith told the Waterloo-Cedar Falls Courier (www.wcfcourier.com). "I know some people are going to be disappointed. But they cannot stop progress forever. This town has to grow. We have to expand our tax base beyond the residential tax base. And this was an admirable opportunity to do so."
Target also lauded its collaborative project support. Said Jahnke, "Target and Ryan Cos. (the project's general contractor) were very impressed with the teamwork demonstrated by the city, Cedar Valley Economic Development (www.cvedc.com) and the Iowa Dept. of Economic Development (www.smart.state.ia.us)."

$11 Million in Incentives
Target will receive a state and local incentive package valued at $11 million, including a free site. Cedar Falls will purchase the tract for $1.9 million and donate it to Target, possibly financing the buy with a bond issue.
City officials stressed that Target's incentives are standard for any firm locating in the Cedar Falls Industrial Park area.
Other incentives included:
A five-year property-tax phase-in. In the facility's first year, 75 percent of its valuation will be exempt. The exemption will decrease annually by 15 percent over the next four years. Target will also receive a $150,000 property tax rebate for five years. All told, Target will receive $3.5 million in property tax breaks over five years. Officials, however, projected that Cedar Falls would receive equal property tax revenues over those five years.
A $900,000 corporate income tax credit, which Target can take at any time over the next 10 years.
A $945,000 Revitalize Iowa's Sound Economy (RISE) grant, awarded to the city for improving site access.
$500,000 from the state's Community Economic Betterment Account.
Using tax-increment financing, Cedar Falls will provide all infrastructure and utility extensions. Target employees will receive training through Hawkeye Community College, funded by state income tax payroll withholdings. The area will also likely reap a benefit beyond the obvious economic impact of Target, which Cedar Valley Economic Development Corp. president Carl Adrian called "a wonderful corporate citizen." Target contributes more than $1 million a week in grants and special programs in its local communities.