SHELBY TOWNSHIP, Mich.
-- A 400-year-old French firm co-founded by King Louis XIV has chosen Shelby Township, Mich., as the site of its first North American plant. In a two-phase, five-year expansion, Saint-Gobain Sekurit U.S.A. (
www.sekurit.com
) will establish a 400-employee, 50,000-sq.-ft. (45,000-sq.-m.) facility manufacturing modular window assemblies for automobiles, company officials explained.

Saint-Gobain Sekurit may be an unfamiliar name to many Americans. The company's U.S. presence had heretofore been minimal: 15 employees in a technical sales office in Rochester Hills, Mich. But Saint-Gobain Sekurit is a very big name in European business, development officials pointed out.
"In Europe, one of every two vehicles has Saint-Gobain Sekurit glazed windows," said Doug Rothwell, President and CEO of the Michigan Economic Development Corp. (MEDC at medc.michigan.org). Given its automotive niche, Saint-Gobain Sekurit's choice of a suburban Detroit site might've seemed the proverbial no-brainer.
It wasn't.

Incentives Helped Edge Out Ohio Site
Saint-Gobain Sekurit gave serious consideration to a site in central Ohio's Madison County, company officials said.
"Without this tax package, this project may have gone to Ohio," said a MEDC official.
By picking the Michigan site, Saint-Gobain Sekurit qualified for a state and local incentive package worth more than US$6 million. By far the largest incentive will come from a 12-year Michigan Economic Growth Authority (MEGA at
www.growthalliance.com/incmega.html
) tax credit that state officials said is worth $4.6 million.
Enacted in 1995, the MEAG program awards job-creating firms with tax credits against the Michigan Single Business Tax. The incentives are available to companies already located in Michigan that create at least 75 new full-time jobs, or out-of-state businesses that create at least 150 new full-time jobs.
"The [MEAG] tax credits must respond specifically to the advantages the company would gain by expanding outside Michigan" and "must be necessary for the expansion/location to occur in Michigan," according to the state's summary description.
Saint-Gobain Sekurit also will receive a state education tax abatement valued at more than $200,000, plus a state Economic Development Job Training program grant valued at $400,000. Shelby Township also provided incentives valued at $692,911. City trustees approved a 50 percent property tax abatement that includes a five-year abatement on any new real and personal property.
Exec Envisions 'Additional Growth'
Paris-based Saint-Gobain Sekurit currently has less than 2 percent of North America's automotive glazing market. Grabbing a bigger slice of that market was the major motivation for its maiden voyage in North American manufacturing, explained Norman Chavka, director of sales and operations for Saint-Gobain Sekurit U.S.A.
"This will be Saint-Gobain Sekurit's first manufacturing facility in the United States, and [will] hopefully lead the way to additional growth by our company in the U.S. and [in] Michigan. This facility will . . . enable us to provide a higher level of service to our customers," said Chavka. "I could not think of a better place to grow our automotive business than right here in the heart of the automotive capital. This gives us more of a high-profile area."
Chavka also lauded state and local location assistance.
"Saint-Gobain Sekurit is very pleased with the support and partnership demonstrated by the Michigan Economic Development Corp. and Shelby Township that made this investment possible," he said.
Saint-Gobain Sekurit employs 12,500 people in 22 countries and recorded more than $1.5 billion in sales last year.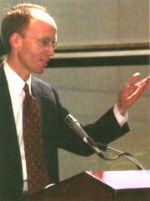 Said Bob Tess, project coordinator for the Macomb County Dept. of Planning and Economic Development (
www.co.macomb.mi.us/planning/
). "Macomb County is proud to welcome the distinguished global manufacturing firm Saint-Gobain Sekurit to its business community. After evaluating the availability of skilled and knowledgeable workers, proximity to key customers and the general business climate, the company has chosen to invest in Shelby Township . . . a community eager to accommodate their future growth."
Mirrors for Palace of Versailles Spurred Founding
Parent firm Saint-Gobain, which has some 180,000 employees and $30 billion in sales, was co-founded in 1665 by King Louis XIV, in part to create the Hall of Mirrors in the Palace of Versailles.
In the first phase of its Shelby Township expansion, Saint-Gobain Sekurit will lease a build-to-suit facility, investing $7 million in machinery and equipment, company officials said. Leasing costs for the first five years will total approximately $2 million, they explained.
In the second phase, planned for 2004, Saint-Gobain Sekurit intends to double its space and invest an additional $7 million in machinery.
The state will realize a handsome payoff for its MEAG incentives of $4.6 million, according to MEDC's financial analysis. The project will generate more than $24 million in state revenue over the agreement's 12-year life, yielding what the analysis called "a net positive gain for the state of more than $19 million."
The Saint-Gobain Sekurit project is expected to generate more than $300 million in personal income over those 12 years, according to MEDC's analysis.