STEUBENVILLE, Ohio
-- In a major step in reversing its economic fortunes, the Steubenville, Ohio, area has been selected by Wal-Mart (
www.walmart.com
) as the site for a new 600-employee distribution center.
The facility, Wal-Mart officials reported, will be located in Island Creek Township, some two miles (3.2 km.) northeast of Steubenville's corporate limits. The distribution center will span a whopping 880,000 sq. ft. (79,200 sq. m.). That, local officials explained, means that Wal-Mart's distribution center could house the entire central business district of Steubenville, the Jefferson County seat, which recorded a total population of 19,051 in the 2000 U.S. census.
2000's population tally earned the city a dubious distinction. Last year's census showed that Steubenville lost a higher percentage of population - 7.4 percent - than any other U.S. city between 1990 and 2000. The area has been hit hard by downsizing in the steel, coal and power-generation industries, Eastern Ohio's economic foundation since the early 20th century.
Significantly, Wal-Mart's vast distribution center "will be the first of its kind in the Ohio Valley, a major new industry for the region," said Rick Platt, director of Alliance 2000 (
www.alliance2000.org
), a private-public partnership established in 1996 to promote economic development in Jefferson County.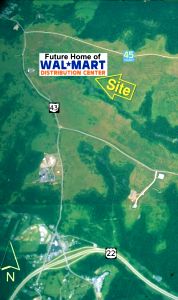 A 'Multi-State' Search
Wal-Mart's site search was "a multi-state process," according to company officials. Sites in the West Virginia cities of Weirton and Wheeling were considered, as were sites in Belmont County, Ohio, Wal-Mart said. (Steubenville is part of the Weirton-Steubenville, W. Va.-Ohio metropolitan statistical area, which has a population of some 132,000.)
In addition to Island Creek Township, the final short list for the distribution center included the Ohio cities of Massillon, Newcomerstown and Salem, Wal-Mart said.
Obviously, market proximity was a major location factor for the distribution center. Wal-Mart officials said that they particularly liked the area's proximity to Pittsburgh, some 30 miles (48 km.) away. (Steubenville officials, in fact, have dubbed the area "the 'burb of the 'Burg," and Alliance 2000 even has an alternative Web address:
www.theburb.org
.).
According to Wal-Mart representatives, the company plans to build two buildings in Jefferson County: one for frozen food and one for dry goods. The two facilities are part of Wal-Mart's burgeoning growth in the grocery business. Wal-Mart, which only got into food and grocery sales in 1988, did some US$40 billion in sales in that sector last year. That put the company's food and grocery sales ahead of Albertson's, with $37 billion, and within striking distance of the biggest U.S. chain, Kroger, with $45 billion.
"More and more customers are making Wal-Mart their destination for groceries," said Rollin Ford, Wal-Mart senior vice president of logistics. "The Steubenville distribution center will play a significant role in helping Wal-Mart meet the growing needs of our customers throughout the upper Midwest."

Officials: Perhaps Five Applicants per Job
Wal-Mart also picked Jefferson County because of the area's labor quality and availability, company officials said. Labor, in fact, was the first thing that Wal-Mart wanted to know about during its first meeting with Alliance 2000 in Steubenville in late March, Platt said. Local officials anticipate strong interest in the Wal-Mart job openings. Unemployment in the Steubenville-Weirton metro stood at 4.8 percent for August 2001, according to the U.S. Bureau of Labor Statistics.
The Jefferson County Jobs and Family Services Office will handle applications for Wal-Mart's distribution center jobs. City officials said that they are anticipating between 2,000 and 3,000 applications.
If that prediction holds true, Wal-Mart will have as many as five applicants per position. The distribution center will open in late 2002 or early 2003 with some 400 employees. That will immediately establish the facility as one of Jefferson County's top five employers. By 2004, the center will employ some 600 workers at its 150-acre (60-hectare) site, according to Wal-Mart officials.
Project construction will begin in the spring of 2002, according to Wal-Mart officials.
Incentives Include Job Tax Credits, Sales
Tax Exemptions, Roadwork and Training
Incentives were another factor steering Wal-Mart to the Ohio site. The Ohio Department of Development (DOD
www.connectohio.com
) provided project incentives that will include:
An Ohio Job Creation Tax Credit of 75 percent over a 10-year term, which will provide a $2.1 million benefit to Wal-Mart, according to DOD officials.
A state Warehouse Equipment Sales Tax Exemption with an estimated economic benefit of $650,000;
A $600,000 state Roadwork Development grant to improve state Route 43;
A $483,599 Appalachian Infrastructure grant; and
A Ohio Investment in Training Program grant for up to 50 percent of Wal-Mart's eligible training costs. (State officials have not yet estimated a dollar value for the training grant.)
All of the incentives for the Wal-Mart project must be approved by the Ohio Tax Credit Authority and the state's Controlling Board. State officials anticipate that the package will be routinely approved.
"Wal-Mart's decision to expand in Ohio is further proof that our state is the place to do business," said Gov. Robert Taft. "Ohio is proud to be working with Wal-Mart on a project that will create 600 new jobs for Jefferson County."
Deal Part of Area Comeback
Landing the Wal-Mart center continues the Steubenville area's economic comeback.
Recent times have seen hard sledding for the area's resource-based industries. Employment in the Ohio Valley's steel mills, for example, is roughly half the level of 25 years ago. Weirton Steel, for one, is cutting 550 of its some 4,300 jobs, part of a restructuring to stave off bankruptcy.
The area, however, is making strides in diversifying. A study by consultants Taimerica Management (
www.taimerica.com
), for example, ranked Steubenville No. 7 among U.S. cities for "business services growth" between 1990 and 1998. Steubenville's business services sector grew 240 percent in that span, the study reported. The area has been particularly successful in attracting data processing and telemarketing operations, including First Data, Reese Brothers, Telespectrum and VA Linux Systems, Alliance 2000 reported.
Local officials are hoping that Wal-Mart's center will pull in manufacturers wanting to be near the facility. The Island Creek Township site lies only about a mile (1.6 km.) from the Jefferson County Industrial Park.
The new Ohio distribution center is part of Wal-Mart's aggressive growth plans for its new fiscal year, which began Feb. 1, 2002. The company has announced plans for this fiscal to open some 50 new discount stores, 180 to 185 new Supercenters, 15 to 20 new Neighborhood Markets and 50 to 55 new Sam's Clubs. In addition Wal-Mart International plans to open 120 to 130 new stores in this fiscal.
"The planned square footage growth for the coming year represents approximately 46 million sq. ft. (4.14 million sq. m.) of new retail space, which will be the largest square footage increase in the company's history and a 9 percent increase over the fiscal 2002 total," said Wal-Mart President and CEO Lee Scott.